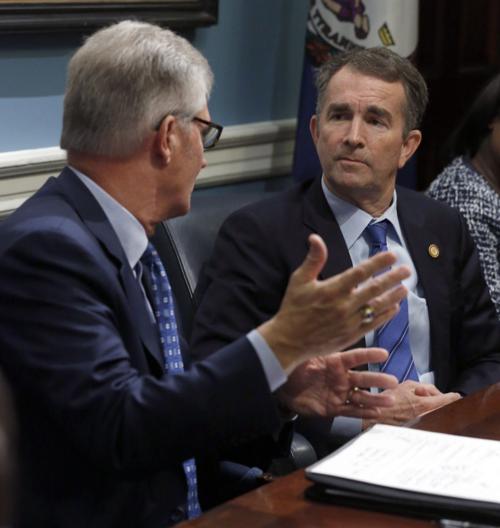 Virginia will allow all individuals and businesses to delay paying their 2019 income taxes by 30 days, bumping the deadline to pay from May 1 to June 1.
The state will not follow the federal government's 90-day delay, as top state officials argue that doing so would expose the state to a budget shortfall.
Finance Secretary Aubrey Layne said that unlike the federal government, Virginia is required to have a balanced budget, and delaying tax payments further could risk funding for essential services or force the state to dig into emergency funds.
"There's a big difference between us and the federal government. We can't print money," Layne said in an interview with the Richmond Times-Dispatch. "We can't extend it as far. We're looking at ways to help our impacted taxpayers, but what the feds have done won't work for us."
Layne said the situation remains fluid, and further relief could come if Congress rolls out a safety net for states.
"We've been trying to balance the different constituencies, between public health and those impacted by the economy," Layne said. "This is a delay. It gives us time to figure out what the federal government is going to do in aid for the states."
Virginia is also delaying the payment deadline for state sales taxes due from retailers on Friday by 30 days, until April 20. The payments are due quarterly.
The delay will impact municipalities, which receive their due share of payments through the state. Businesses can apply for the relief from the state's tax agency, though Layne said deferrals will be granted "liberally."
"Those businesses that can pay, like Amazon, we expect them to pay on time," he added.
Delayed payments will still be subject to interest, but Layne said the state would push for relief from those when lawmakers reconvene April 22.
Already, some state lawmakers are arguing that a longer delay is a critical part of helping individuals and businesses in Virginia recover.
House Republican leaders asked Gov. Ralph Northam to emulate the federal government and, "at a minimum," issue a 90-day tax payment extension in a letter sent Thursday.
"The rapid loss of sales revenue has put many small businesses in a financial crisis," the letter reads. "Extending the tax filings and payments deadline by 90 or more days is another tool to ensure Virginians have cash flow to provide payroll and other employee benefits, pay bills, and care for their families."
The letter was signed by House Minority Leader Todd Gilbert, R-Shenandoah, and Dels. Kathy Byron, R-Bedford, and Jay Leftwich, R-Chesapeake.
Lt. Gov. Justin Fairfax, a Democrat, also proposed that the state delay the deadline by 120 days — longer than the 90-day delay for federal taxes — in a letter to Northam dated Thursday.
At the request of President Donald Trump, the Internal Revenue Service announced this week that it would allow individuals and businesses an additional three months to pay their taxes — bumping the tax payment deadline from April 15 to July 15.
The expansive delay applies to individuals who owe less than $1 million in tax payments and to corporations that owe less than $10 million.
The federal government did not delay the filing deadline. Tax forms, including Form 1040, are due April 15.
People who expect to receive refunds from both the federal government and the state should expect to receive them on time.
Layne said the delay in Virginia will cost the state $100 million in the current budget cycle, which he said it can weather. The funding will be included in the next budget cycle, which starts July 1.
He said the economic slowdown due to COVID-19 will almost certainly hurt state revenues. It could force Virginia to rethink its revenue forecast, which the legislature used to craft a budget that includes pay raises for state employees, more funding for early childhood education and other increases.
"Let's not kid ourselves. We're going to have a reduction," Layne said. "We don't want to put a number out there until we know it's meaningful. It's going to be a fairly significant reduction because it has slowed our economy down and in some cases stopped it."
(804) 649-6254
Twitter: @MelLeonor_