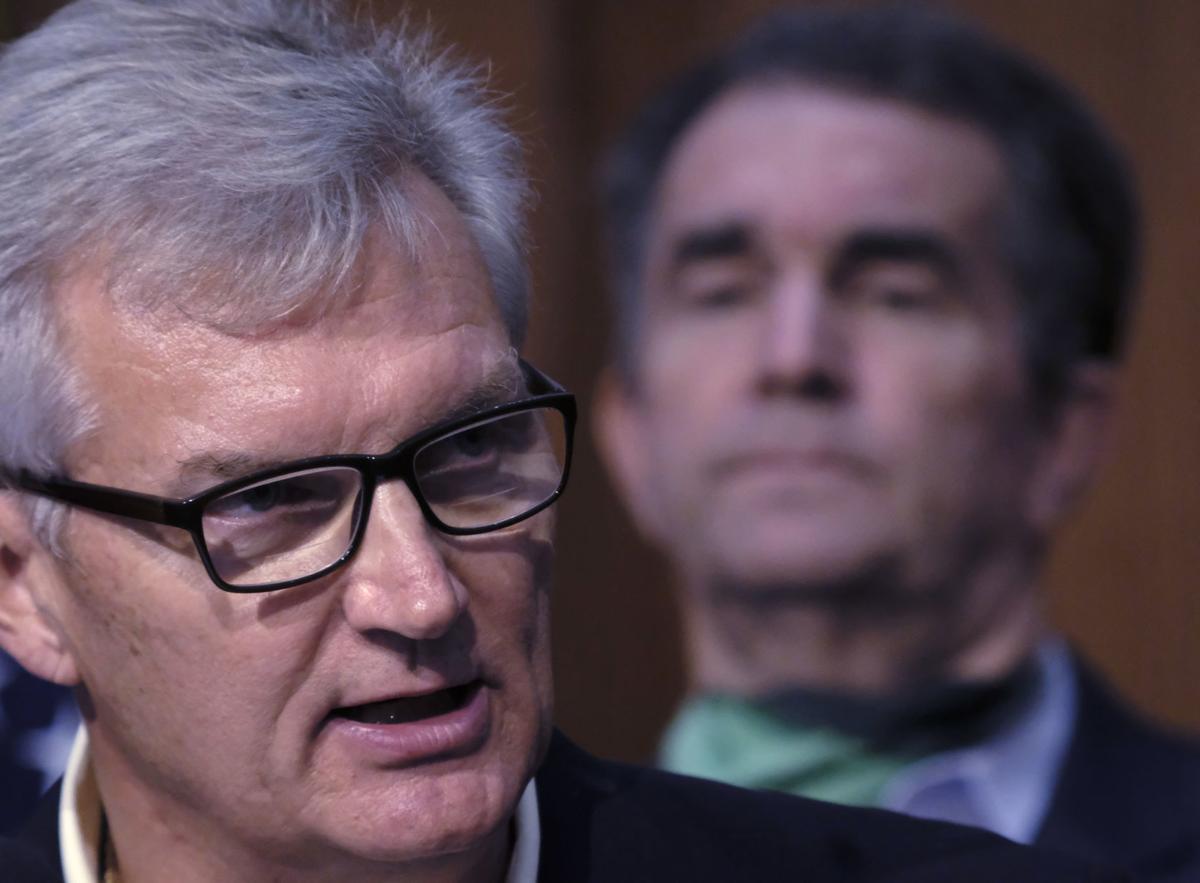 State tax revenue from motor vehicle sales fell by almost $37 million in April, compared with the same month a year ago, a 41% drop that could signal a slowdown in Virginia's ambitious plans to improve its transportation system.
State and regional gasoline taxes are scheduled to increase on July 1 as part of a sweeping transportation funding package approved this year, but the decline in automobile sales was a notably bad sign in the monthly revenue report Gov. Ralph Northam released last week that gave Virginia lawmakers the first glimpse of the economic fallout from the coronavirus pandemic.
"Automobile sales were going great," Secretary of Finance Aubrey Layne told the House Appropriations Committee on Monday. "They have now stopped."
Vehicle sales taxes weren't the only sources of transportation revenue that fell in April — so did gasoline taxes and license fees. But the motor vehicle sales had been among the most reliable sources of transportation funding in Virginia before the state's economy went into isolation at the end of March in response to the COVID-19 public health crisis.
"It is a big deal," said Don Hall, president of the Virginia Automobile Dealers Association. "Our business is struggling mightily, and it's a huge revenue producer for Virginia."
The April revenue numbers represent a clear warning sign for state transportation funding, Layne, a former secretary of transportation, said in an interview after his presentation to the House budget committee. "It's going to get hit."
The revenue report represents the first opportunity for policymakers to assess the damage from the recession triggered by the health crisis, and the results were mixed.
Total state revenues fell by $700 million in April compared with the same month a year ago, but the 26.2% decline came almost exclusively from a $760 million decline in estimated and final state income tax payments that Northam delayed for a month in response to the shutdown of nonessential businesses to slow the spread of the coronavirus.
Income taxes withheld from paychecks — almost two-thirds of all state revenues — rose in April, but that included two additional payroll deposit days compared with the same month last year. The state will lose that advantage in May, Layne told lawmakers. Without those additional deposit days, income withholding revenues would have fallen by 5% to 6%, he estimated.
"You have to look at April and May together," he said.
The initial results confirm that Virginia is likely to lose up to $1 billion in revenues through the end of the fiscal year on June 30, Layne said. "We are right on our projections with two months to go."
Much will depend on income taxes not withheld from paychecks. Those taxes, paid by self-employed Virginians, professionals and people who cashed in stock, already were expected to fall by $500 million this year compared with last year, when state revenues benefited from a windfall caused by the passage of the federal Tax Cuts and Jobs Act at the end of 2017.
Normally, taxpayers would have paid final state taxes on last year's income by May 1 and estimated taxes for the second quarter of this year by May 15. Northam delayed those deadlines by a month to cushion the economic blow of the health emergency. Those revenues would have to grow by almost 31% and total revenues by 9.3% through June 30 for the state to meet its projections in the current fiscal year budget, Layne said. "I don't think we're going to do it."
Sales taxes, representing about 20% of all state revenue, fell slightly in April, but grew 7.4% in the first 10 months of the fiscal year, buoyed by online transactions, alcoholic beverage purchases and grocery store sales.
However, sales taxes also reflect consumer confidence, which Layne called crucial to weathering the economic downturn.
"Public confidence is going to be the key to the economic turnaround, not only in the nation, but in the commonwealth," he said.
That's one reason the decline in motor vehicle sales worries him.
"People have stopped buying automobiles," he said.
Sales of high-end and imported vehicles have plummeted, but people are still buying American-made trucks, Hall said at the auto dealers association. Government agencies and some businesses also are buying to take advantage of lower prices.
But the market for new and used automobiles is driven primarily by Northern Virginia, the most heavily populated region in the state and the hardest hit by COVID-19 cases and deaths.
"When Northern Virginia sales are off, it affects everything dramatically," Hall said. "Northern Virginia is off, for sure."
One dealership has closed in Southwest Virginia, and "everyone has had cutbacks," he said. "It has been dramatic. In my 40-plus years [in the automobile business], I've never seen anything like this."
When the health crisis finally ends, Hall said, "Everybody is hoping and praying there will be a lot of pent-up demand."