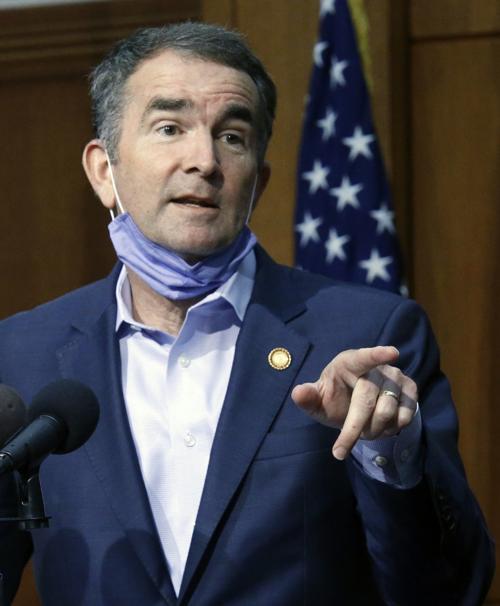 As clashes between police and protesters continue in Richmond, Gov. Ralph Northam said Tuesday he does not "condone" violent protests, while declining to weigh in on the tactics used by law enforcement to disperse the crowds.
"After three weeks, it is no longer clear what the goals are or a path to achieve them," Northam said during a briefing with reporters. "Clearly, Richmond needs a different path forward. These nightly conflicts cannot continue indefinitely."
The governor's comments came hours after a clash between police and protesters outside Richmond's City Hall, where police used tear gas, flash bangs and rubber bullets to disperse an encampment set up hours earlier. The event marked the 25th consecutive day of demonstrations in Richmond over police brutality and systemic racism, spurred by the killing of George Floyd by Minneapolis police.
In the early hours of Tuesday, the Richmond Police Department declared the sit-in at City Hall an unlawful assembly, citing the use of tents, cars and traffic cones to block the street and building entrances. RPD said it arrested a dozen people, all of whom were charged with participating in an unlawful assembly.
"As you saw last night in Richmond, an unlawful assembly was called. People refused to leave. When people break the law, we can't condone that," Northam said.
Asked about the use of force on the crowd, Northam said: "Obviously, we don't like seeing the use of tear gas and rubber bullets. No, I'm not going to direct the police on how to do their work."
Northam said that close to 500 demonstrations across the state have resulted in peaceful events that have "helped focus attention on issues of social justice and injustice and have pushed necessary action on Confederate monuments and future action on police reform and other important equity issues."
"What I can't condone is the unlawful protests. After the sun goes down, there seems to be a different agenda," Northam said.
In response to Northam's comments, the ACLU of Virginia criticized the use of declarations of "unlawful assembly" and force against protesters during a sit-in.
"Now is the time for Virginia leaders to take a stand. You must not condone calling an 'unlawful assembly' that allows the police to use tear gas, pepper spray, and military weapons to disperse the people and children who organized a sit-in to protest police violence," the organization said on Twitter.
Northam on Tuesday said the demands from protesters, particularly those who have clashed with police at night, remain elusive to him. At the same time, the governor said he has not yet met with prominent protesters.
"I'd be more than willing to meet them. Obviously we'd need to do it in a safe environment," Northam said.
"I need to hear from these individuals, what they want and what we can do policywise to chart a new path forward."
Northam said his administration is in the process of setting up listening tours on systemic racism and inequity, and is committed to those issues, as well as criminal justice reform. "Action is coming," he said.
On Monday, a group representing more than a dozen separate local organizations sought to cement the demands of demonstrators.
In a letter shared on social media, the organizations issued a "solidarity statement from the Richmond Uprising" and, in it, seven clear demands. The letter was signed by Mutual Aid Disaster Relief Richmond, the Richmond Community Bail Fund, Student Power VCU, Anti-Fascists of the Seven Hills, and others.
The demands included reopening the Marcus-David Peters case; defunding the Richmond Police Department; dropping charges against arrested protesters; removing Confederate monuments; establishing a civilian review board with subpoena power to investigate police misconduct; and releasing the names of Richmond police officers under investigation for excessive use of force.
The ACLU of Virginia on Tuesday responded to Northam's comments by saying, "Our goals are clear. … Fix the police instead of arresting protesters."
The group's list of demands included protecting free speech, holding police officers accountable and boosting transparency, defunding and divesting public funding away from police departments, creating an independent civilian oversight board with subpoena power, and independent investigations into police conduct.
(804) 649-6254
Twitter: @MelLeonor_