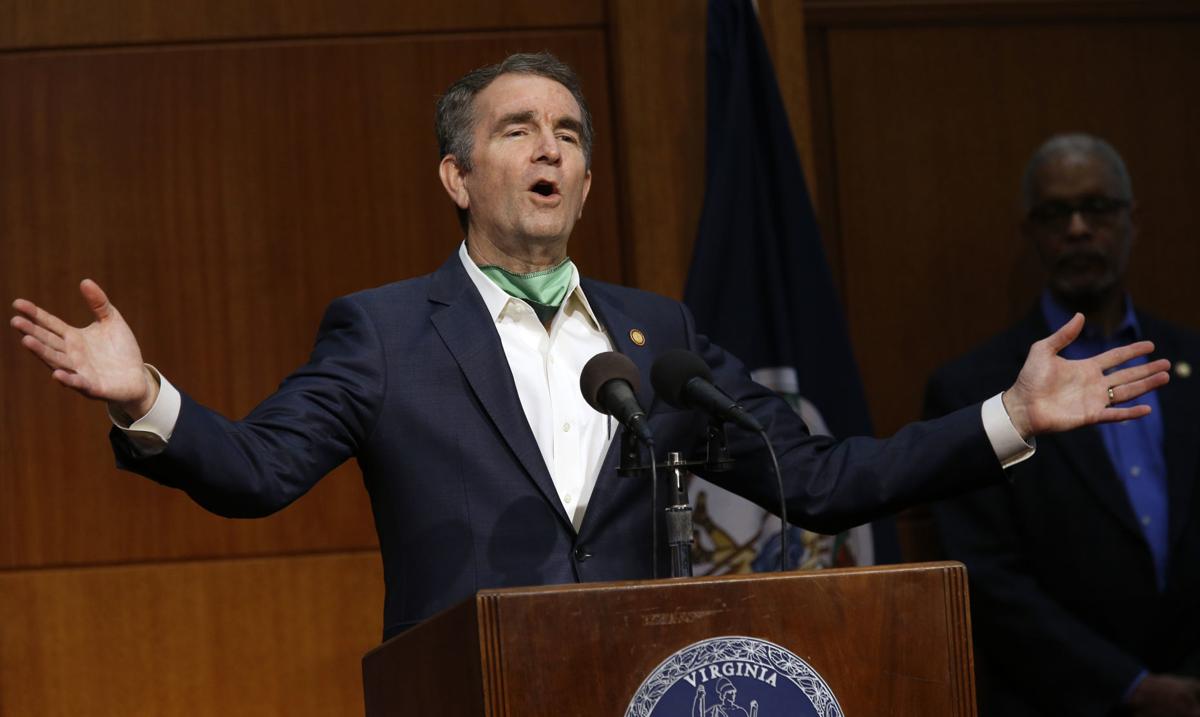 Virginia health officials are working to separate as-yet unreliable antibody test results from the state's broader COVID-19 test count, the administration of Gov. Ralph Northam said Monday.
Also Monday, Northam said that while public restrictions will tentatively begin easing in most of Virginia on Friday, Northern Virginia might be excluded. Northam said that while the state overall is seeing a decline in the share of positive cases and hospitalizations, trends in Northern Virginia suggest that region is not ready for social restrictions to ease.
The Virginia Department of Health confirmed on Friday that its testing numbers include an unknown number of antibody tests, likely boosting the state's testing totals. Virginia continues to lag in testing.
Some public health researchers and Virginia's own state lab director have said many of the antibody tests on the market have not been vetted by federal regulators and do not measure the current spread of the active virus, unlike the diagnostic tests used by health care facilities. Antibodies are proteins that help fight off infections, and their presence in a person's bloodstream can signal a previous infection.
"Without [federal] guidance, we went for as much testing as represented in the community. Going forward, we'll look into how to untangle those," said Virginia Health Secretary Dan Carey during a briefing with reporters.
Carey said that the state's count of positive cases does not include antibody tests. Antibody tests are, however, included in the total count of tests, which the state uses to track its testing progress.
The state also uses that number to calculate the share of positive results among all tests — or the positive rate — a number that could be skewed down by antibody tests. In Arizona, health officials confirmed last week that the state's low rate of positives was likely driven down by about 10,000 antibody tests.
Antibody testing could eventually help shed light on what share of the population is immune to COVID-19, and could help separate people who never showed symptoms of an infection from those who have not contracted the virus. Research on the topic is ongoing.
Jennifer Nuzzo, an epidemiologist and public health expert at Johns Hopkins University, said the two types of tests should be separated for analyzing the spread of COVID-19.
"It is a totally different type of test, and it's not clear what the validity of those tests are. It's true that you can use [antibody] testing to understand what portion of the population may have been infected in the past, but you can't understand that based on looking at the group of people that saw an ad and decided to get tested."
As Virginia inches closer to its phased reopening amid a declining rate of new cases, the state still has not met many of the key testing goals laid out by public health experts, federal officials and the state's own leaders.
At the same time, Virginia's testing rate continues to rank near the bottom compared with other states. In a ranking by Johns Hopkins University published Sunday, only Puerto Rico and South Carolina rank below Virginia in cumulative testing since the pandemic started.
Northam said he knows some people compare Virginia to other states, adding, "perhaps there are variables, different factors. The team is working really hard," he said on Monday.
"I make no excuses for Virginia. I think we're in a good place."
Clark Mercer, Northam's chief of staff, said that including antibody tests, also known as serology tests, aligns Virginia with some of the other states Virginia is being compared to.
"If we're going to be compared to all 50 states I want it to be apples to apples. … It became clear other states are including serological testing. If you're going to be comparing us to other states, and be critical of the volume of tests we are doing, and not comparing apples to apples, I think that's grossly unfair."
Northam reiterated on Monday that the reopening guidelines he previously laid out are a floor. He said localities can call for additional restrictions, but that it is important that regions act in concert.
The share of new COVID-19 cases among everyone tested in Northern Virginia remains high at around 25%, compared with around 15% statewide. Mercer said that 73% of all new cases in the state come from Northern Virginia.
Northam pointed to a letter he received Sunday from leaders in Fairfax, Loudoun, Prince William and Arlington counties and the city of Alexandria in which they ask that the region be excluded from the state's phased reopening if it kicks off on Friday.
"While it is certainly useful to examine statewide metrics as we gauge the success of current public health policies, we feel strongly that any changes to current policies be guided by what is occurring in our region," they wrote. The letter was signed by Mayor Justin Wilson of Alexandria, and Chairs Libby Garvey of Arlington County, Jeffrey McKay of Fairfax County, Phyllis Randall of Loudoun County and Ann Wheeler of Prince William County.
Northam said he would share more details on Wednesday about the plan for restrictions in Northern Virginia. Northam also said he expects to make a decision Wednesday solidifying Friday as the beginning of the state's phased reopening.
The Virginia Department of Health reported Monday that the state has 25,070 COVID-19 cases, an increase of 989 over the 24,081 reported Sunday.
The 25,070 cases include 23,889 confirmed cases and 1,181 probable cases. Also, there are 850 COVID-19 deaths in Virginia — 823 confirmed and 27 probable. That's an increase of 23 total deaths from the 827 reported Sunday.
In April, the VDH started including probable COVID-19 cases and probable deaths in the state's overall tally. Probable cases are people who are symptomatic with a known exposure to COVID-19 but whose cases have not been confirmed with a positive test.
(804) 649-6254
Twitter: @MelLeonor_
Staff writer Karri Peifer contributed to this report.