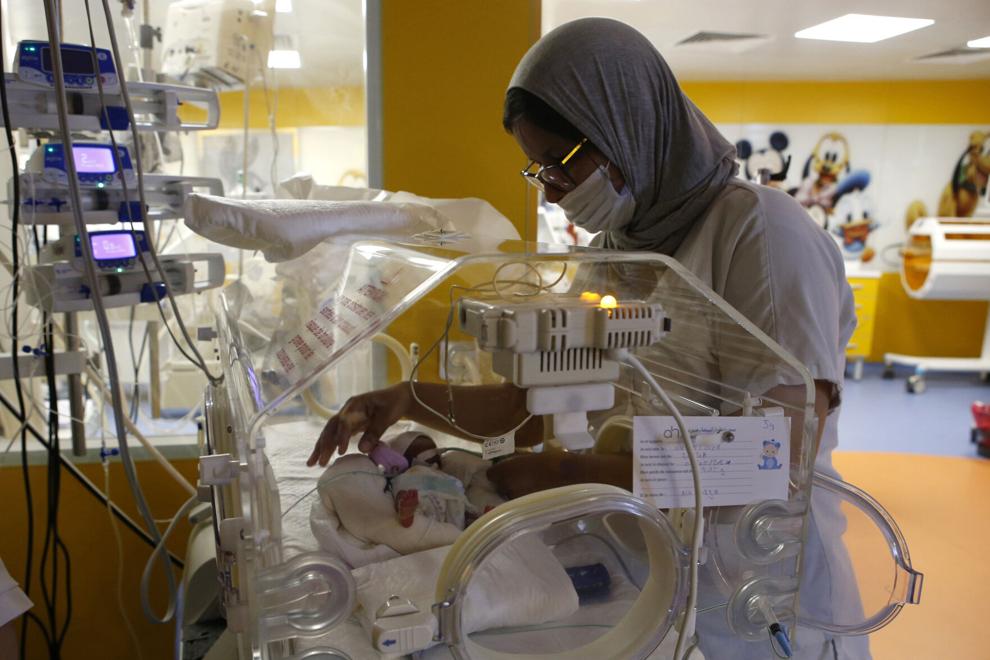 BAMAKO, Mali — A Malian woman has given birth to nine babies at once — after only expecting seven, according to Mali's Minister of Health and the Moroccan clinic where the nonuplets were born.
It appeared to be the first time on record that a woman had given birth to nine surviving babies at once.
The five girls and four boys, and their mother, "are all doing well," Mali's health minister said in a statement.
The mother, 25-year-old Halima Cisse, gave birth to the babies by cesarean section on Tuesday in Morocco after being sent there for special care, Mali's top health official announced.
Associated Press reporters saw some of the babies wiggling their hands and feet inside incubators Wednesday in the private Ain Borja clinic in Casablanca. Medical staff checked their status regularly in the neonatal ward wallpapered with cartoon characters.
Cisse had been expecting seven babies. Malian doctors, under government orders, sent her to Morocco for the births because hospitals in Mali, one of the world's poorest countries, are ill-equipped to provide adequate care for this exceptional multiple pregnancy.
The Casablanca clinic's director Youssef Alaoui told Moroccan state TV that they had been contacted by Malian doctors about the case a month and a half ago. They were not expecting nine babies, he said.
Cisse gave birth prematurely at 30 weeks and is now in stable condition after heavy bleeding for which she was given a blood transfusion, he said.
The Guinness Book of World Records said in an email to The AP on Wednesday that its current record for most living births at once is eight, and that it is verifying the Morocco birth.
The current holder of the Guinness record is American Nadya Suleman, who gave birth to eight premature but otherwise healthy children in 2009.
Alaoui, the clinic director, told The AP that as far as he was aware Cisse had not used fertility treatments. The Malian health ministry did not provide any other information about the pregnancy or births.
Yacoub Khalaf, a professor of reproductive medicine at King's College London, said that such births would be extraordinarily unlikely without fertility treatment, and noted the dangers involved with such multiple births.
The mother "was at severe risk of losing her uterus or losing her life," he said. The babies "could suffer physical and mental handicaps. The risk of cerebral palsy is astronomically higher."
He urged more awareness worldwide about monitoring fertility treatments and about the risks and costs of having so many premature babies at one time.
Man arrested at airport with 35 birds in his clothing, and more of this week's weirdest news
Police in Germany responded to a bomb alert -- and found a sex toy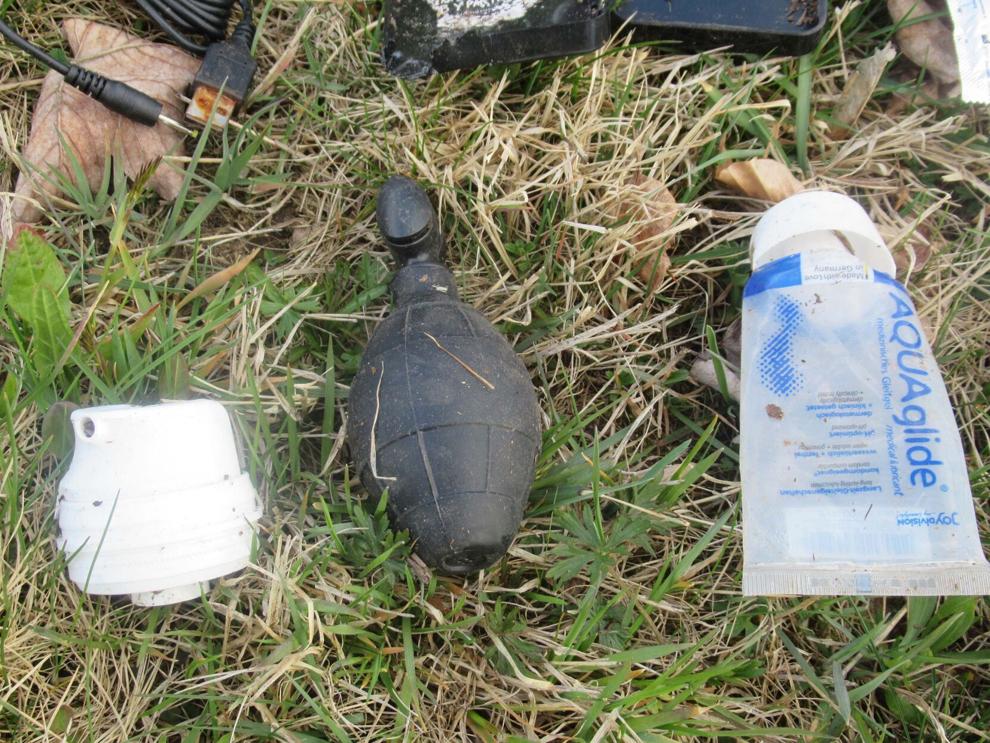 A bomb alert in southern Germany turned out to be a false alarm after a grenade-shaped object was found to be a sex toy.
A woman out jogging in the forest near Sonnen on Monday evening called the police after spotting what she thought was a hand grenade in a transparent plastic bag, according to a statement released by the local force Tuesday.
Officers from the Bavarian bomb unit were called in to assess the situation, and were fortunately able to give a swift all clear.
"After inspecting the plastic bag it became evident that it was only a fake plastic grenade," reads the statement, adding that two unused condoms, an empty bottle of lubricant and a USB cable were also found inside the bag.
"An internet search confirmed the suspicions, there are actually hand grenade sex toys," said police.
The bag had decomposed and must have been there for some time, according to the statement.
"How the items got there and why they stayed there are now the object of speculation," added police, who have since disposed of the items.
Old bombs are not uncommon finds in Germany.
In June 2019, residents of Ahlbach, southern Germany, were awoken early one morning by a sudden blast which left a crater 33 feet wide and 13 feet deep in a cornfield. Police later said it was "almost certainly" caused by a WWII bomb.
Police defused an unexploded World War II bomb weighing 1,100 pounds in Berlin in April 2018, and in September 2019 almost 60,000 people were evacuated in Frankfurt after a 3,000-pound bomb was found.
Man arrested at airport after 35 birds intended for singing contests found in his clothing, officials say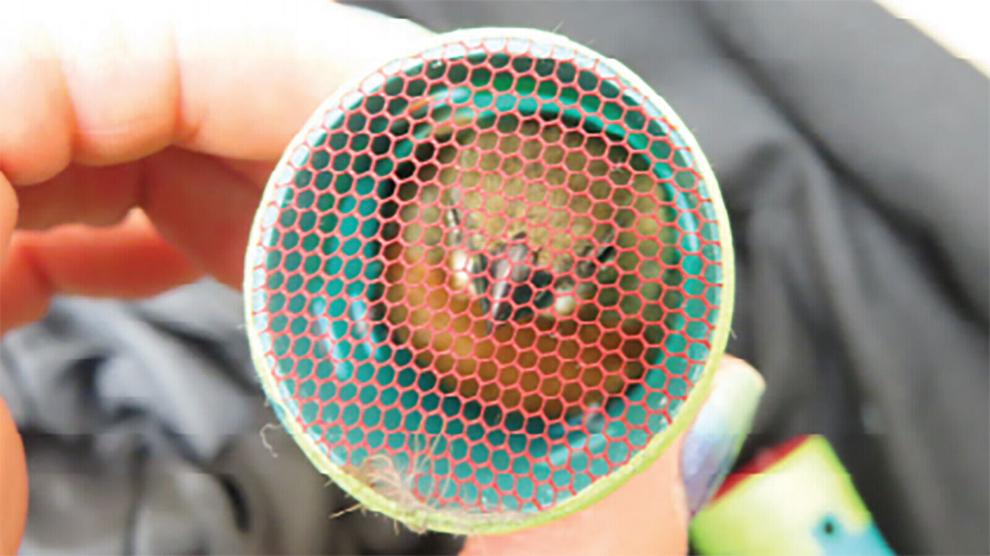 A man was arrested and charged with allegedly smuggling 35 live finches in hair curlers from Guyana for "singing contests" in New York City, according to a complaint from the US Attorney's Office for the Eastern District of New York.
Kevin Andre McKenzie, a 36-year-old Guyanese resident, flew to John F. Kennedy International Airport in New York on Monday, according to the complaint, where Customs and Border Protection officers pulled him aside for an examination and found the birds, authorities said. He was charged with unlawfully importing the finches.
Photographs show the tiny finches were stuffed inside hair rollers sealed with perforated netting. Authorities said they were attached to the inside of McKenzie's jacket as well as the top of his shoes.
The traveler was released on a $25,000 bond, the US Attorney's Office said.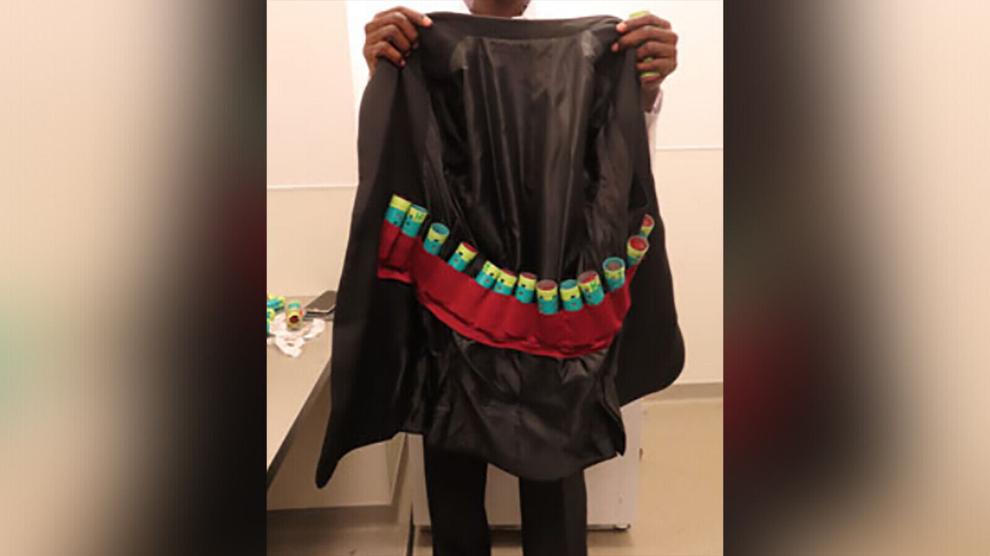 James Darrow, McKenzie's attorney, declined to comment.
The investigation found that these types of birds are often entered into "singing contests" in the Brooklyn and Queens neighborhoods of New York, according to Kathryn McCabe, a special agent for the US Fish and Wildlife Service.
"In such contests, often conducted in public areas like parks, two finches sing and a judge selects the bird determined to have the best voice," McCabe stated in the complaint. "Many who attend the singing contests wager on the birds. A finch who wins these competitions becomes valuable and can sell for more than $10,000. Although certain species of finch are available in the United States, species from Guyana are believed to sing better and are therefore more valuable."
McKenzie told officers that he had been offered $3,000 to smuggle the birds, the complaint says. He allegedly was paid $500 before his flight and was to receive the remaining $2,500 after he got through Customs. It is not immediately clear whether anyone else has been arrested.
Besides a valid import permit, birds are required to quarantine for 30 days to prevent the spread of contagious diseases, according to government regulations listed in the complaint.
Giant gold coin weighs 22 pounds and took 400 hours to create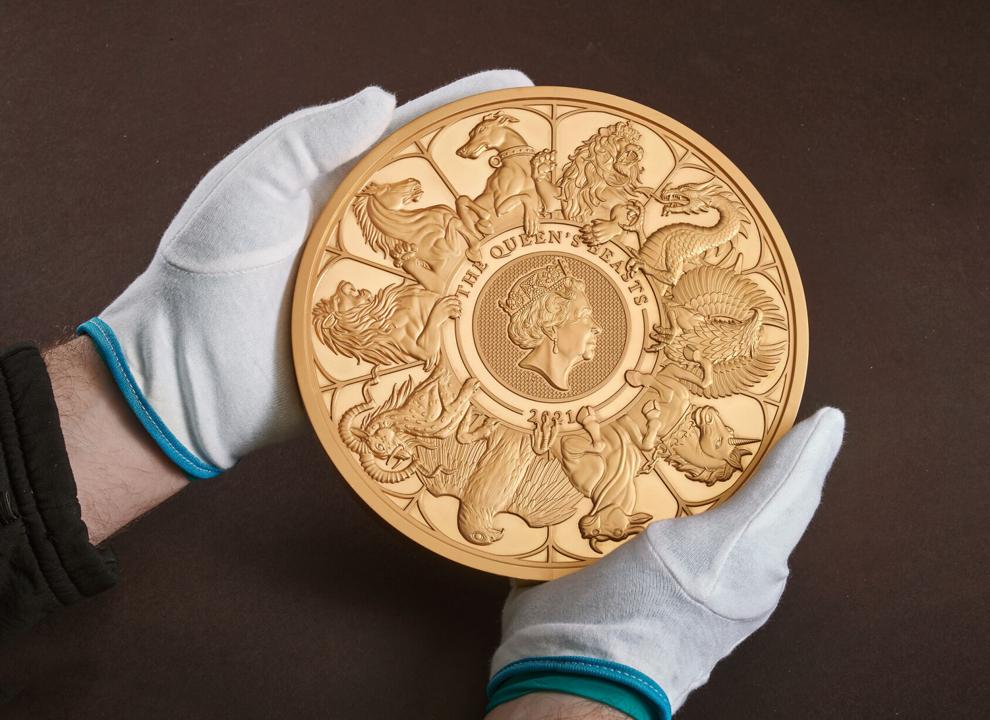 A huge £10,000 ($13,950) commemorative gold coin has been created in Britain that pays tribute to the "Queen's Beasts" -- 10 mythical creatures that represent her royal ancestry.
The coin, which weighs 10 kilograms (22 pounds), was made by the Royal Mint and is the largest ever created in its 1,100-year history.
The Royal Mint, which makes the nation's coinage, called it a "masterwork" that was handcrafted by a team using traditional minting skills and modern engraving technology.
It was polished for four days before being cut, lazer frosted, and completed with a matt finish. The whole design took 400 hours in total, the Royal Mint said.
It was created to mark the finale of the Royal Mint's "Queen's Beasts Collection," a series of collectible coin designs based on 10 statues created for the Queen as a guard of honor at her 1953 coronation.
The mythical beasts -- which include a white lion, bull, falcon, unicorn, dragon and griffin among others -- symbolize her ancestry and together form a "formidable phalanx of ancestral creatures drawn from centuries of royal history," according to the Royal Mint website.
The coin illustrates all 10 beasts side-by-side in one single design with an effigy of the Queen in the center.
The coin, which has a denomination of £10,000, has been sold for an undisclosed six figure sum, said a Royal Mint spokeswoman.
Those looking for a smaller, more affordable version of the giant gold coin can purchase a replica at the Royal Mint website, with prices starting from £13 ($18).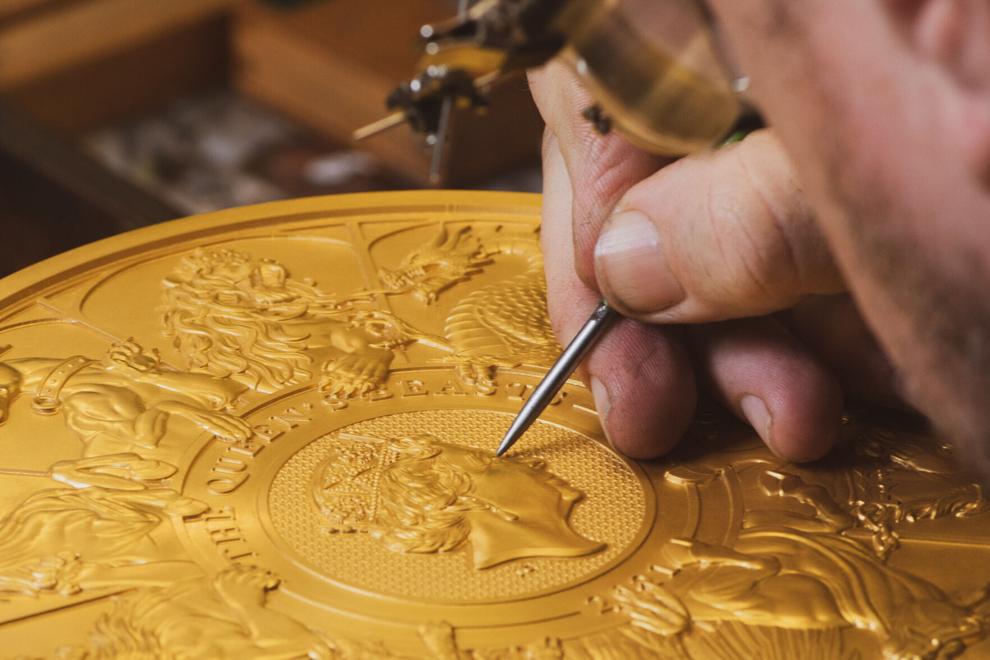 'A work of art'
The Royal Mint began producing the Queen's Beasts Collection in 2017, beginning with the "Lion of England" coin. The lion emblem has been used by the royal family for centuries as a symbol of bravery and strength.
The second coin released was of the Unicorn of Scotland -- a coat of arms representing the union of England and Scotland.
The commemorative collection includes a coin that celebrates the Red Dragon of Wales.
Clare Maclennan, divisional director of commemorative coin at the Royal Mint, said in a statement that the new coin set a "new standard" for minting, "combining centuries old techniques with innovative technology to create a unique and beautiful work of art."
"It is the largest coin ever created by the Royal Mint, and is testament to the expertise, craftsmanship and skill of our team," she added.