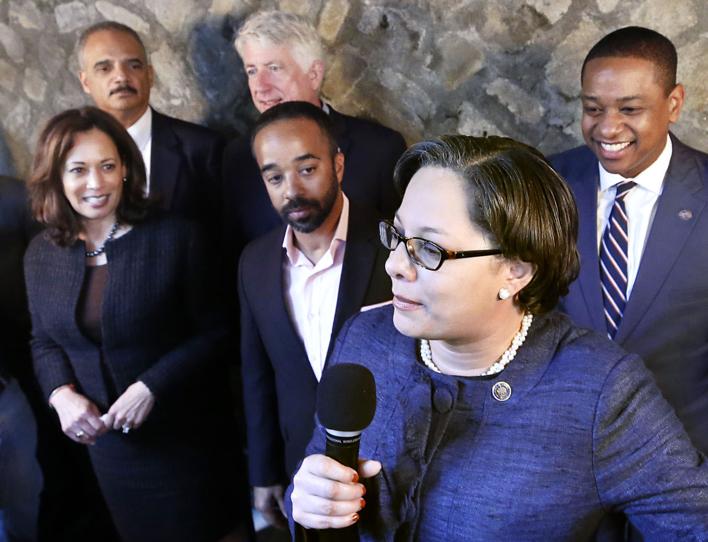 Alexa Welch Edlund/Times-Dispatch
Our shop got out of the predictions business after Dave Brat knocked off Eric Cantor and Donald Trump beat Hillary Clinton.
That said, given the historic nature of the next two Novembers, the above photo might be a keeper.
On Oct. 29, 2017, state Sen. Jennifer McClellan, D-Richmond, spoke at a Democratic get-out-the-vote event at Blue Bee Cider in Scott's Addition. Standing to the left is Sen. Kamala Harris, D-Calif.
This was more than a year before Harris formally began her presidential bid. Now, of course, Harris is Joe Biden's running mate and could make history as the first woman and the first person of color to be vice president.
McClellan also hopes to make history. If elected next year, she would be the first woman to serve as governor of Virginia and the first Black woman governor in the U.S.
Del. Jennifer Carroll Foy, D-Prince William, another candidate for governor, also would achieve those firsts if elected next year.
In their statements praising Biden's pick of Harris, McClellan and Carroll Foy noted they were proud of the message it sends.
McClellan said: "I can't help but think of how my grandparents and great-grandparents would react to see this day. And I am so proud to tell my children, Samantha and Jack, that the Democratic Party has made history today."
Carroll Foy tweeted that when she was growing up, "I never saw women who looked like me in positions of power. I'm grateful that little girls in Petersburg will soon be able to look to our first Madam Vice President and see themselves and their own limitless potential."
As for others in the photo, in the background are former U.S. Attorney General Eric Holder, Virginia Attorney General Mark Herring, who was running for reelection, and Justin Fairfax, who was running for lieutenant governor. Del. Jeff Bourne, D-Richmond, is in the foreground.
Herring and Fairfax also plan to seek the Democratic nomination for governor.