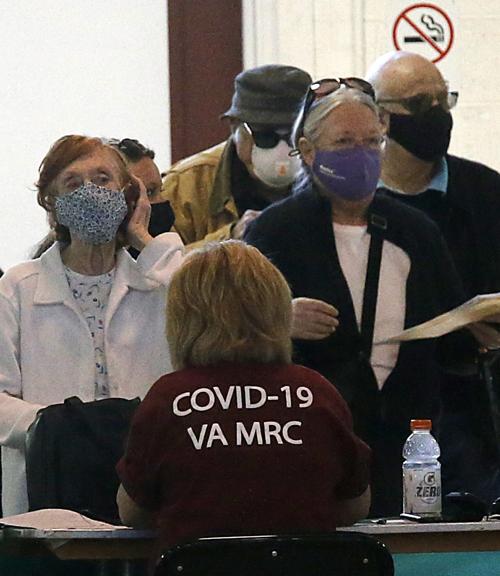 By Art Harralson, Robbie Kidd, Solomon Adams and Gregory Sawyer
What does "think globally, act locally" look like in a pandemic? You wear a mask, keep your distance, carry hand sanitizer and frequently use it, along with other variably intrusive adjustments to your life.
You hold out hope that your individual actions will help bring an end to the pandemic. But they won't be enough.
As we have watched this pandemic claim millions of lives around the world and present ongoing challenges, our approach moving forward must be to learn as much about this virus as fast as possible.
Building the infrastructure to allow for that is critical to the recovery from the COVID-19 pandemic and the ability to be ready for future pandemics. A critical piece of this infrastructure is local testing and sequencing.
Our local sequencing model at Shenandoah University identifies variants of concern within days of the initial positive test — weeks sooner than a centralized model.
It allows contact tracing and supports local public health efforts, driven by a team of local scientists and health professionals. These laboratory and data methods are within reach for small health care systems and academic institutions. What's missing is public awareness and support of policy.
First, a quick science lesson. The virus that causes COVID-19 (SARS-CoV-2) is a vessel for the delivery of a ribonucleic acid (RNA) payload. RNA is important to all living things. As the virus makes copies of itself and spreads, small changes in the sequence of its RNA can accumulate.
These changes are called variants. In October, a novel pattern of variants was identified in the United Kingdom. This new SARS-CoV-2 lineage since has been named B.1.1.7 and seems to have as much as a 50% increase in infectivity. Since then, several other variants have been found in Brazil, South Africa, New York and California.
Finding these variants is not accomplished by common testing methods for SARS-CoV-2. Instead, laboratories implement secondary methods called "resequencing" where positive samples for the SARS-CoV-2 virus are sequenced and compared with other virus sequences from around the world.
This allows scientists to determine if a virus has variants that look like other viruses from a particular locality or elsewhere in the world.
Perhaps as important, it allows scientists to find new virus mutations that might impact how easily the virus spreads, the severity of the disease it causes and/or the effectiveness of vaccines at preventing COVID-19. Indeed, resequencing is critical to tracking variants.
Recognizing variant testing as the next phase of the COVID-19 pandemic, Shenandoah started to provide routine resequencing of collected samples. Our local model is unique, but widely applicable.
Shenandoah is a moderately sized private institution. We are able to test because of experience working with the technology used for testing; access to inexpensive instruments on site; and waivers from the Food and Drug Administration and the Centers for Medicare & Medicaid Services allowing for screening in non-Clinical Laboratory Improvement Amendments labs.
These factors allowed university administrators to partner with skilled faculty scientists and staff members to implement testing.
Most resequencing happens in centralized laboratories at major universities and public health facilities serving large areas. While these centralized models are able to process many samples with high accuracy, there is more physical distance between the sample and the laboratory that adds time from infection to knowledge of potentially dangerous viral lineages.
This logistics-driven issue is the same reason that hospitals develop their own clinical tests versus using an external lab; minimal turnaround time is critical.
A recent $200 million down payment from the Biden administration will allow the Centers for Disease Control and Prevention (CDC) to ramp up sequencing in the U.S., but additional support is needed.
In February, Senate Bill 236, the Tracking COVID-19 Variants Act, was introduced in the U.S. Senate. This measure would provide critical support to the CDC and public health officials to increase the rate of virus sequencing to fully eliminate our variant blind spot.
Currently, we can support efforts by voicing support for the Tracking COVID-19 Variants Act by contacting our representatives in Congress. It only is through public knowledge and testing that we can defeat this virus and others in the future.
Art Harralson is a professor and chair of the department of pharmacogenomics at Shenandoah University. Contact him at: aharrals@su.edu
Robbie Kidd is a professor and chair of the biopharmaceutical sciences at Shenandoah University. Contact him at: rkidd@su.edu
Solomon Adams is an assistant professor of pharmacogenomics at Shenandoah University. Contact him at: sadams07@su.edu
Gregory Sawyer is an associate professor of biopharmaceutical sciences at Shenandoah University. Contact him at: gsawyer@su.edu