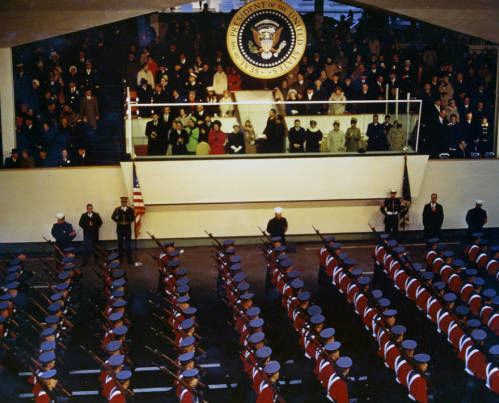 Fifty-two years ago, I experienced the coldest day of my life. It was Jan. 20, 1969, and as a first-classman (senior) at Virginia Military Institute (VMI), I — along with some 250 of my classmates — had been invited to represent the commonwealth of Virginia in the inaugural parade honoring the recently elected 37st president, Richard M. Nixon.
Were we excited about this opportunity to participate in a historic event that would place VMI in the national limelight? Hardly. It wasn't because of Nixon, who overwhelmingly had won a presidential straw poll of the corps the previous fall. It was the fact that we just had returned from Christmas furlough to the bleak, cold VMI barracks, and we were in no mood to march in any parade.
But when word came down from Gov. Mills Godwin's office in Richmond that we, along with Virginia Tech's "Highty-Tighties" military marching band, would represent Virginia in the parade, we could grumble all we wanted to no avail. We had to march in the parade whether we wanted to or not.
Ensuring that we would represent VMI well, we practiced nearly every day leading up to the big parade. Of course, many of us continued to grouse about having to participate, but the closer we got to Jan. 20, the more dread turned to acceptance. We would appear on national TV, and a few of us thought this was something we could tell our grandchildren.
In the wee morning hours of Jan. 20, we were roused from a deep sleep, quietly marched down to the mess hall in the frigid dark for breakfast, and returned to barracks to pick up our M1 rifles or sabers for cadet officers. Loaded onto a dozen buses, we arrived four hours later at Bolling Air Force Base, where we groggily stepped off the stuffy vehicles and were greeted by numbing cold.
We changed into our overcoats with their brilliant red capes pulled open and white cross web belts put on. Despite our initial reluctance to be in the parade, we were determined to look and march better than any other unit. Even the grubbiest cadet private looked sharp, with all leather and brass shined to a high gleam.
We reboarded our buses and headed to the assembly area in downtown Washington near the National Mall. Although we had been warned that temperatures would hover in the teens, most of us were ill-prepared to stand around in our wool overcoats in the assembly area for nearly two hours.
The old military life adage of "hurry up and wait" took on a whole new meaning as a breeze picked up. Most of us soon were shivering and our feet began to feel like blocks of ice.
Then all of sudden, we were surrounded by a large group of scruffy-looking anti-war protesters shouting, "Baby killers!" None of us were exactly sure how to respond.
The regular Army officers who accompanied us warned us not to confront these "hippies" unless we physically were attacked. Thankfully the discipline that had been instilled in us during our time at VMI held, and violence was avoided. For that matter, an always courteous classmate said to one protester: "Hey, man, we're no baby killers. These rifles don't even have firing pins in them." The protester looked blankly back at him, not sure how to respond.
After about an hour, the demonstrators were unable to get us to respond to their taunts and left us to confront another group in the parade. Nevertheless, they had delayed us nearly an hour.
Finally, the order was given, and forming up behind the Highty-Tighties marching band, we stepped off in a battalion mass formation with our cadet first captain, Chris L'Orange, and his regimental staff in the lead. As one newspaper reported, we marched "flawlessly" and we were treated to an unexpected compliment when Nixon turned to his family and pointed out the VMI unit. His daughter, Tricia, then blew kisses at us as we marched by.
After another half-hour of marching, we finally ended the parade near George Washington University just as it was getting dark. We once again were confronted by screaming demonstrators who were held back by the D.C. police. Cold and exhausted, we climbed back on our buses to return to Lexington, where we arrived at around 11 that evening.
Many of us felt that our time would have been better spent staying at VMI, but when we heard from parents who had watched the parade with pride as the corps passed in review on national TV, the unpleasant memories began to fade. A full-page cover photograph of parading cadets in Life magazine a week later further countered the grumbling.
It's a shame that recent events have made it impossible to hold a proper inauguration of a new administration, which, every four years, is a celebration of America no less so than the Fourth of July.
As the years slip by, the bone-chilling cold I experienced on Jan. 20, 1969, long has faded to a warm memory of my youth during troubled yet hopeful times.
Charles F. Bryan Jr., Ph.D., is president and CEO emeritus of the Virginia Historical Society. Contact him at: cbryan1969@aol.com