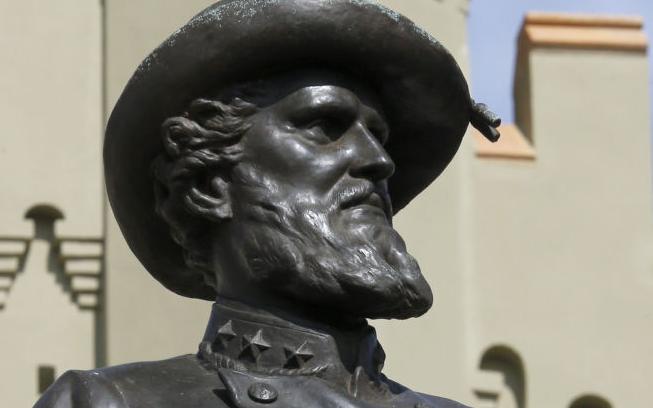 By Conor Powell and Michael R. Purdy
As Americans are confronted once again with a societal conflagration ignited by a combination of police brutality and our nation's original sins of slavery and racial inequality, we are now more than ever forced as citizens to examine what we can do to move our nation beyond this sad legacy.
The Virginia Military Institute (VMI) prides itself as being a training ground for America's military and civilian leadership, and as such, it must reflect and take action to help heal these wounds. Given its deep history with the Civil War — its graduates supplied scores of officers for the Confederate Army and its cadets famously fought and died at the 1864 Battle of New Market — there is perhaps no better institution in the country to lead on this issue.
While the crucible of military cadetship at VMI has produced leaders as diverse in their contributions to American life as Secretary of State and Nobel Peace Prize recipient Gen. George C. Marshall, slain civil rights leader Jonathan Daniels, the current Secretary of the Army, Ryan McCarthy, and recently deceased comedian Fred Willard, the institute nevertheless continues to embrace backward-looking symbols of Confederate iconography that do damage to our national dialogue on race and to VMI itself as an institution of higher learning.
It's time for VMI to live up to the principles of honor, leadership and equity upon which it was founded and shed once and for all its embrace of this iconography, and in particular of Confederate Gen. Thomas Jonathan "Stonewall" Jackson.
The bronze statue of Stonewall Jackson lords over VMI's central parade ground, enshrined in front of the VMI barracks' main gate — Jackson Arch. Since 1912 when the statue was erected, Jackson has literally and figuratively hovered over all aspects of VMI's life.
Until recently, first-year cadets — known semi-affectionately as "Rats" — were required to salute Jackson's statue upon exiting barracks, just as all cadets were required to salute the American flag. The message was clear, if contradictory: Stonewall Jackson, a VMI professor who took up arms to destroy the union in defense of the institution of slavery, was to be honored by cadets on equal footing with our nation's flag.
This institutional embrace of Stonewall Jackson is jarring in light of what VMI's graduates have accomplished in the 155 years since the end of the Civil War. And VMI has by no means been frozen in time when it comes to issues of race. Shortly after the admission of the first African American students in 1968, VMI cadets stopped marching with the infamous Confederate battle flag.
Its band stopped playing "Dixie" more than 40 years ago. In 2004, the institute named one of its four main archways for Daniels, a 1961 graduate and clergyman killed by a shotgun blast while protecting two African American women in 1965. Today, Rats only salute the American flag and not Jackson's statue — a small, but important, break with VMI's past. Most important, African American graduates of VMI continue to achieve great heights in military and civilian life.
As Americans are by now aware, watching this painful moment in our nation's history unfold in new horrific detail hour by hour, leaders and institutions must step up to help right the wrongs of the past. In that light, nowis the time for VMI to lead from the front (as cadets are often admonished to do), remove Jackson's statue from its prominent place in front of VMI's barracks, and place it in a museum with other vestiges of VMI's past.
Fundamentally this wouldn't be erasing or white washing history as Jackson's statue was not erected as a history lesson, but as an object of adoration. His legacy could continue to serve as an invaluable lesson for current and future cadets: Choose your causes wisely and consider how future generations might interpret your actions.
As an institution of higher learning, VMI has an obligation to ensure that it remains a modern, forward-looking academic institution educating a diverse cadet corps ready to take on the mantle of modern leadership. With continued post-COVID-19 disruptions of higher education on the horizon, a failure by VMI to modernize its message and its appeal to the current and future cadet corps could prove to be an existential crisis for every alumnus.
Today, 181 years after its founding, VMI's history is far richer than just its Civil War legacy. VMI men and women have distinguished themselves in war and peace, so finding a worthy replacement for Jackson atop that granite pedestal overlooking the parade ground will not be an insurmountable challenge for the VMI community. Rather, accepting that now is the time to move forward will be our community's single greatest challenge.
Today when cadets enter barracks through Jackson Arch, they are confronted with one of Jackson's favorite maxims in large bronze letters:
"You may be whatever you resolve to be."
We take this ancient maxim to heart, and believe today, with the right leadership and decisive action, we will be better as an institution than we were yesterday. Removing the statue of Stonewall Jackson is one step toward achieving that goal.
Conor Powell, a freelance journalist and host of "Long Shots" podcast, lives in Los Angeles and is a 1999 graduate of VMI. Contact him at LongShotsPod@gmail.com
Michael R. Purdy is an attorney at Google in Washington, D.C. and is a 1999 graduate of VMI. Contact him at: mroypurdy@gmail.com