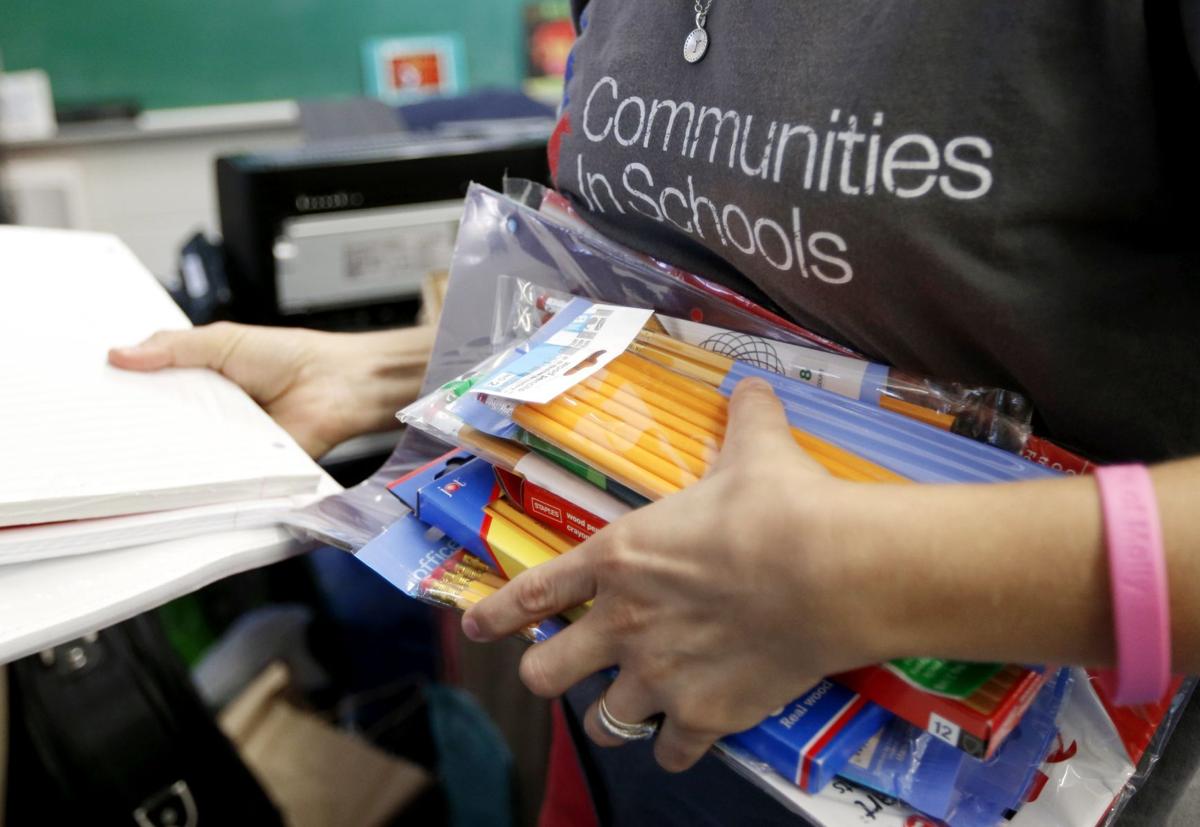 By Daniel A. Domenech and Mark E. Emblidge
It should not have taken a global health and economic crisis to cast light on the crisis already taking place in our schools, where income level and skin color still play significant roles in predicting student success. Public schools don't just educate children; they also feed them, address trauma and mental health issues, monitor physical health, and identify signs of domestic instability and other risk factors affecting a student's ability to prioritize learning.
For 22 years, Communities In Schools of Virginia (CIS-VA) has helped streamline those supports for Virginia's most vulnerable students. But with students currently unable to access these critical services in school buildings, an already dire situation for many is being exacerbated.
The estimated $120 billion price tag to return kids to school as the nation recovers from COVID-19 is just to create a safe framework for teaching, and doesn't account for funding for essential wraparound supports that facilitate actual learning for students. As the pandemic rages on, the predictions of learning loss and a significant widening of the achievement gap are proving accurate — particularly for historically marginalized populations. According to a McKinsey & Co. study:
Engagement rates (derived from login data on school platforms) are 60% for low-income students and students at predominantly Black or Hispanic schools, versus 90% of high-income students.
Black students might fall behind by 10.3 months, Hispanic students by 9.2 months and low-income students by more than a year, resulting in an estimated 15% to 20% exacerbation of existing achievement gaps.
And finally, the school dropout rate is projected to increase as much as 9% — translating to approximately 1.1 million ninth to 11th graders nationwide.
Historical data tells us that this drastic spike in dropouts will lead to increased incarceration and billions in lost wages, tax revenues and community productivity over the lifetimes of these young people. The gap has widened, the crisis has deepened and many students are standing at a crossroads, choosing every day among logging into virtual school, helping care for younger siblings or going to work to help support a household. Along with putting their own futures in jeopardy, the future of our workforce and communities is at stake.
CIS was founded on the principle that relationships are key to successful delivery of supports and resources many students need to succeed. In Virginia, there are CIS site coordinators embedded in 101 partner schools, building relationships with students and staff, understanding school-specific cultures and challenges, and orchestrating a full spectrum of evidence-based integrated supports, covering needs including behavioral supports, social-emotional learning, workforce readiness, physical and mental wellness, basic needs and much more.
Founded in 1999, the CIS-VA network is comprised of six growing affiliates that have forged partnerships in the commonwealth's highest-need schools and successfully are impacting attendance, behavior and academic performance for thousands of vulnerable students.
This past spring's school closures proved that the relationships between site coordinators and families are lifesavers, especially in times of crisis. Site coordinators headed into neighborhoods to meet the students who needed them, facing the realities of poverty, homelessness and hunger head-on. They became front-line workers, distributing food and clothing, finding ways to have critical in-person check-ins while socially distanced, conducting family needs assessments, helping households navigate technology, and addressing stress and trauma. Between March and June, individual case management and family engagement supports provided by CIS-VA increased by 117%.
As communities grapple with the impact of COVID-19, CIS site coordinators continue going above and beyond to buffer our most vulnerable students from the impact of the pandemic. Home visits are the top support provided to case managed students and their families, with a significant increase in social-emotional check-ins and interventions provided (nearly 2,000 more CIS students have documented goals in this area this school year compared to the previous year). Attendance monitoring also looks different, with site coordinators monitoring digital logins and taking action when a student goes missing. Overall, site coordinators must engage more deeply with families and households to help clear barriers to remote learning.
Providing an equitable opportunity for success requires a strong system of integrated supports in our highest-need schools. When we holistically address students' needs with tailored, coordinated and sustained supports, we break down immediate and systemic barriers to create and sustain equitable outcomes. CIS-VA is positioned to be a partner in expanding access to supports that address students' needs inside the classroom and beyond school walls, so nothing stands in the way of their bright futures.
Daniel A. Domenech is chair of the Communities In Schools of Virginia board of directors, executive director of the American Association of School Administrators and former superintendent of Fairfax County Public Schools. Contact him at: ddomenech@aasa.org
Mark E. Emblidge is president and founder of Communities In Schools of Virginia, former president of the Virginia Board of Education and former chair of the Richmond School Board. Contact him at: vlime@earthlink.net
CIS of Virginia reaches nearly 60,000 students in 101 schools across six affiliates (Chesterfield, Hampton Roads, Northern Virginia, Petersburg, Richmond and Southwest Virginia). This past year, 4,468 of the highest-need students in its schools received more than 42,000 intensive and individualized services. To learn more, visit: www.cisofva.org