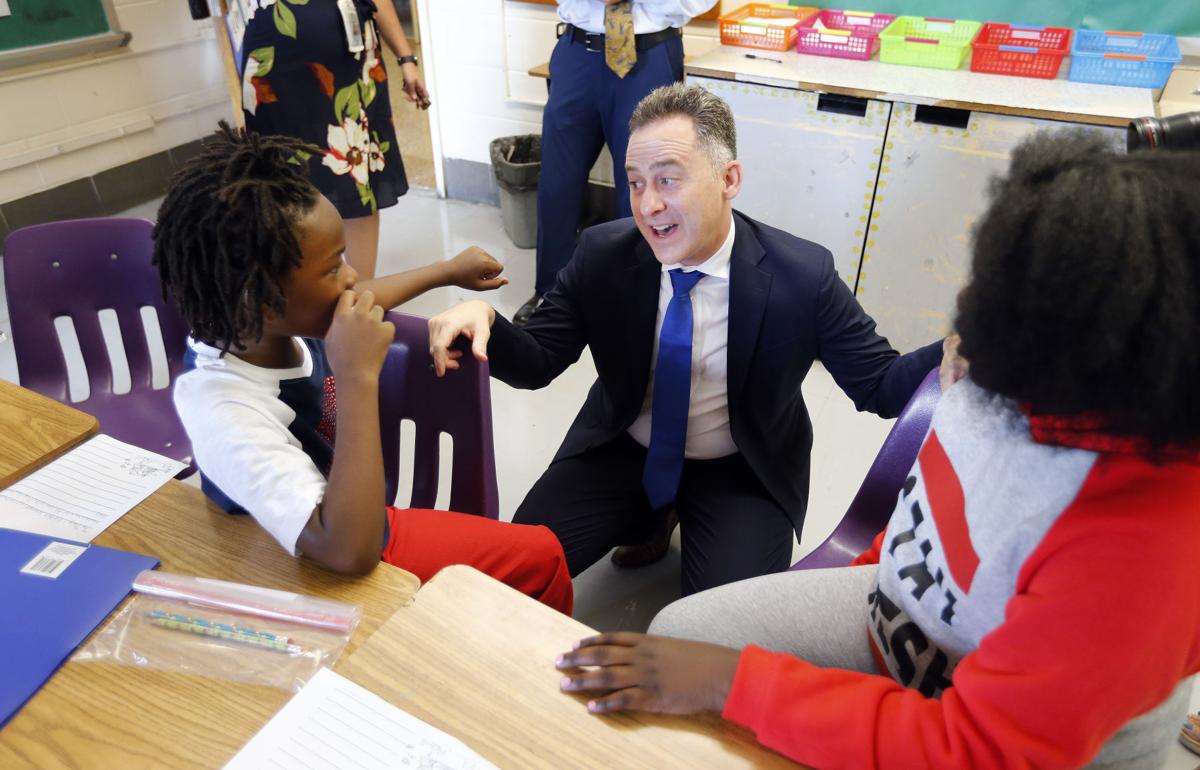 supBy Danny TK Avula and Jason Kamras
Health and safety always must come first. That's why Richmond Public Schools (RPS) — along with many other school divisions around the commonwealth — decided to begin the academic year virtually.
But closing school buildings only will protect our children from COVID-19 in one setting. It will do nothing to address the many injustices that children of color and low-income children faced prepandemic — injustices that only have become more devastating since March.
Before COVID-19, roughly 1 in 4 Richmond children went to sleep every night hungry or anxious about where their next meal would come from. Though RPS is moving heaven and earth to make sure breakfast and lunch are provided to every student in need, we know that nothing will replace the consistency and quality of the in-person school meal program.
Before COVID-19, roughly 1 in 7 Richmond children went to sleep every night on a friend's couch, in a motel or in a car. Gov. Ralph Northam has requested that the Virginia Supreme Court reinstate the ban on evictions that lapsed at the end of June until early September. But this is only a brief reprieve for the hundreds — if not thousands — of students in Richmond who will be searching for a place to call home if the ban sunsets later in the school year.
Before COVID-19, roughly 1 in 8 Richmond children faced abuse, gun violence or other severe trauma in their lives. We know from hospital reports that these unimaginable physical and emotional injuries are on the rise.
These injustices always have fallen heaviest on the shoulders of low-income children, and Black and Latino children, largely as a result of institutional racism that rigged the system against them well before they were born. The question we now face is a simple one: What will we do to change that?
We humbly suggest three actions.
First, we call on our state officials to make bold new investments in public education and all of the supports that contribute to the overall health and well-being of the commonwealth's children. Virginia has the opportunity to take some initial steps in this direction very soon. On Aug. 18, the General Assembly will begin a special session focused on distributing revenue that was frozen earlier in the year.
State lawmakers can show us how they're taking responsibility for the safety of students and teachers by prioritizing resources to help schools prepare for in-person reopening. We desperately need funds for supplies and equipment recommended by the Centers for Disease Control and Prevention, facility enhancements (like HVAC upgrades) to safeguard student and staff health, and extra learning time to make up for the inherent limitations of remote learning.
The opportunity for bolder action comes in 2021, when the General Assembly will reconvene in regular session. Legislators can show us how they're leading the way if they choose investments in public education, and the supports that lead to healthy and happy children — nutritious food, safe and affordable housing, employment for parents/caregivers, and a robust physical and mental health care system.
Without these investments, the very important symbolic steps that have taken center stage in the aftermath of George Floyd's murder — for example, the impending removal of the Robert E. Lee statue on Monument Avenue — will be at best, incomplete, and at worst, token gestures that weaken efforts to enact deep, structural change.
While new investments are necessary, they're not sufficient. Our second action is a call for more collaborative work within our community. That's why we're excited aboutRichmond's pilot program to integrate services across government agencies, schools and nonprofit partners in a seamless network, making it easier for providers to understand a family's challenges and goals, make referrals and provide support more quickly.
Imagine how much more effective we'll be if everyone is working together as a team to remove barriers and facilitate respectful, relationship-based access to resources and care.
Finally, in addition to new resources and greater collaboration, we call for a booster shot of empathy and grace. For Richmond to bend the arc of the moral universe toward justice for its children, to paraphrase the Rev. Martin Luther King Jr., we all must dedicate time and emotional energy toward truly understanding each other's lives.
In short, we need to listen more and assume less. And we need to extend each other grace. All Richmonders are struggling to navigate both COVID-19 and our country's 400 years of racism — all while managing the daily turbulence of life in this era. We, the adults — from our City Council to our General Assembly to the two of us — need to care for one another if we're going to have any shot of creating a healthier future for the next generation.
Without care, collaboration and courageous investment, we can't dismantle the inequities of yesterday. To create a new normal of justice, opportunity and happiness for our children, we have to newly embrace and truly enact the change our kids deserve.