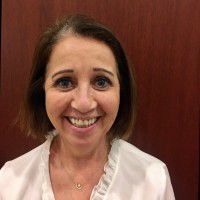 David Lewis is a trauma therapist working in isolation in Crozet to counsel adults and children who survived the murder of a relative. The support groups he runs are on hold — another casualty of the COVID-19 pandemic — while he tries to reconfigure them online through the Virginia Victim Assistance Network.
Recently recognized as Social Worker of the Year by the Virginia chapter of the National Association of Social Workers (NASW), Lewis has embraced loosened telehealth regulations. He holds online appointments but frets clients will "disappear," finding computer connections inadequate for such sensitive therapy.
Heather Stone and her 16-member team moved the entire patient caseload and operations of Central Virginia Health Services to a virtual platform in one frantic week. Skilled in integrated care with behavioral health, medical and dental services, Stone has had to master coaching others in telehealth technology.
"Administratively, it was really stressful and a lot of work when the pandemic first broke out because I was so concerned about the safety of CVHS clinicians and patients, as well as needing to operate within federal and state regulations," she said. "Many of my families are also facing real struggles from the impact of social distancing — specifically, the effects of job losses, food insecurity, and partners and children who have to be home in abusive situations."
Lewis and Stone are among the thousands of social workers laboring under difficult circumstances to help increasingly vulnerable populations endure the mental health challenges of a profoundly disrupted society. And — like their statewide and nationwide peers — they are generally invisible.
No one is holding drive-by recognition parades for social workers, with their professional culture of modesty and deep discretion. No celebrity concerts or corporate TV ads tout the often life-threatening risks taken by social workers in their daily duties.
Few people realize that social work is the largest behavioral health profession in America. Most of the public has no idea what social workers do and, granted, the field has diverse specialties, so this is understandable.
But social workers provide vital services in our schools, hospitals, government agencies, health clinics, veteran facilities, addiction centers, homes for the seriously mentally ill and more. To the knowledgeable, they are — as Gov. Ralph Northam rightly labeled them early in this pandemic — "essential workers."
Sadly, that was the last time social workers were publicly recognized, despite their critical role as front-line health care professionals. While clients aren't ventilated, they might be in the equivalent of a mental health ICU: an alcoholic whose commitment to sobriety is wavering without in-person support meetings; a furloughed veteran cut off from health insurance that covered his panic disorder treatment; or a clinically depressed mother balancing work at home with child care.
Because of Northam's shelter-at-home directive, social workers are unable to physically rush to their clients' sides. But they have charged forward to advocate for, and successfully attain, train and set up innovative support systems such as teletherapy services, that at least offer some care options.
Barriers have been daunting, including technophobia and disparities in internet access or device ownership. In response, NASW and NASW Virginia Chapter are leading the calls for Congress to tweak telehealth regulations to allow use of any phone or audio-only device, in addition to now-permitted video-enabled devices.
Other major problems have been the severe shortage of personal protective equipment needed by social workers in high-risk settings such as assisted living facilities and unclear, rapidly changing or non-inclusive safety guidance from regulatory agencies.
Of increasing concern are rising reports of social workers forced to choose between unsafe working conditions and pink slips. Locally, NASW Virginia Chapter has been raising awareness of these cases to the Virginia Department of Health. Most recently, an employer directed a social worker to bill for clinical services while doing nursing tasks and medication technician work in a residential program.
So anxious are social workers — each of whom is bound by state and NASW codes of ethics — about such conflicts and lax oversight that our organization has called on the Occupational Safety and Health Administration to remind employers that retaliation against employees who raise personal workforce safety concerns is illegal.
The need for greater public recognition of social workers like Lewis and Stone is not driven by ego. It's driven by necessity. As essential workers, social workers must be supported — financially, professionally and ethically — with the same vigor as nurses and doctors. Indeed, some work just upstairs or next door to an emergency room. They, too, are operating under unprecedented circumstances to serve populations with needs greater than ever before. Let's acknowledge social workers for the essential, heroic difference they are making in Virginia.