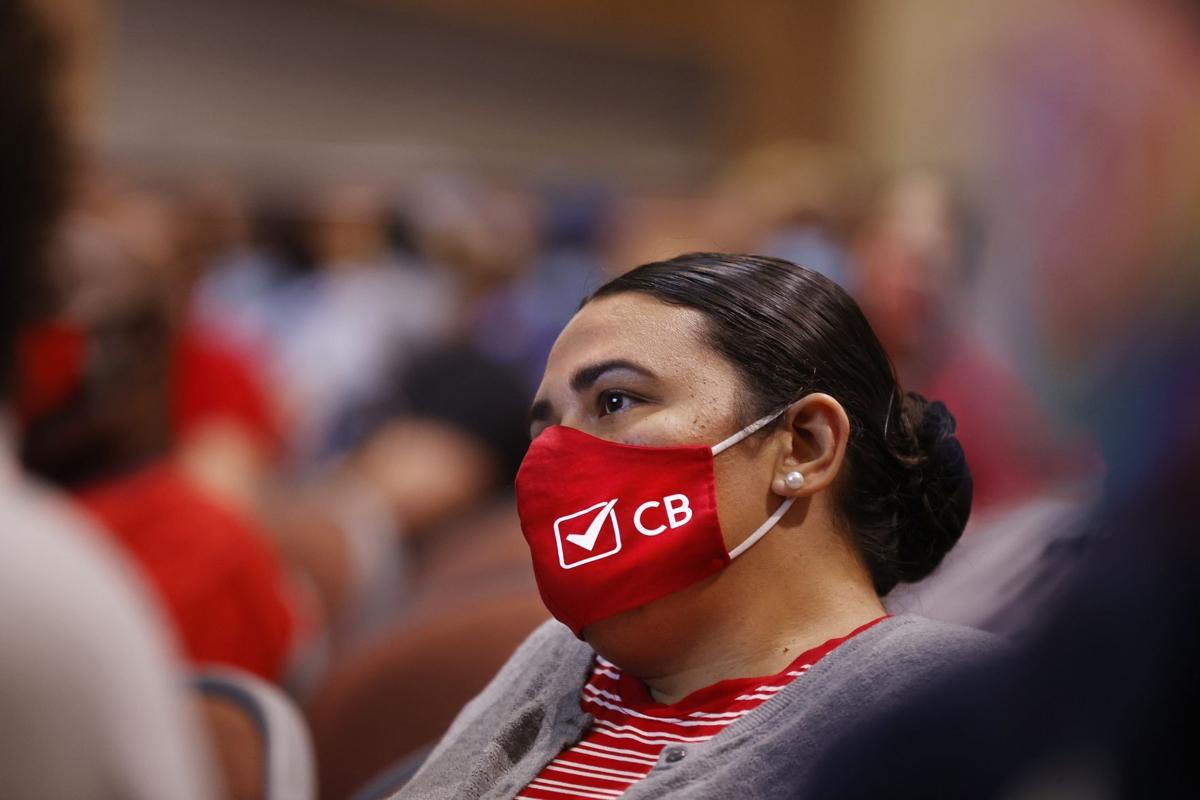 Earlier this month at a Richmond School Board meeting, cheers erupted in City Hall as the board voted 8-1 to give teachers the right to unionize and bargain collectively.
For Gov.- elect Glenn Youngkin, the news was nothing to celebrate. "I don't think that striking should be available," he explained. In his disapproval, Youngkin joins a long line of politicians who have branded organized teachers as bad for schools and greedy.
But concerns like these are political myths, not historical realities . For more than a century, organized teachers have joined with community members to push for school improvement in the name of teacher professionalism, academic achievement and social justice.
Motivated by gendered assumptions, early school leaders concurred that women were natural teachers. But as Horace Mann, a father of American public education, warned in 1853, "as a general law, the man surpasses the woman ... in intellectual facilities." Women may be ideal teachers of the young, but they could not be trusted to guide schools; for that, male administrators would be needed.
Notions like these gave way to the bureaucratic organization of American public education where teachers occupied the bottom rung, deprived of voice and authority. Even as gendered norms shifted over time, that initial bureaucratic order has persisted and grown.
Discontent with the teaching and learning conditions they encountered, teachers organized to fight for professional authority and recognition beginning in the late 19th century.
In 1904, Margaret Haley, the renowned Chicago leader, delivered a speech calling for teacher organization. The structure of public schools, she explained, reduced teachers to "an automaton, a mere factory hand." Beyond an unpleasant work environment, she warned, these dynamics sapped teachers of individuality and initiative, and hurt students.
Calls for salary justice often have been a part of organized teachers' fights, fueling critics claims that teachers selfishly put themselves ahead of students. In 1910, Grace Strachan, president of the Interborough Association of Women Teachers in New York, ignited the quest for gender equality demanding "equal pay for equal work" among male and female teachers. In 1941, the Georgia Teachers and Education Association pushed for racial equality in teacher remuneration between white and Black teachers. And in 1960, the National Education Association issued a report that revealed teachers received less than half the average earnings of other professions that required similar amounts of preparation, stirring teachers to take up the issue locally.
Organized teachers' quest for salary justice continued across the United States over the 20th century and into the present, but higher pay has been just one piece of what teachers sought to achieve.
In 1940, the New York State Federation of Teachers Unions issued an open letter to the legislature, warning it would "fight any attempt by 'pressure groups' to cut State aid to education."
Teachers in New York City negotiated caps on class size in 1967 that lowered the maximum number of students in elementary schools to 33 in a room. And in Saginaw, Mich. , teachers bargained for the right to be "consulted about the design of new school facilities."
Meanwhile, organized teachers in Chicago argued in 1968 that children were being taught "a thoroughly racist account" of American history and demanded diversity and representation in textbooks.
In 2018, from West Virginia to Arizona, teachers joined with community members and walked out of the schools for increased salary and student resources. The next year, teachers in Los Angeles went on strike for six days in what union leader Alex Caputo-Pearl described as a "fight for the soul of public education." Alongside a pay hike, organized teachers demanded increased investment in public education, more nurses and school counselors, and smaller class sizes.
This year, from state bills that would divert funding from public to private schools, to outrage over masking protocols and curriculum debates at school board meetings, local public schools have been battered. This, even as the pandemic has brought into sharp focus the critical role of schools as community lifelines.
More than ever, we need the voice and leadership of the nation's public schoolteachers to safeguard these institutions and to partner with communities. The new collective bargaining agreements in Richmond are victories for public education we should all cheer.
Diana D'Amico Pawlewicz is a historian of education policy and a visiting scholar at the Bonner Center for Civic Engagement at the University of Richmond. She is the author of "Blaming Teachers: Professionalization Policies and the Failure of Reform in American History." Contact her at dianadamico52@gmail.com or follow her on Twitter: @DiaDamico