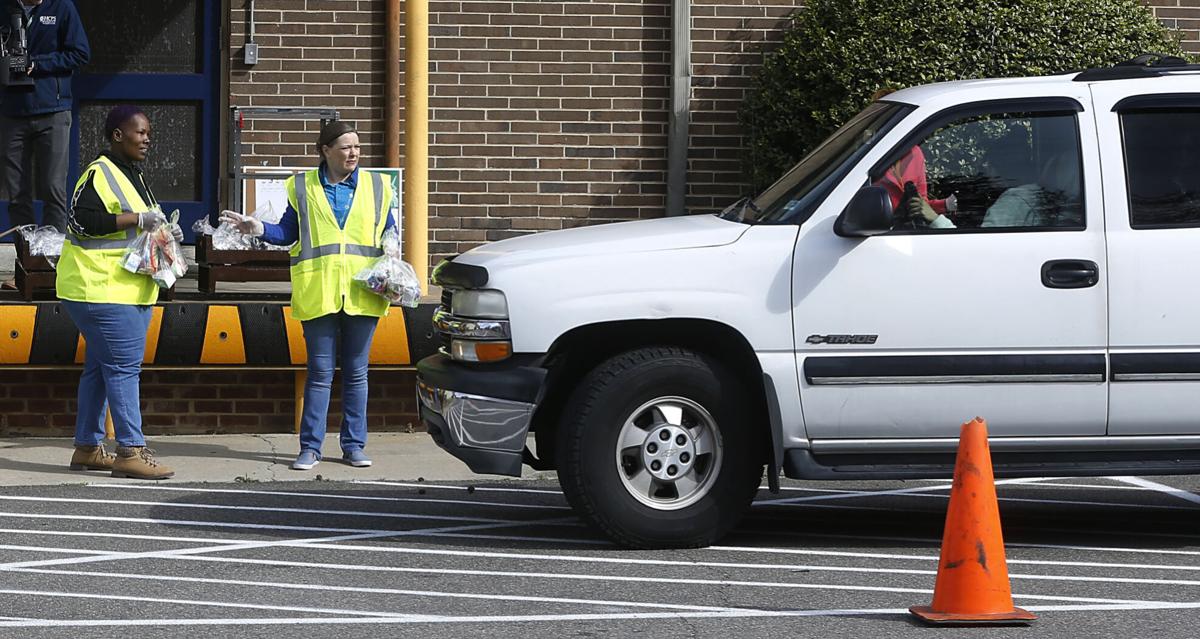 When schools closed in March due to COVID-19, the buses continued to roll with carefully packed bags of sandwiches, fruits and snacks replacing rows of students. From Arlington to Abingdon, the routes have been different, but the destinations are the same: the homes of families in our communities facing food insecurity.
Local school nutrition departments have been working overtime throughout the pandemic, deploying innovative solutions to connect children with meals. Bus deliveries are just one example. Overnight, nutrition professionals worked with school leaders to devise ways to safely distribute meals, such as contactless pickup points where families could collect healthy meals to go.
Sometimes unseen and undervalued essential workers, even prepandemic, nutrition teams across the state have displayed an unwavering commitment, risking their own health to fight hunger in our community, despite the unprecedented challenges of this public health crisis. And while the vital programs that our school nutrition heroes rely on for funding are on stable footing for a few months, they are at risk of cancellation during a dangerous period for hungry kids: the middle of winter.
Food insecurity is increasing at startling rates. Fresh data from a new report by No Kid Hungry — The Longest Summer — indicates that almost half of American families are living with hunger during the pandemic. Food shortages are even worse in Black and brown communities: 53% of African American families and 56% of Latino families are experiencing hunger.
The miles-long lines of cars at our nation's food banks illustrate these numbers all too well. They are a stark reminder of the virus' tragic impact on our nation's hunger crisis, which now touches families who never have struggled before with putting food on the table.
New developments are increasing the impact of nutrition departments in Virginia beyond the 450,000 students who relied on free or reduced price meals before the pandemic hit. More than 270 schools recently enrolled in the Community Eligibility Provision (CEP), affecting more than 145,000 students for the first time.
In this time of unprecedented need, CEP can help schools to provide critical nutrition to students whose families are being impacted by the ongoing crisis. CEP is an option for school meal funding that makes it easier to feed kids by allowing all students to eat breakfast and lunch at no cost, and reduces the administrative burden on schools and families.
Participating school districts can utilize CEP for four years. This is good news now and will continue through the end of the pandemic when school districts can begin rebuilding nutrition budgets. Higher meal participation by all students helps school nutrition programs thrive and eliminates school meal debt, which has been on the rise across the commonwealth.
For schools that are not eligible or not yet benefiting from CEP, the U.S. Department of Agriculture (USDA) recently extended child nutrition waivers — flexibilities that allow districts to serve all youth in a variety of ways, regardless of income level — mean that emergency programs in the summer, like grab-and-go models where a guardian can pick-up multiple meals, will stay in place until the end of the year.
Sadly, this stopgap measure isn't enough. To ensure kids are fed, the USDA needs to extend these waivers through the entire 2020-21 school year, better enabling nutrition teams to plan their budgets, and safely and effectively serve meals.
School nutrition departments and food banks are doing all they can to meet the need in the communities they serve, but food insecurity will continue to rise if we don't strengthen America's front-line nutrition program — SNAP (formerly known as food stamps). Congress must pass a 15% across-the-board increase in SNAP benefit levels to keep pace with skyrocketing food prices and ensure the charitable food system is not overwhelmed this fall and winter.
Hundreds of thousands of Virginia's children are at risk of suffering from food insecurity over the coming months. If we don't take action now, their health and education outcomes likely will be negatively impacted for the rest of their lives.
September is Hunger Action Month, a moment when we can reflect on the critical needs within our communities, and celebrate the front-line nutrition professionals who continue to provide critical lifelines throughout Virginia. We can support their work by extending USDA program flexibilities through June, and increasing SNAP benefit levels for all eligible households.
In a nation and a commonwealth as rich in resources as ours, there is no excuse for children to go to bed hungry.
Dorothy McAuliffe is chair of the No Kid Hungry Virginia campaign, national policy adviser for Share Our Strength and former first lady of Virginia. Contact her at: dmcauliffe@strength.org