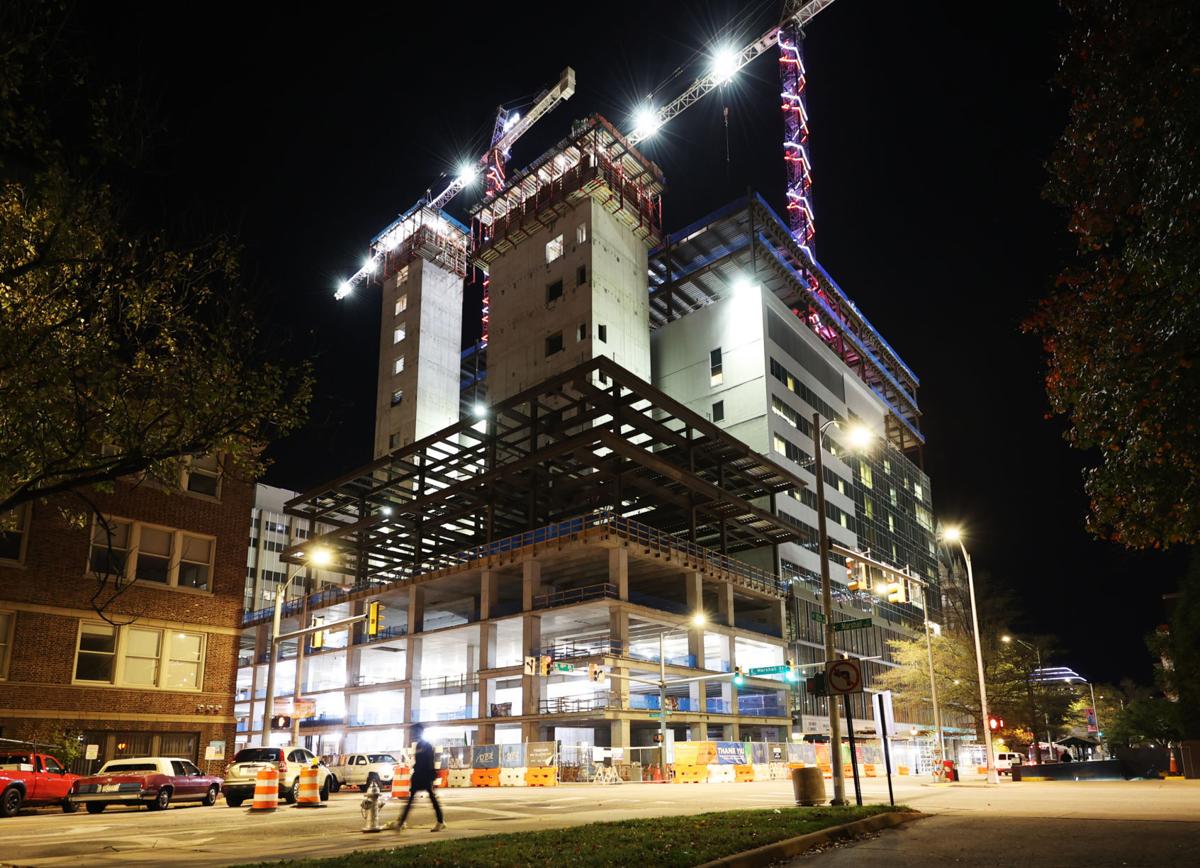 By Elias Neujahr and Lauren Moore
Over the course of many years, our community has longed to see the development of a comprehensive children's hospital — a place where children can see a dedicated team of pediatric specialists in an environment built just for them. In early 2023, it will become a reality when we open the doors to our new children's tower — home to our Level 1 pediatric trauma center, emergency room, surgical and imaging expansion, and all private-room inpatient units.
Long dreamed about, Richmond's own free-standing children's hospital not only will serve the needs of our immediate region, but also will create a world-class environment where the frontiers of pediatric medicine will thrive. While as a community we have not always agreed how, when and where to build, we never have argued why: because our children deserve the best — close to home.
The construction of the "Wonder Tower" at Children's Hospital of Richmond (CHoR) at VCU is an incredible milestone. But a facility is just walls and paint if purpose and passion don't come together — our teams and programs will bring this building to life and nurture hope, possibility and health.
Over the past decade, more than 150 new pediatric subspecialists have been recruited, giving children local access to exceptional care and keeping families close to home to focus on healing. We have developed programs to address public health concerns like asthma and obesity that disproportionately impact our community, and we've elevated hallmark programs like neurology, cancer and cardiac surgery that are pillars of all great children's hospitals.
This progress reflects a broad commitment from a coalition of people. They are the growing number of generous people whose donations are making the dream a reality. Not to be overlooked has been the incredible dedication among the community of medical professionals, particularly those in the area of pediatric care, who have embraced a bold vision for CHoR, a vision that will result in the creation of a top-tier children's hospital, one befitting a region of our size and needs.
Make no mistake, while we have come a long way, there still is much work to do, especially in the areas of access, community partnerships and research where we are making progress. Our teams tenaciously are dedicated to addressing access concerns — a battle children's hospitals are fighting across the country. When we saw that parents were waiting 10 months to enroll their children in a sleep study at our shared adult/pediatric center, we made plans to open a dedicated pediatric sleep center, set to start seeing patients in the new year. To help us forge community partnerships, we hired a former community pediatrician and leader of PACKids, Dr. Keith Derco. We've developed a clinically integrated network run by the community and supported by CHoR, and that's just the beginning.
Finally, on the research front, we've developed a Children's Health Research Institute (CHRI) that's dedicated to supporting our seasoned researchers like Dr. Judith Voynow, and seeding the ideas of junior faculty like Dr. Cristin Kaspar. CHRI positions us to find answers to pediatric ailments that will improve the lives of children in our community — and across the country. We've recruited top physician-scientists like Dr. Nick Johnson, for example, who brought a nationally prominent neuromuscular program with robust clinical offerings and research capabilities. We'll continue to recruit additional top talent whose expertise will continue to improve quality of care and accelerate discovery.
There are great children's hospitals around the country, special places that occupy a prominent and respected place in their communities. What they have in common are the strong bases of community support that have built and sustained them. Within those communities are partners who advocate for children's health and philanthropists who fuel it. These partnerships represent a powerful alliance, bringing together the vital donors with the medical resources to create something truly remarkable.
At the groundbreaking of the new children's tower, CHoR mom Marisa Cherry reminded us that even amid celebrations of progress, our focus must remain on the children and families who will enter our doors on some of their hardest days. Days of a new diagnosis, relapse or hard news — but with these hard days come hope and drive, and a spirit of the possible.
It's for Marisa's daughter, Lauren, who has beaten brain cancer (twice), that we call on the best of our community to rise to this challenge, one gift at a time. We hope many of you will join us on this journey, knowing that your involvement makes the difference. Lauren deserves nothing less, nor do so many other hopeful children.