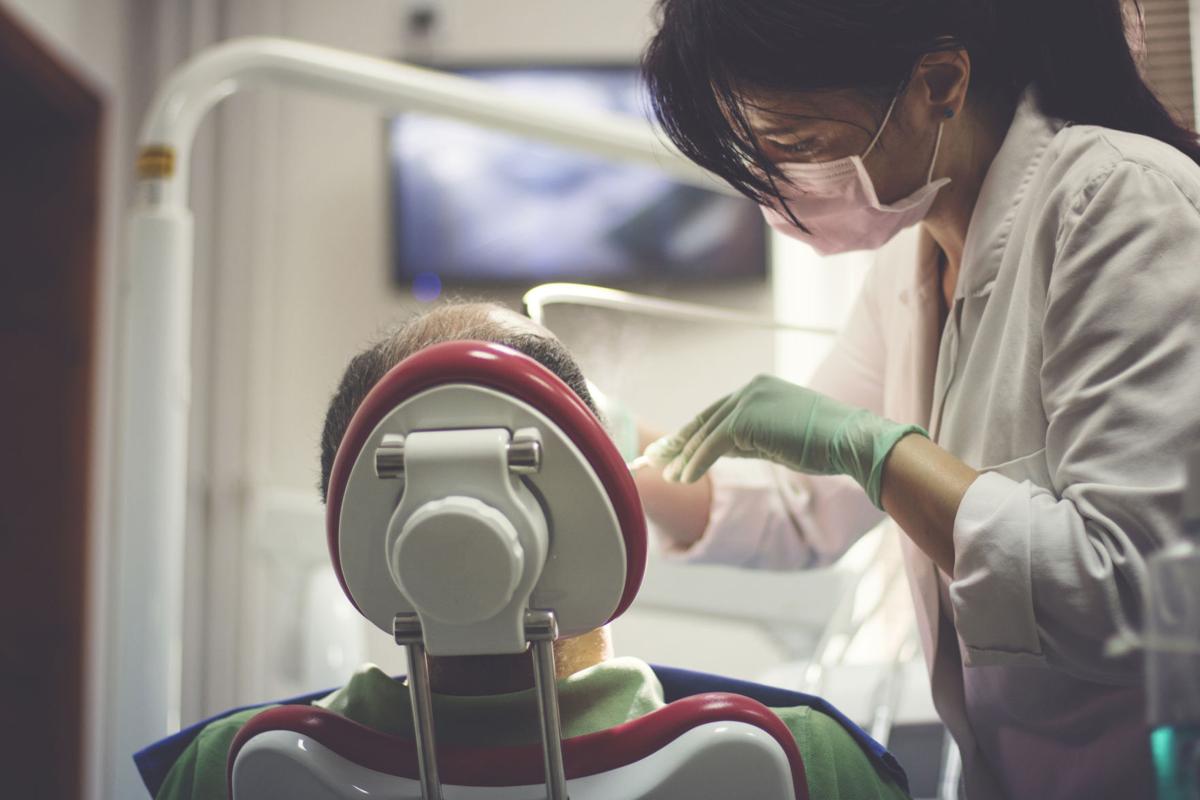 By George Barker and Myechia Minter-Jordan
It's 2020 and, believe it or not, we have some good news.
For too long, Virginia had been one of the 14 states that chose not to include coverage of preventive dental care for adults enrolled in the state Medicaid plan, opting to cover only emergency dental services. This generally meant that the only dental services Medicaid paid for were emergency tooth extractions, causing many individuals to live with an uncomfortable or unhealthy mouth — until now.
That's because this past month, the General Assembly acted to provide preventive dental benefits to adults who rely on Medicaid for their health insurance coverage.
This is an important step with far-reaching benefits, one being easing the burden on emergency rooms (ER) by reducing the number of people relying on them for dental care. In 2018 alone, those covered by Virginia's Medicaid program visited the ER 19,000 times for dental issues. One estimate of the cost of avoidable ER visits for dental care nationwide is $1.7 billion annually.
Additionally, a recent study by DentaQuest Partnership for Oral Health Advancement has shown that a healthy mouth can mean better health outcomes for people who require mechanical ventilation.
At a time when COVID-19 cases are surging and ventilator use is on the rise, we need to be encouraging individuals to seek preventive dental care, and this latest change means Virginia Medicaid patients gain critical access to care that they otherwise had been forgoing due to cost or other roadblocks.
We have no doubt that this extension of dental coverage to adults receiving Medicaid benefits in Virginia, championed in large part by Virginia Health Catalyst, will lead to better health outcomes, lives saved, and a reduction in unnecessary and costly hospital visits.
This has significant economic impacts as well. Lack of access to preventive care and a reliance on emergency care causes Americans living in poverty to spend 10 times more as a proportion of their family income on dental services than high-income families. And Americans in poverty are 2.5 times more likely to have an unmet dental need due to lack of insurance.
What's more, this coverage expansion might address racial disparities in oral health and will lessen disparities in overall health nationwide and in Virginia, where Black and brown people make up a disproportionate share of Medicaid enrollees.
Research from the National Association of Dental Plans showed that in 2016, more than 74 million Americans had no dental coverage — four times the number of people who were medically uninsured. More than 45 million Americans live in areas without an adequate number of dentists. It shouldn't surprise anyone that this national gap in access disproportionately harms Black, Latino and Native people.
● Black adults are 68% more likely to have an unmet dental need than white adults.
● Latino adults are 52% more likely than white adults to report having difficulty doing their job due to poor oral health.
● Nearly 4 in 10 Black and Latino adults reside in the 14 states (including Virginia, before this policy change) where Medicaid's adult dental benefits cover no services or emergency-only care.
● Children ages 1 to 5 who live in tribal communities have the highest decay rates compared to any other group of children in America, and preschool-aged Native American children have four times more cases of untreated tooth decay than white children.
As a country, we are waking up daily to the unacceptable and completely avoidable loss of Black life. We know some of their names, like George Floyd and Breonna Taylor. But many more we sadly only know as numbers and statistics, reported as part of the daily coronavirus public health updates.
What they have in common is their cause of death: systemic racism.
The COVID-19 crisis has laid bare health care inequities that existed in Virginia and across the country well before the pandemic. We know this not only from the powerful experiences of Black, Latino and Native people; we know it because we can see it in the data.
According to Virginia's COVID-19 dashboard, as of Dec. 16, nearly 53% of those hospitalized with COVID-19 were Black or Latino. Given that Black and Latino residents make up just 30% of Virginia's population, the inequity is clear.
Lack of economic opportunity, lack of affordable housing and healthy food options, lack of access to health insurance, lack of quality affordable care, lack of representation in the medical field, implicit bias and stereotyping — all of these contribute to a system that does not adequately value Black, Latino and Native lives.
To make real progress in dismantling systemic racism and to reverse these deep-rooted inequities, we need fundamental reforms in our health care system. The action of the General Assembly to extend critical dental benefits to adults on Medicaid is one step in the right direction.
But there is more work to be done. We need a revolution in patient care — integrating medical, dental and behavioral health. And we must better leverage technology, like teledentistry, as not just a crisis tool but a long-term solution to increase access and reduce costs.
We also must empower patients, continuing to educate people about the direct link between good oral health and good physical health.
The Rev. Martin Luther King Jr. once said, "Of all the forms of inequity, injustice in health care is the most inhumane."
He was right. We must be outraged and motivated to pursue a truly equitable health care system. As we emerge from this pandemic, we have an opportunity — and a moral imperative — to do just that. Black and brown lives depend on it.
George Barker, D-Fairfax, represents the 39th District in the Virginia Senate. Contact him at: district39@senate.virginia.gov
Dr. Myechia Minter-Jordan is president and CEO of the DentaQuest Partnership for Oral Health Advancement, a Boston-based nonprofit. Contact her at: media@dentaquest.com