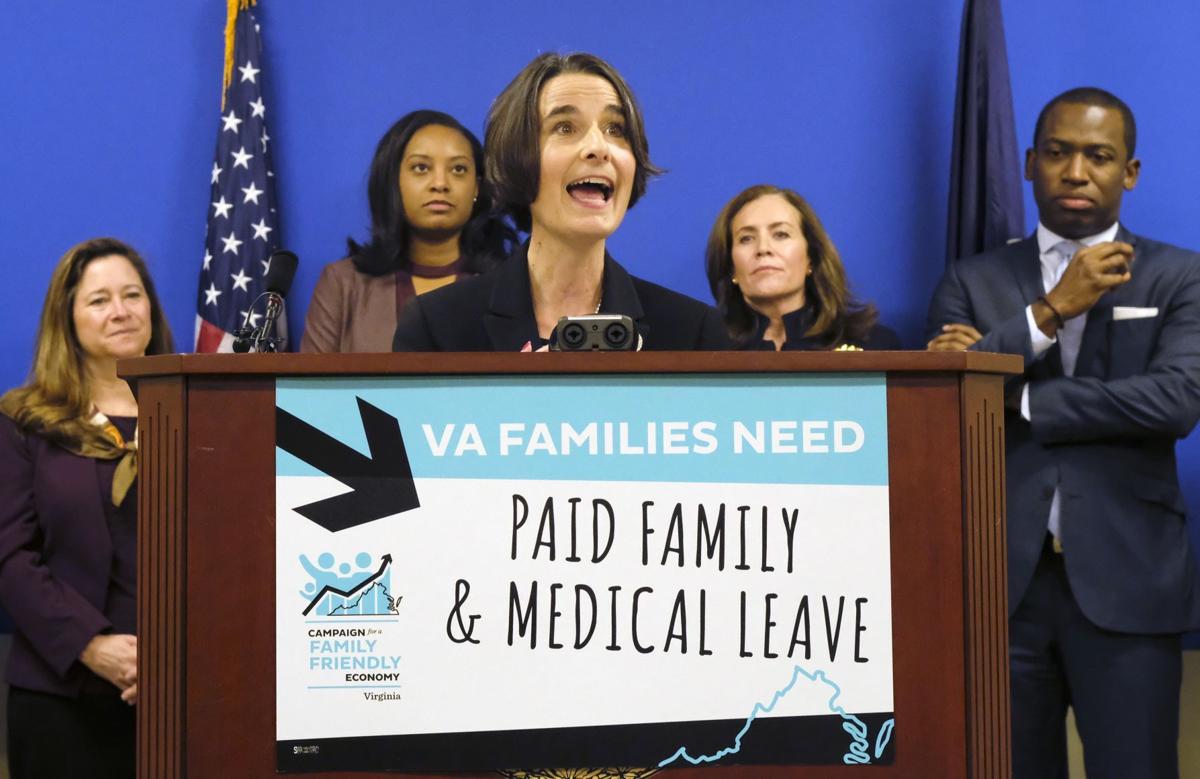 By Jennifer Boysko and Hala Ayala
The past year has been one of unprecedented struggle for small-business owners. We've watched with awe as entrepreneurs across the commonwealth have adapted to the changing business landscape that the COVID-19 pandemic has created. From offering curbside and virtual services, to ensuring that employees safely can work from home when possible, business owners once again have proved that their collective resiliency is one of their strengths.
But small-business owners and the employees they rely on should not be left to meet today's demands without more support. There are many steps we need to take to get our economy moving again and support the bedrock of communities, but one key area that would help workers and employers alike is paid family and medical leave. That's why we are proud to copatron legislation in the General Assembly that would create a paid leave program in Virginia. This would ensure that working people in the commonwealth, including small-business owners, have affordable access to 12 weeks of paid leave to care for a family member, a new child or themselves — meaning that millions of Virginians no longer would have to choose between financial security and a loved one in need.
Paid leave is a business-boosting policy that the vast majority of small-business owners support. Recently, we participated in a roundtable discussion with small-business owners from across the commonwealth who made clear that this would be an affordable way to help them keep good employees, and compete with bigger companies as they rebuild and recover.
Mike Hamlar, a third-generation owner of a funeral home in Roanoke, provides all of his employees with paid leave because he knows it helps with employee morale and retention, two critical ingredients to running a successful small business. He has employees who have been with him for decades, and credits policies like paid leave with building that loyalty.
Aaron Seyedian, who runs a home-cleaning service that operates in Washington, D.C., Maryland and Virginia, shared that while he is proud to ensure his employees have paid leave, a state-run program like the one that already exists in D.C. both would reduce his costs as a small-business owner and ensure his employees have better coverage when they need to take time away from work.
Donna Welch, who owns a butcher shop in Alexandria, shared that while she wants to ensure her employees have access to paid leave, without a statewide program, it simply isn't feasible. Instead, every time one of her employees needs to take time off, she and the employee both are left scrambling to figure out how much paid time they can take and how soon they can come back. She knows this isn't ideal for her business or for her employees.
Small-business owners like Hamlar, Seyedia, Welch and countless others across Virginia recognize that the need of their employees to take time away from work is inevitable. At some point in all of our lives, we'll have to take time off to care for an aging or sick relative, deal with our own personal health crisis or adjust to life as a new parent. The ongoing pandemic only has reinforced this, as people have needed to take extended time off to quarantine, to recover from serious cases of COVID-19 and to watch after children who no longer are in school or in day care full time.
If the past year has shown us anything, it is that all of us — small business-owners, front-line workers and the public at large — are best served when we have a proactive plan in place that allows people to take time away from work. Virginians are proud to have a reputation as a business-friendly state. But we only will maintain this distinction if we listen to the small-business owners who are demanding smart policies that will help them compete for top talent and rebound from COVID-19.
Small businesses have bent over backward over the past year to safely stay in business and keep our local economies afloat. But they need our support. Our colleagues in the General Assembly can show they're serious about helping small businesses recover from COVID-19 by embracing paid family and medical leave. By working together, we can ensure small businesses have the resources they need to build back stronger than before.
Jennifer Boysko, D-Fairfax, and Hala Ayala, D-Prince William, are patrons of Senate Bill 1330 and House Bill 2016, respectively, to establish a paid family and medical leave program in Virginia.
Boysko represents the 33rd District in the Virginia Senate. Contact her at: district33@senate.virginia.gov
Ayala represents the 51st District in the Virginia House of Delegates. Contact her at: DelHAyala@house.virginia.gov