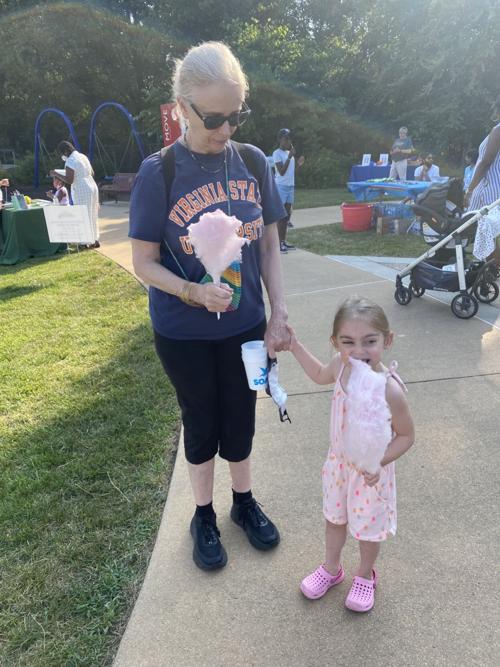 "Time for school," Angelina announces, holding a Peppa Pig figure. I hold Peppa's brother, George, and reply, "OK, Peppa. I'm coming." My 5-year-old granddaughter cajoles my play participation as I attempt to write this piece about National Grandparents Day and the important national survey that I'll take.
JC and I have one grandchild with whom we have been very involved since birth. Angelina weighed a pound and a half, and after 130 days, she was released from the hospital tethered to a wire and a couple of tubes. Today she's happy, healthy and untethered.
"OK, children, it's nap time." Angelina has gathered Peppa's friends: Suzy Sheep, Molly Mole, Danny Dog and others. I tear a sheet of copy paper to create little blankets.
JC and I are among roughly 4 million autism grandparents in the U.S., but not much is known about us as a group. Unlike autism parents, who are constantly consumed with the unpredictable challenges of the day, we grandparents are more likely to have spare time, spare energy and a willingness to contribute our well-seasoned abilities, expertise and wisdom.
Since entering the autism community a few years ago when Angelina was diagnosed ...
"Papa John, you be the bad guy and I'll be the police officer." I look her way. "OK," I say, "but this chair where I'm sitting has to be the jail." She locks the pretend door, throws away the pretend key and walks away.
... I've met around 200 autism grandparents, many via online support groups and some via the Richmond-based Autism Society of Central Virginia and the Faison Center where Angelina is enrolled. The grandparents range from live-in guardians to thousand-mile-distant occasional visitors. Their relationships with their children range from perfect to bad, with the large majority leaning toward the positive side. And the arcs of their personal and professional lives are all over the place.
But all of us have three things in common: the never-ending autism learning curve, a desire to help our grandchildren and a combination of hope and concern for their future.
Whoops — Angelina has disappeared. "Angelina," I call out. I hear her signature pitty-pat steps down the hall, and she arrives with a broad smile. "Angelina! Your hair looks so pretty!" She beams as she twirls. "Did MeMe do those braids?" I ask. She nods. (JC's skills are far better than mine; I can't get Angelina to tolerate even one swipe of a hairbrush.)
Sunday, Sept. 12, is National Grandparents Day. President Jimmy Carter signed the legislation in 1978 for the purpose of recognizing and embracing the expertise and wisdom of grandparents. Angelina's schools and therapists and medical workers all have welcomed my and JC's involvement.
But it is rare, not only in our case but with the other grandparents I've met, for many autism providers to proactively inquire about the grandparents' abilities to be involved. Perhaps they're simply not aware of the potential "grandmotherlode" of resources that often can be so beneficial to the grandchild's progress — such as JC spending a couple of hours reading with Angelina every week when she spends the night with us.
The 2021 National Survey of Autism Grandparents — free and anonymous online at: autismgrandparentsclub.com/survey — will confirm and spotlight the resources that we autism grandparents can offer. How much time, money and expertise do we provide? What are our abilities? How much do we know about autism?
"Papa John, Papa John!" Angelina is holding Peppa again. "School's over and it's time to go meet our parents. I'm the wine reader." (Translation: line leader. We continue to work on enunciation. Until a month ago, her toy thermometer would register a "beaver." Now it tells if someone has a fever.) I line up Danny and Suzy and the others behind Peppa, and Angelina marches them across the rug.
The 2021 National Survey of Autism Grandparents was developed over the past year by a few dozen noted autism professionals nationwide. Its mechanics are being handled by the AARP. And its results, distributed free to autism providers and anyone else who is interested, will be tabulated and reported by Virginia Commonwealth University's Survey and Evaluation Research Laboratory.
The hope is that the findings will help autism providers become more aware of the grandparent resources, help autism advocates leverage more resources and help us autism grandparents understand our own roles even better — all for the benefit of our grandchildren.
"I'm the doctor and you're the patient." Angelina confronts me with her doctor kit. "Hello, Dr. Angelina," I say in a puny voice. "I don't feel good." "What seems to be the problem today?" She takes out the stethoscope, the blood pressure cuff, the syringe, the thermometer ...
Perhaps the survey results will prompt autism teachers and therapists and health care workers to routinely ask each family, "Let's discuss how the grandparents can have beneficial roles."
"Say ahhh." Angelina moves the thermometer toward my mouth. I ready myself for her curative abilities.
I suspect that most grandparents, whether confronted by autism or not, are like JC and me in recognizing the therapeutic powers of our grandchildren, whether or not they have doctor kits. Here's to ongoing regular doses for all of us!
And here's to autism grandparents nationwide letting their voices be heard by taking the 2021 National Autism Grandparents Survey through Sept. 30 at: autismgrandparentsclub.com/survey
John Bryan is a Richmond-based writer and volunteer who is coordinator of the Autism Grandparents Club. Contact him at: jbryanfish@aol.com