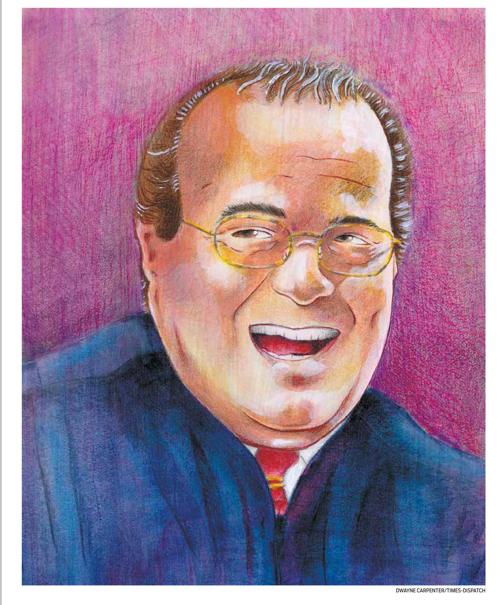 To most, Supreme Court Justice Antonin Scalia was an abstraction. A superman to judicial conservatives and a bogeyman to some on the left, he was larger than life.
But to his law clerks, "the Boss" (as we called him) was a real person, a mentor, and — in many ways — a friend. So, while the nation contemplates the passing of Scalia the idea, his "clerkerati" (as he called us) grieve the sudden loss of a simultaneously extraordinary and ordinary man.
Nodding to his Sicilian heritage, the Justice made a habit of dispensing personal wisdom to his clerks over pizza — whether the standard pie version washed down with beer at a D.C. eatery or Mrs. Scalia's patented casserole version served with red wine at their dining-room table.
The Boss's power of influence and passion for pizza were so strong that my three co-clerks, without prompting, all echoed his order of the cheese-free, anchovy-full variety on our first outing. I am thankful that they steered clear of stinky-fish slices once the Justice began giving us opportunities to emulate and impress him in more meaningful — and law-related — ways.
It might sound facile to say that Justice Scalia loved to learn and to laugh, but he did. Words were a special source of study and delight for him. I listened in amazement as he waxed poetic about feral-hog odontology while driving to — you guessed it — a pizzeria. "Tusk" and "tush," "whetter" and "cutter": the sounds of the syllables fascinated the Boss as much as the concepts behind them. I once told him that I had never before heard some word he used. "That's because I made it up," he said, a sparkle in his eye. When you were Justice Scalia, you could do that.
It might sound trite to say that Justice Scalia lived the fullest life imaginable, but, again, he did. Equally comfortable in the opera house and the duck blind, he pursued a remarkable range of avocational interests. And with nine children and dozens of grandchildren, family was never far from his mind.
The Justice did not expect his clerks to sacrifice that irreducible minimum of family time necessary to maintain a balanced and gratifying life — notwithstanding the often late-night (and sometimes all-night) nature of our workload. One example must suffice here: Upon hearing that my sister was in labor, the Boss insisted that I drop everything and drive to Baltimore to welcome my new niece in the middle of a busy work week.
A native New Yorker, Justice Scalia maintained a deep fondness for his adopted home state of Virginia, where he served as a law professor at the University of Virginia before becoming a judge and where he lived during his time on the Supreme Court. Indeed, he encouraged me to return to Richmond, which he knew would be more conducive to the family life I craved than would typical D.C. law practice.
A dark cloud has descended on the Scalia clerkship family in the days since our patriarch passed, to paraphrase one of our own. But the remembrances flowing from clerkly pens across the country shine like beacons on his legacy. I am tempted to quote some of them here. But in the interest of the succinctness that Justice Scalia so valued in his opinions, I will close by simply urging you to read them.
They are all true. As these tributes amply convey, the Boss was a simultaneously extraordinary and ordinary man.
Katherine Mims Crocker is an associate at McGuireWoods LLP in Richmond. Her practice focuses on appellate and constitutional litigation.
Justice Scalia maintained a deep fondness for his adopted home state of Virginia