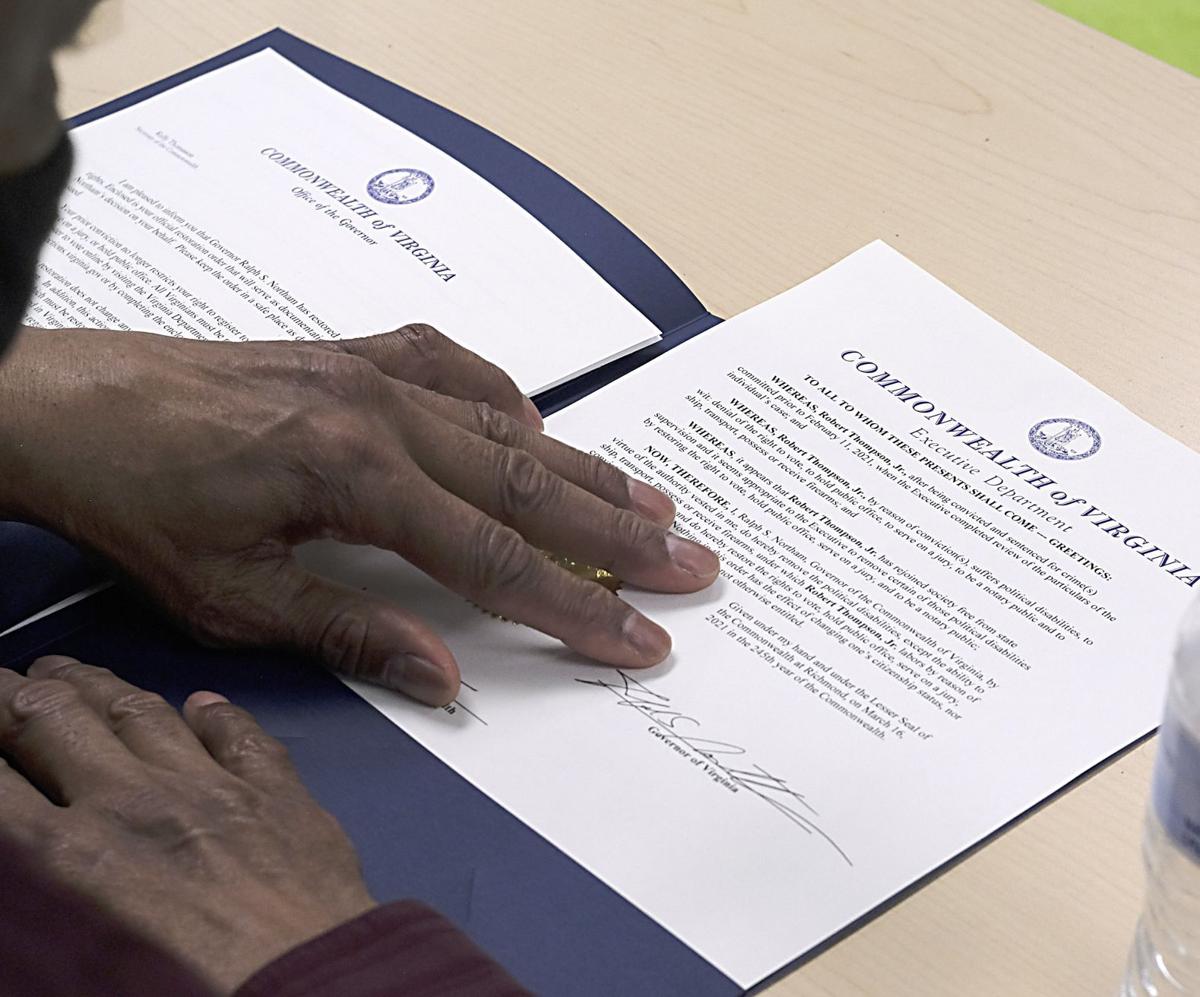 Election season almost has fully descended on Virginia. The primaries and conventions have been decided, and soon Virginians once again will evaluate, deliberate and finally cast their ballots for the candidates of their choice.
The right to vote is precious. It is, arguably, the fundamental cornerstone of our liberties. And yet, we are quick to exclude others from this exercise based on past mistakes. In the commonwealth, people convicted of a felony are constitutionally barred from voting, permanently — unless their rights have been restored by a sitting governor. A free society cannot condone restrictions to civic engagement that have no bearing on public safety or election integrity. This policy does not reflect the Virginia values I've come to know and respect.
Thankfully, Virginia governors from both political parties have recognized this injustice and used their authority to mitigate its impact. For example, Republican Gov. Bob McDonnell acted decisively to restore the rights of certain people with a felony record — an initiative later expanded by Democratic Govs. Terry McAuliffe and Ralph Northam.
Although helpful, these executive actions are not a lasting solution to the larger constitutional problem. A future governor could eliminate the current restoration policy at any time. This extraordinary executive power not only conflicts with the principle of balanced and limited government, but also creates policy uncertainty, particularly for those who hope to have their rights restored. It is time for Virginia to affirm in law what it has acknowledged in practice: People who have served their time behind bars should be encouraged to make positive contributions to their community, including civic participation, after their release.
During the 2021 legislative session, the General Assembly took action to do just that when it approved a resolution to begin the process of amending the state constitution to restore voting rights to individuals after their incarceration — aligning Virginia with North Dakota, Indiana, Montana, Utah and 16 other states. Due to Virginia's process for constitutional amendments, this resolution again will have to be passed by the General Assembly in the 2022 session before appearing on the ballot for voter approval.
In acting to pass this resolution, the General Assembly joins the growing list of governors, legislatures, and voters in both red and blue states who have taken various steps to restore voting rights to people with a criminal record. In aligning with shared values of proportionality, public safety, personal liberty and limited government, voting rights restoration has appealed to Americans across the political spectrum. The same can be true in Virginia.
When former prisoners are encouraged to embrace the rights and responsibilities of citizenship, communities and families stand to benefit. In fact, studies indicate that restoration of civic rights for people with a criminal record contributes to lower recidivism and better cooperation with law enforcement. I know many personal stories of people who made good on a second chance when they were afforded the opportunity.
Before Charles Colson in 1976 founded Prison Fellowship, the nation's largest nonprofit serving prisoners and a leading advocate for justice reform, he lost his right to vote due to his conviction in the Watergate scandal. His rights were restored in 2000 by then-Florida Gov. Jeb Bush. Colson never took that for granted.
"Voting doesn't pose a threat to public safety," he said. "Sound criminal justice policy has always held that the goal of punishment and rehabilitation is to turn ex-offenders into responsible citizens."
This is a sentiment we all can get behind. Republican or Democrat, Libertarian or Green Party, we all want to live in safe communities where engaged citizens work to make society better. Restoration of voting rights is a win for everyone, empowering people to exercise their fundamental right to vote and to be contributing members of our commonwealth — at the polls and beyond.
Kate Trammell is the director of policy and research at Prison Fellowship, based in Lansdowne. Contact her at: kate_trammell@pfm.org