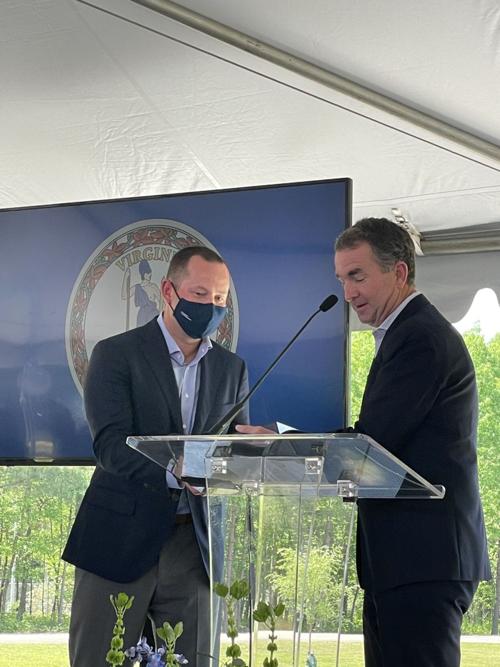 While COVID-19 made 2020 difficult on Virginia's economy, a silver lining is emerging. The global health crisis positioned the city of Petersburg and Virginia's Gateway Region (VGR) to benefit from the federal government's re-evaluation of the nation's pharmaceutical infrastructure. Everyone agrees the time for a national stockpile of essential medicines is now.
The Richmond Times-Dispatch has reported significant new jobs and investments since this past May. The initial win was Phlow's $354 million contract with the U.S. Biomedical Advanced Research and Development Authority to produce drugs using advanced manufacturing processes from the Medicines for All Institute based in the College of Engineering at Virginia Commonwealth University (VCU).
In January, Civica announced a $124.5 million investment to establish its first pharmaceutical manufacturing operation in Petersburg, creating 186 new jobs. And then on May 4, AMPAC Fine Chemicals, a leading manufacturer of Active Pharmaceutical Ingredients (APIs) in the United States, announced it will invest $25 million to expand its facility in Petersburg, creating 156 new jobs.
From an economic development perspective, a once-in-a-lifetime opportunity is before us to create a transformational advanced pharmaceutical manufacturing cluster, resulting in thousands of high-tech, high-wage jobs and expanding reliable access to affordable quality medicines for Virginia, the nation and the world.
As stewards of the regional economy, we wake up every morning with the mission to make our region prosperous. With this opportunity, we're moving at twice the speed to ensure the momentum continues with our partners. Our desire is to strategically position the region for this industry and find corporate partners that can join us.
We extend our appreciation to those who share our same visionary approach. With support from GO Virginia Region 4, the VCU College of Engineering led a strategic planning process bringing together key stakeholders into a highly functioning network of allies to create a shared vision.
Petersburg's department of economic development, in addition to the Virginia Economic Development Partnership (VEDP), have played vital roles. Together, we're working with local and regional public- and private- sector partners on the business recruitment effort for this cluster.
All hands are on deck making sure these companies have the trained workforce they need to operate. We actively are working to use our workforce development resources to coincide with what companies in this cluster need, through partnering and messaging to K–12, technical and educational centers; enhancing current dual enrollment programs to support certifications and workforce readiness; and focusing on retention and recruitment of Virginia graduates.
That's why we became the first regional economic development organization in the commonwealth to hire a director of workforce development in a joint venture with the Community College Workforce Alliance, a partner of John Tyler Community College.
VCU, Virginia State University (VSU) and the area's community colleges are committed to ensuring the success of the region's pharmaceutical manufacturing industry by working with individual companies to understand their future hiring needs, focusing students to relevant co-ops and internships with companies and exploring the potential for industry-related career days.
I especially am excited to see VSU, in partnership with VCU, provide relevant degree programs in chemistry and engineering by offering their students a pharmaceutical engineering undergraduate research program.
Furthermore, a partnership between Richard Bland College of William & Mary and the Commonwealth Center for Advanced Manufacturing will establish a regional chapter of the Federation of Advanced Manufacturing Education program to recruit, educate and train entry-level employees to support these fields.
There's no doubt — our region's localities have suffered since the departure of Brown & Williamson Tobacco Corp. from downtown Petersburg in 1985, when more than 1,240 jobs were lost. The pandemic dealt the region another blow when Rolls Royce announced it will be closing its jet propulsion engine parts manufacturing facility in Prince George County, eliminating approximately 280 jobs.
Long a cheerleader for the regional workforce, Rolls Royce simply no longer could support production due to COVID-19 challenges in the civilian commercial airline industry.
The development of this pharmaceutical cluster is the beginning of a new day and is thrusting Petersburg into the international spotlight. The window of opportunity for this cluster is tight, and will take more collaboration among public, private and nonprofit sectors to be successful.
We will not rest until the world is aware that the U.S. is producing massive quantities of essential pharmaceutical ingredients and medicines for its citizens, right here in Petersburg — "the Gateway to prosperity."
Keith Boswell is the president and CEO of Virginia's Gateway Region Economic Development Organization. The private nonprofit markets the cities of Colonial Heights, Hopewell and Petersburg, and the counties of Dinwiddie, Prince George, Surry and Sussex. Contact him at: kboswell@gatewayregion.com