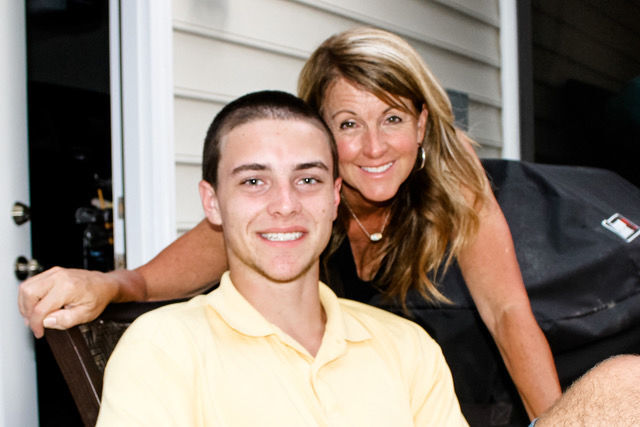 There is a kind of grief so raw that your body and mind cannot process it.
You find yourself unable to stand, unable to breathe. Your heart shatters into a million pieces, leaving a hole in your very being.
The day that my son Taylor died from an accidental opioid overdose, this became my reality. Nothing could have prepared me for that moment, and the experience changed the trajectory of my life.
Every four minutes in this country, there is another mother mourning the loss of a child to opioid addiction. Over the past year, with COVID-19 raging in every community, the epidemic has only gotten worse.
Recent estimates show that more than 90,000 Americans died from a drug-related overdose in 2020, with a projected 75% to 80% of these deaths attributed to opioids.
After my son passed away, I decided to turn my grief into advocacy and do what I could to help others like Taylor. It's more important than ever for our representatives in Congress to act and help stem the tide of the opioid epidemic.
More than a decade into this epidemic, opioids are still the standard of care to treat post-operative pain. In fact, 90% of patients undergoing a surgical procedure are prescribed opioids for pain management. This included Taylor, who developed his addiction — which ultimately took his life — after receiving an opioid prescription following shoulder surgery.
And far too often, these prescriptions set unknowing Americans like Taylor onto a dangerous path from which many never return. Studies suggest that between 3% and 13% of all patients who receive a post-operative opioid prescription transition into some type of long-term opioid use.
With upward of 50 million medical procedures performed nationwide every single year, it's clear this epidemic will not go away unless there is change at a systemic level.
Despite available pain management alternatives, many hospitals do not offer the option of a non-opioid, simply because they cannot get reimbursed for its cost. A decision made merely to benefit hospitals' bottom lines has cost an untold number of lives across the country — including Taylor's — in addition to the $2.2 billion spent annually on opioid-related hospitalizations nationwide.
This is a fluke of federal policy that is exacerbating the current opioid crisis we face. When you consider the backdrop of the opioid epidemic in America today, we should be doing everything we can to increase access to non-opioid options and incentivize their utilization when feasible and clinically appropriate.
That's why I'm urging Congress to support a simple, commonsense solution that could help prevent this from happening to others — the Non-Opioids Prevent Addiction in the Nation Act (NOPAIN Act).
This piece of federal legislation would allow for Medicare coverage of non-opioid therapies for pain management for the next five years, which would immediately reduce the volume of opioid prescriptions and keep these drugs from getting into medicine cabinets.
Recently reintroduced in the U.S. Senate, this bill has more than 15 bipartisan co-sponsors and is endorsed by leading medical societies including the American Medical Association, the American College of Surgeons and the American Society of Anesthesiologists.
It's easy to feel overwhelmed in the face of such a widespread public health crisis as the opioid epidemic. But today and every day, I encourage Congress to focus on the real concerns of the everyday Americans they represent — the real pain of mothers losing children.
On behalf of mothers and families nationwide, I am on my knees begging Congress to pass the NOPAIN Act. If this legislation had been in place 10 years ago, my son's life might have been spared.
Kerri J. Rhodes is a licensed marriage and family therapist and licensed professional counselor in Richmond. She writes, speaks, and advocates for those struggling with substance-use disorder and their families. She blogs at: ifyouthinkitshardtowatch.com
Contact her at: kerrijrhodes@gmail.com