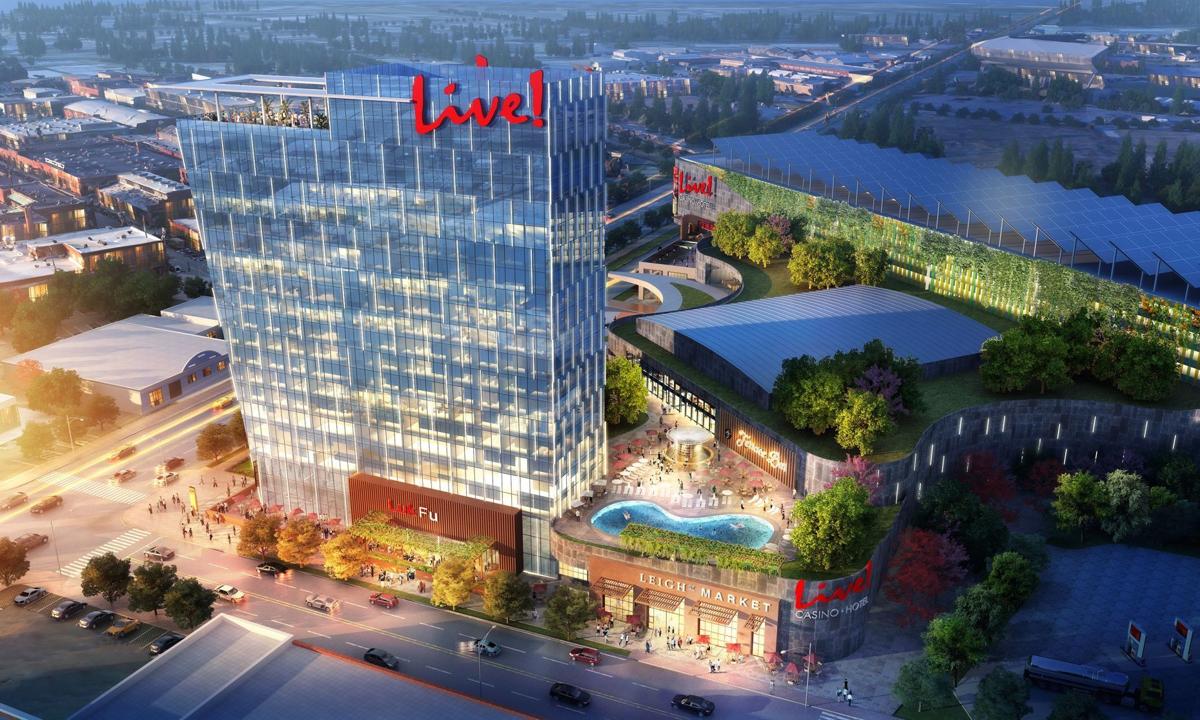 How would you explain to Richmond voters where the process currently stands?
We are engaging with the city's evaluation committee, which has been thorough, transparent and deliberative in making a decision to benefit all Richmonders.
How often do you meet with the evaluation panel? What sort of questions are members asking?
We appreciate the city for being transparent throughout this process. Our periodic discussions with the evaluation panel have focused on why Live! is the best option in every measurable way including:
1) Our decades of experience and track record developing and operating casino entertainment resorts around the country, including developing three of the most successful casino resort destinations in the U.S.
2) Our experience employing thousands of team members and the success we've had with workforce development programs in other markets, especially those that benefit Black and Latino residents.
3) Our ability to deliver on generational wealth building opportunities for our minority equity partners, including $180 million of direct minority equity investment from prominent local and national investors, one of the largest minority equity investments in Virginia's history.
4) Our commitment to the community and what that will look like for Richmond.
5) The advantages of a Scott's Addition location, which fits the city's Richmond 300 Master Plan, and has the benefit of supporting smart growth and being an urban development project that can kick-start even more economic opportunity for residents and businesses.
6) How Live! will bring the greatest economic impact of any project — with jobs and tax revenue — to the city, as determined by the city's own independent, outside gaming consultant.
With whom, and with what groups, in the community do you regularly meet?
This project will bring significant tourism and economic spinoff benefits and enhance area amenities. We've seen in our other projects across the country how combining gaming, dining, sports, entertainment and cultural attractions creates tremendous synergy and dynamic destinations for residents and visitors. That is why we have invested significant time outreaching to as many local businesses, attractions, organizations and community groups as possible across the city, including our neighboring businesses in Scott's Addition.
Our project will benefit the entire city, not only by offering a world-class entertainment resort destination and contributing hundreds of millions of dollars in tax revenue, but also creating thousands of jobs and providing opportunities for local businesses to benefit from the tens of millions of dollars Live! will spend each year for goods and services in the community. We have done extensive outreach to communicate job opportunities in construction and operations, and vendor opportunities for local businesses.
How often have you met with Mayor Levar Stoney? And City Council members?
The city established a committee to evaluate the gaming proposals, and our engagement has focused on interaction with the committee.
What project around the country is closest to your Richmond proposal?
Cordish is recognized as one of the nation's premier mixed-use entertainment and casino resort developers, with a proven track record over decades of building and operating the highest quality destinations. We have been awarded seven Urban Land Institute Awards of Excellence for our projects, more than any other developer in the world and have developed three of the top-grossing casinos in the country.
Live! Casino & Hotel Richmond will be similar in interior design and amenities to our Live! Casino & Hotel resorts in Maryland and Philadelphia, which include 4-star hotels, exciting dining and entertainment concepts, live music and event facilities and spa and fitness centers. Each are recognized as best in class in their respective markets. The project will also include placemaking characteristics of our urban mixed-use projects like Charleston Place (Charleston, S.C.) and Power & Light District (Kansas City, Mo.).
As community builders, we have developed the highest quality projects, working closely with community stakeholders to maximize opportunities for local, minority, women, veteran-owned and emerging small business enterprises and individuals and partnering with our neighbors and nonprofit organizations to continually improve the community.
We have worked in partnership with universities, community colleges and governmental agencies to design and implement effective workforce development programs to put the unemployed and underemployed on a path to long-term careers. We have entered into partnerships with Virginia Union University, the Hispanic African American Alliance and area community colleges to ensure outreach to everyone who needs assistance in obtaining and training for a job, as we have done throughout the country.
We've seen plenty of advertising for your proposal across the city. Who is your target audience?
We are taking a broad-based approach to our outreach. We feel it is important for the entire community to understand the world-class quality of our Live! Casino & Hotel Richmond project and how it will enhance the hospitality and entertainment offerings in the city. Our location in Scott's Addition will create an amazing experience for local residents and visitors.
Imagine going out for the evening to eat at one of the area's great restaurants, experiencing a new seasonal brew at a craft brewery, stopping by the casino to play and staying overnight so you can grab brunch down the street in the morning. Live! will attract visitors from throughout the region who will visit multiple times a year, stay overnight and experience all that Scott's Addition and the city has to offer.
Our marketing efforts will feature Live! as a world-class, complementary experience to the area dining, cultural, sports and entertainment venues, supporting the city's overall tourism efforts.
Assuming your proposal goes before Richmond residents in a November referendum, how will you appeal to a citywide audience — especially neighborhoods where there's been opposition?
We are confident that Richmond residents understand the many benefits of approving the Live! project — thousands of jobs, hundreds of millions of dollars of tax revenue, support for essential community services, a proven track record developing and operating award-winning properties and lifting communities. We have been successful in similar local voter referenda in other cities and in each, those who initially were apprehensive became our biggest advocates as they learned we do what we say. This is how we've remained in business for more than a century: Experience, track record and integrity matter.
Casinos are one of the most highly regulated industries in the country and already are authorized in 45 states in the U.S., employing 1.8 million people with a total economic impact in excess of $261 billion. Cordish's casino entertainment resorts are recognized for enhancing entertainment offerings in their markets and giving back to communities.
In Maryland alone, we've contributed $185 million to the community to fund essential needs and services including new fire stations, police equipment, community beautification, parks, roads and public transportation, elderly services, food banks, computer labs and athletic facilities for high schools, and rent subsidies during COVID-19. Live! measures success not just by financial indicators, but through the positive impact it has on the community.
The $650 million Live! Casino & Hotel Richmond will be the flagship casino entertainment resort in Virginia and a proud and involved corporate citizen in Richmond. The local referendums in the other four authorized cities in the commonwealth all have passed by overwhelming margins. There is no reason to doubt that Richmond will equally embrace this new entertainment asset and economic engine for the city.