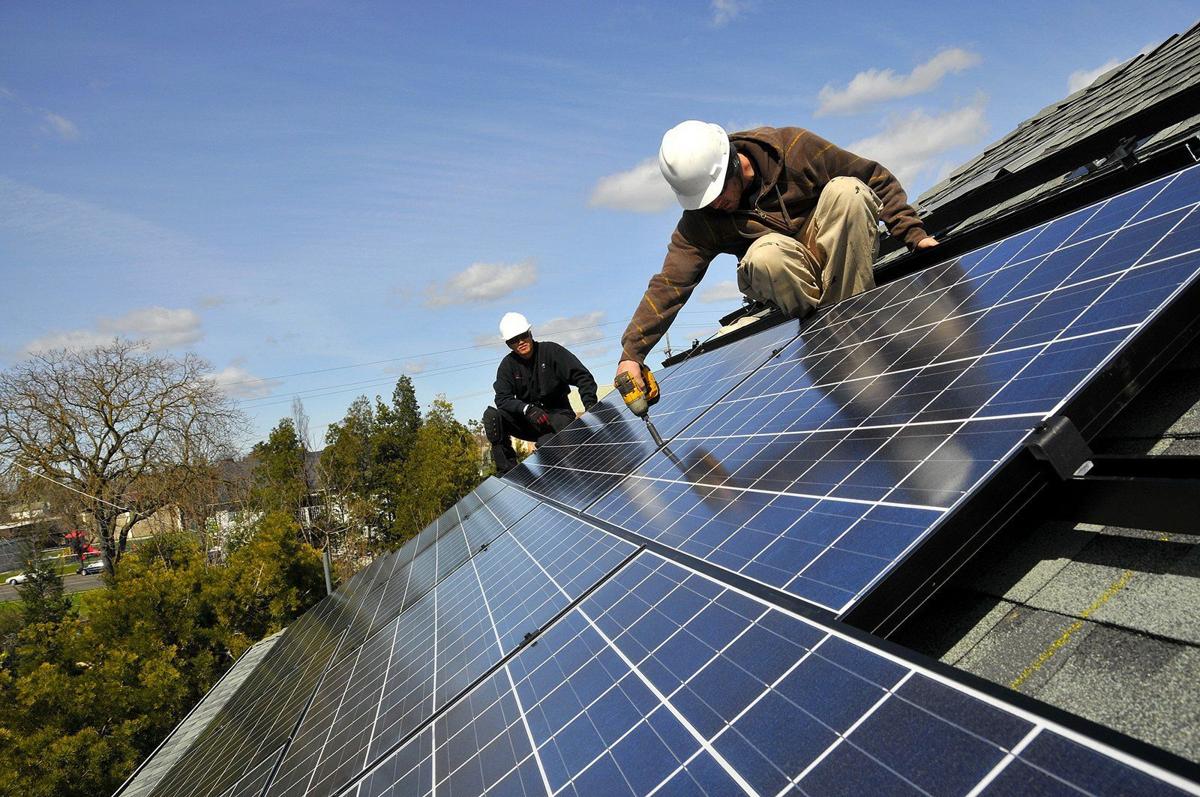 Over the past decade, Virginia has endured 40 extreme weather events, costing many lives and causing $10 billion in damages — depleting funds that could have been used for essential projects, climate remediation and financial support to Virginia's most vulnerable families.
Against this harrowing backdrop, along with the need to build back from a crippling pandemic, we face a clear and urgent need to both modernize our infrastructure and spur transformative economic growth.
The Virginia congressional delegation, with its leadership on key committees in both the House and Senate, sits at the forefront of these discussions. But to reach their goals, our lawmakers need to push Congress to go further and do more than we ever have, with bold policymaking that will lift up Virginians and all Americans by fully realizing the promise of clean energy.
The reconciliation and infrastructure package Congress currently is debating is an opportunity to achieve the transformational change we need. It includes a suite of ambitious policies to get us there, from electrifying our transportation infrastructure to investments in research and development for groundbreaking clean energy technologies.
However, what has been left out from the reconciliation package to this point is a "direct-pay" option for the Investment Tax Credit. It is our most effective incentive for renewable energy investments, and it could accelerate the deployment of solar energy and transition the United States off of our fossil fuel dependency to a clean energy economy.
Cutting our nation's greenhouse gas emissions by 2030, as experts have called for, is not just an ambitious target but a necessary act of survival. We cannot begin to tackle this goal unless every Virginian — regardless of income, demographic or location — has the opportunity to choose affordable clean energy.
Residential or distributed generation solar is the lowest-cost form of renewable energy available directly to the greatest number of consumers. However, the ability to choose clean energy — like purchasing an electric vehicle, outfitting your home with solar panels or upgrading appliances — is only possible when there is support for it.
With existing incentives under our current tax code, too many lower-income families are prevented from fully realizing these benefits. In fact, on average, low-income families can spend as much as 8% of their income on home energy costs, which will only continue to rise as extreme weather events become increasingly common.
As the reconciliation package goes through final revisions, we need our elected leaders to demand greater support for solar energy as the single-largest opportunity to tackle climate change. Congress must include a proposal in its renewable energy efforts to transform the solar investment tax credit to a direct-pay model so that families and solar developers can receive the full value of their tax credit, regardless of their tax liability.
Right now, the credit requires customers and solar developers to enter into complicated tax financing agreements using third parties. A direct-pay model available to all tax codes, whether big corporations or working-class households, eliminates the red tape and enables American families of all backgrounds to make investments in solar.
The long-term extension of the ITC and conversion to direct pay must be prioritized if we hope to transition to a clean energy economy.
The reconciliation package also will attract investments in innovative clean energy technologies in Virginia and nationwide, while generating demand for diverse and dynamic careers in the energy sector, by prioritizing domestic manufacturing, clean energy tax incentives, infrastructure modernization, community revitalization and transportation electrification. Together with the bipartisan infrastructure and reconciliation package, a direct-pay solar ITC incentivizes investment in clean infrastructure, domestic manufacturing and workforce development. We can give people access to renewable energy, regardless of their economic status or where they live.
With its enactment of the 2020 Virginia Clean Economy Act, the commonwealth has joined a growing coalition of 15 states and territories that have set a 100% clean energy target. Our state and renewable energy companies are fighting every day to bring clean energy to everyone, but Virginia's congressional delegation must lead with bold, transformative action.
The future of our planet cannot be left to a patchwork of stopgap measures. This is not an ask from energy and technology companies; this a demand from climate scientists to take bold, comprehensive action to guarantee the futures of our children, because we can't afford not to.
Virginians are looking to their senators and representatives to take bold federal action, similar to the action our state officials took in 2020. You are in a position to lead — and lead you must, as climate change will not wait.