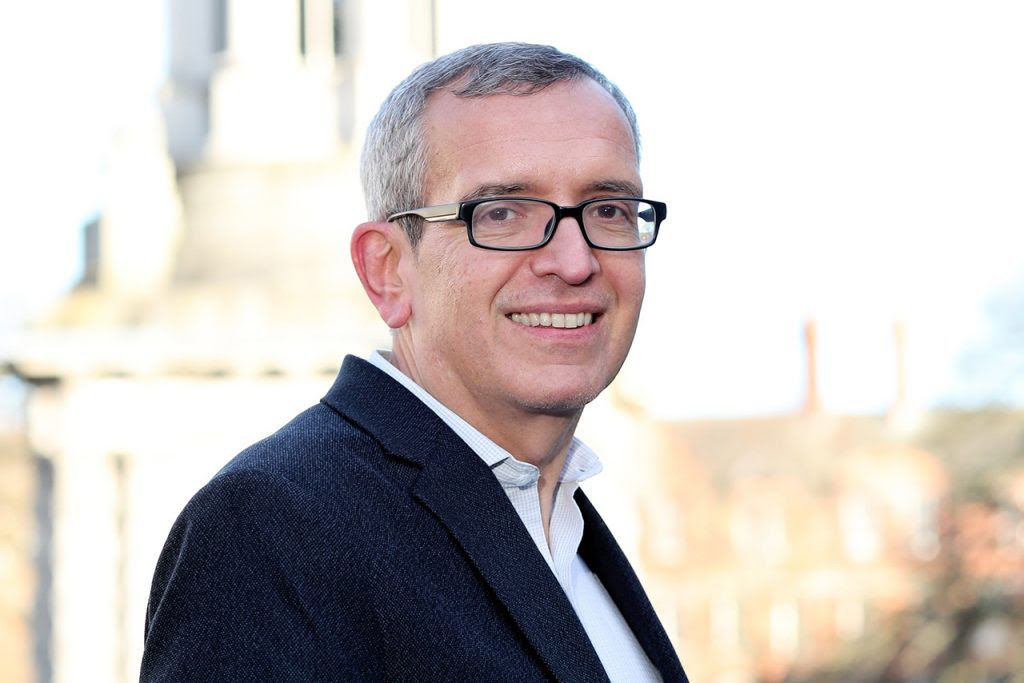 Time seems to compress during a pandemic. Two months ago, I returned to Virginia to lead the new Commonwealth Cyber Initiative (CCI) as its inaugural executive director. So much has happened since then that a few months can feel like several years.
With widespread support from the General Assembly, policymakers and academic leaders across the commonwealth, CCI is a unique initiative that brings more than 300 researchers from across Virginia together with industry partners and entrepreneurs to produce research and innovation at the intersection of security, autonomous systems and data, while also helping to prepare the next generation of cybersecurity professionals.
The initiative predates the current crisis, but its mission couldn't be more timely.
The COVID-19 crisis, with its social distancing imperatives and stay-at-home orders, might have accelerated the adoption of technology for teleworking and autonomous systems by a decade or more. These technologies are keeping some of us productive even when we cannot be in the office. They also are helping some of us maintain some personal balance, by bringing us together with loved ones in a virtual space while physical contact is not feasible.
Technology will need to do more as we face the pandemic and, sooner or later, move past it. We might need increased automation of industrial processes that make workers safer from contagion. We might need reliable contactless delivery solutions for food and medicine. We need contact tracing technology that preserves everyone's privacy and provides guarantees that the vast data collected only is used for public health measures and is not monetized for profit. And we will need to train people to incorporate a range of new technologies into their jobs and daily routines.
Unfortunately, this accelerated adoption of technology also will increase our exposure to cyberthreats. Hacking a flying drone or an autonomous car can cause serious accidents. A ransomware attack on a hospital during a pandemic can cost lives. Few of us anticipated the havoc that COVID-19 would bring to the world. Imagine how we might try to adapt to a world without secure technology.
CCI's role in addressing these security issues focuses on three domains — research, innovation and talent development. What is especially extraordinary about CCI is the collaborative approach serving as the foundation of the initiative. Typically, researchers in different universities (or even in different departments in the same university) do not work together as much as they should. This also needs to change — and quickly.
We need to create a new generation of professionals who are well-versed in the role of technology in their individual fields. We need lawyers who are knowledgeable about the promise and limitations of artificial intelligence. We need health care managers who understand cybersecurity. And we need engineers and computer scientists who recognize the key legal and public policy issues raised by their technical inventions.
It has been exciting to witness these collaborations beginning to flourish into some early successes. In coastal Virginia, CCI assembled a diverse group of 24 undergraduates from five universities and community colleges for the INNOVATE Cyber Challenge. The teams came up with new products and solutions for challenges such as preventing data breaches, disrupting financial incentives to cyberattacks and better communicating cybersecurity to the broader public.
CCI also is funding a new program that combines cybersecurity instruction with paid industry internships for Virginia students, and another that creates an internship program for startups. We also are creating a drone racing competition for students across the state to develop new drone technology, and we are partnering with Virginia Cyber Range on a summer workshop to update the training of high school teachers in cybersecurity.
There is a lot more to come. These have been difficult months for our country and for the world, and we all need to work together to overcome the multitude of challenges brought by the first global pandemic in a century. In Virginia, we have started to do just that.
Luiz DaSilva came to the Commonwealth Cyber Initiative from from Trinity College in Dublin, Ireland, where he was a professor of telecommunications and director of CONNECT — the Science Foundation Ireland Centre for Future Communications and Networks. His experience also includes 17 years as a professor at Virginia Tech. Contact him at: ldasilva@vt.edu