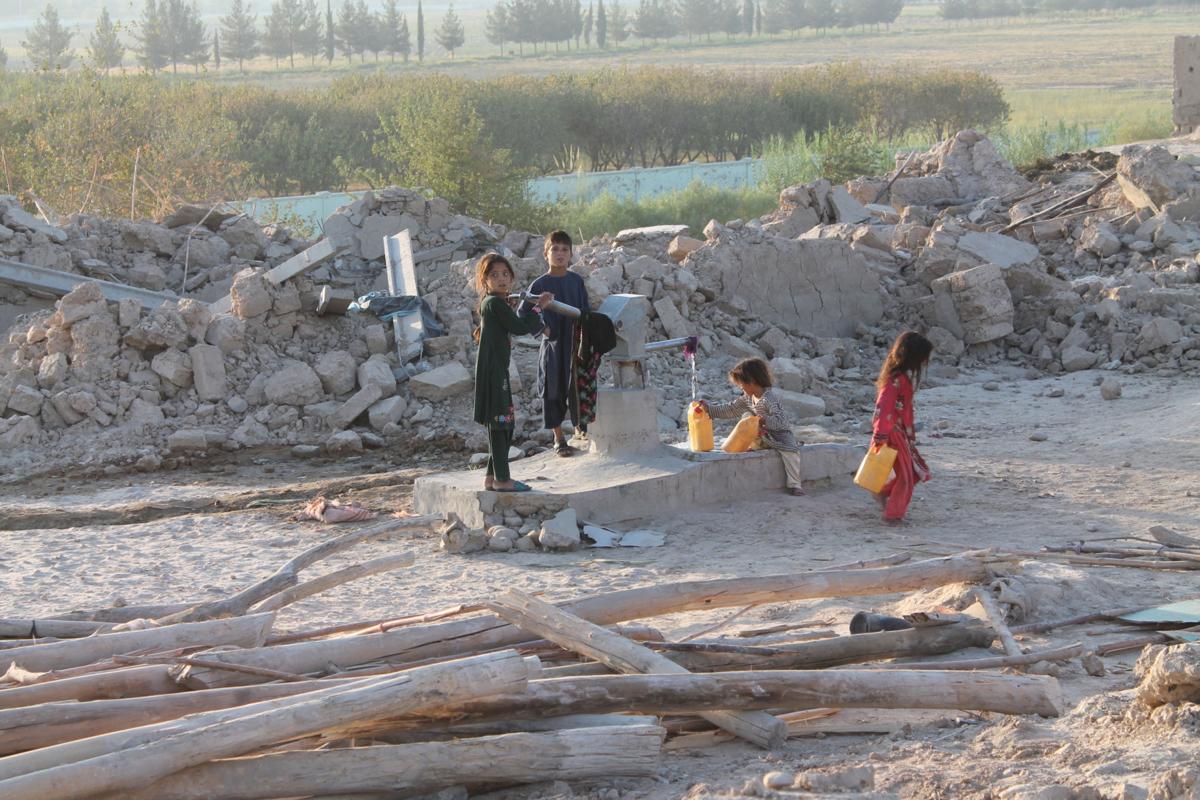 Millions of children in Afghanistan were born into a life marred by conflict, and 40 years of war have made the country one of the most dangerous places to be a child. Now the Taliban takeover jeopardizes the safety and future of Afghan children once again, as more and more are displaced, struggling to survive and exposed to danger.
Despite being the biggest victims of the conflict, these children's suffering often goes unheard, and they are seemingly left behind.
As a researcher who studies the well-being of children in the Global South, I have been distraught since the Taliban takeover. I fear for the lives and futures of these children. The global community cannot stand by and watch the destruction of these children's lives, and see their stories lost to the 24-hour news cycle.
The educational futures of millions of Afghan children are being destroyed by the Taliban, as history stands to repeat itself.
Between 1996 and 2001, the Taliban banned girls older than 8 from attending school, while only 1 million boys were enrolled. Shortly after the Taliban were ousted, girls started returning to school, and more than 3.6 million were enrolled by 2018 — compared with just 3% in 2003. So progress was being made, albeit imperfect. Now the situation is critical. More than 2.6 million children urgently need educational assistance.
In the Taliban's first news conference, spokesman Zabihullah Mujahid said this time it would be different, with women's rights respected. Already this pledge is unraveling as news spreads of the Taliban preventing teenage girls from attending secondary school.
These reports come alongside the Taliban taking over the Ministry of Women's Affairs building, replacing it with offices for the religious morality police, a very telling change indeed.
For decades, child labor within Afghanistan has been rife. Ongoing conflict, poor economic conditions and a lack of government services have been largely to blame.
The work performed by children in the country often is dangerous, dirty and degrading, and this kind of child exploitation surged during the pandemic. World Vision found that up to 50% of families sent their children to work during the global pandemic to cope with "insurmountable financial pressures."
In 2018, UNICEF found that more than 2 million children were performing some kind of child labor. This figure is only likely to increase as the Taliban takeover causes further instability and financial burdens for families.
And the internal displacement of around 435,000 children means the number of street-connected children will soar. Too often, they are subjected to horrific abuse, and frequently exposed to brutality, assault and trafficking, which adds another layer of danger for Afghanistan's vulnerable children.
Since the Taliban took control of Afghanistan, an estimated 10 million children need help after being displaced or orphaned. With no homes, no families and no safety net, they are in incredible peril.
Before the Taliban takeover, 1 in 3 teenage girls were forced into child marriage in Afghanistan. This practice, while illegal, was widespread, and now for young girls, the situation is only likely to worsen. Already, news is surfacing of children as young as 13 being forced into marriage.
Elsewhere, deeply concerning reports have arisen of Taliban leaders issuing orders to local religious leaders to provide them with a list of girls older than age 15 for marriage with Taliban fighters.
While under Taliban rule, sexual abuse committed in the name of bacha bazi is likely to decrease. Child exploitation for boys will likely upsurge in different forms as well — for example, in the recruitment of child soldiers.
This has been a tactic of the Taliban since the 1990s. There are currently thousands of child soldiers in their ranks. This spiked in 2020, too, as the global pandemic exacerbated boys' vulnerability in being forced into combat roles.
Under Taliban rule, children's lives are precarious and unprotected, and it is our duty as members of the international community to advocate for these vulnerable children.
This is a call to action. For all of those who care about the rights and safety of children, we can start to tackle this situation through:
creating ongoing dialogue to spotlight human rights violations against Afghan children;
advocating for open doors to Afghani asylum-seekers, and creating safe passages for both adults and children;
working to address the root causes of these egregious violations of child rights and the ongoing persecution of children in Afghanistan; and
getting involved with and donating to charities and campaigns working in Afghanistan
Together, we have the power to change these children's lives for the better.
Nicole F. Bromfield, Ph.D., MSW, is an associate professor at the University of Houston Graduate College of Social Work, studying issues related to child well-being in the Global South. She received her doctorate in public policy from Virginia Commonwealth University in Richmond. Contact her at: nfbromfield@uh.edu