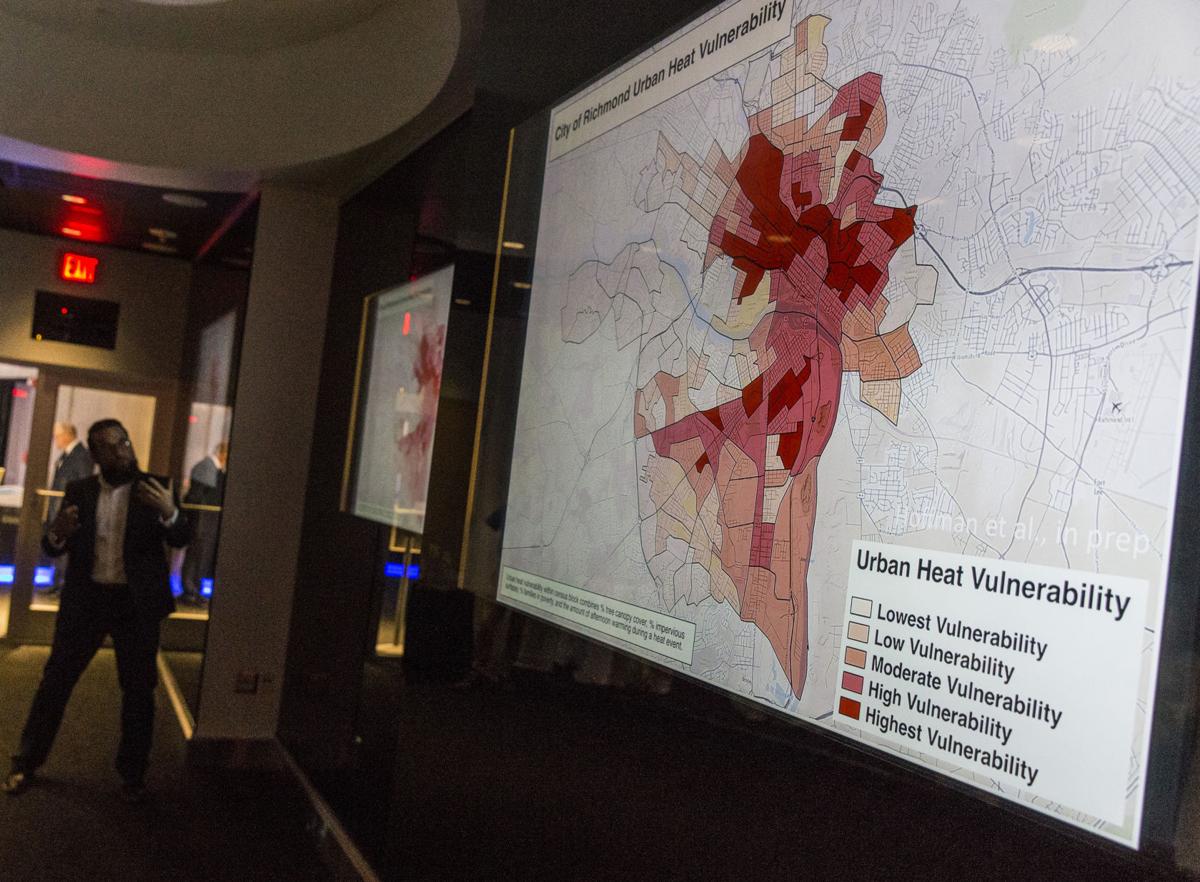 On an average summer day in Richmond, temperatures can reach 90 degrees or higher. Residents who live in the city's West End can escape the smoldering heat due to the abundance of shady trees lining the sidewalks.
On the opposite side of the city or downtown, residents living in neighborhoods such as the East End, Oak Grove and Jackson Ward have little to no trees lining the streets, leaving them exposed to excessive heat. This effect is known as an urban heat island, and it disproportionately impacts Richmond's Black and low-income residents.
Richmond has a long history of geographic disparities, due in part to Home Owners' Loan Corp. redlining practices in the 1930s. Neighborhoods deemed undesirable were made up of Black and low-income residents and were left to be underdeveloped and disinvested in, and the burden on residents continues to this day. Negative heat outcomes primarily affect residents who live in neighborhoods that have been historically disenfranchised.
Exposure to excessive heat is dangerous. According to the Centers for Disease Control and Prevention, prolonged exposure can cause heat exhaustion, heat cramps, heat stroke and death, while exacerbating pre-existing conditions such as respiratory and cardiovascular diseases. Some groups are more vulnerable, such as the elderly, children and those with ongoing medical issues.
The Virginia Department of Health's safety tips during extreme heat include drinking water, staying in cool indoor spaces and dressing in lightweight clothing. And while city officials provide some residents with window air conditioners, these often are not adequate in high temperatures.
To reduce the urban heat island effect and increase heat resilience, the Environmental Protection Agency suggests several initiatives, such as increasing tree coverage and creating cool pavements.
Currently, residents in Jackson Ward, Oak Grove, the East End and those in various housing communities do not have access to any of these heat resilience initiatives. The streets in these communities are barren of vegetation, and the concrete on the sidewalks traps heat in the area, raising temperatures by up to 20 degrees.
Heat resilience needs to first be implemented in these priority neighborhoods.
High-shade trees should be planted along sidewalks and in community spaces, such as playgrounds, throughout areas affected by urban heat islands. Many of their residents spend a lot of time outside, whether walking to catch the bus or to the local store, and more shade would better protect them from direct sunlight.
Increased tree coverage can lower surface temperatures by up to 20 to 45 degrees — and air temperatures by 2 to 9 degrees. Other benefits include lower indoor temperatures, reduced energy use, improved air quality, enhanced stormwater management, reduced pavement maintenance and higher quality of life for residents.
Cool pavements reflect solar energy and enhance water evaporation to keep their surfaces cooler; implementing them involves applying a treatment to the top of asphalt or concrete. Benefits include reduced stormwater runoff, lower tire noise, better nighttime visibility and increased resident comfort due to lower temperatures.
These green initiatives require funding: Trees need to be bought, planted and maintained. Cool pavements require equipment and manpower.
The new federal Infrastructure Investment and Jobs Act that was recently passed focuses on improving roads, transportation and many other types of infrastructure. It calls for $550 billion in new spending over five years.
The breakdown of the bill in Virginia states that it will repair and rebuild roads and bridges with a focus on climate change mitigation, resilience, equity and safety. It also states that there needs to be infrastructure in place to prepare for the impacts of climate change and extreme weather events. Virginians should expect to see a $3.5 billion national investment in weatherization, which should reduce energy costs for families.
This language indicates a shift to focusing on greener initiatives that will benefit residents, specifically in urban heat islands. Increased tree coverage and cool pavements could fit the type of infrastructure that is being funded.
Richmond officials should allocate a portion of the bill's funding to implement green initiatives that will finally begin to lessen the effects of redlining in Richmond's Black and low-income communities. Everyone deserves to keep cool and enjoy beautiful vegetation in their neighborhood.
Olivia Allison is an MPH candidate in the health behavior department at the UNC Gillings School of Public Health and a research assistant at the UNC School of Medicine. She has lived and worked in Richmond most of her life and plans to continue her public health work in the city. Contact her at: oallison@unc.edu