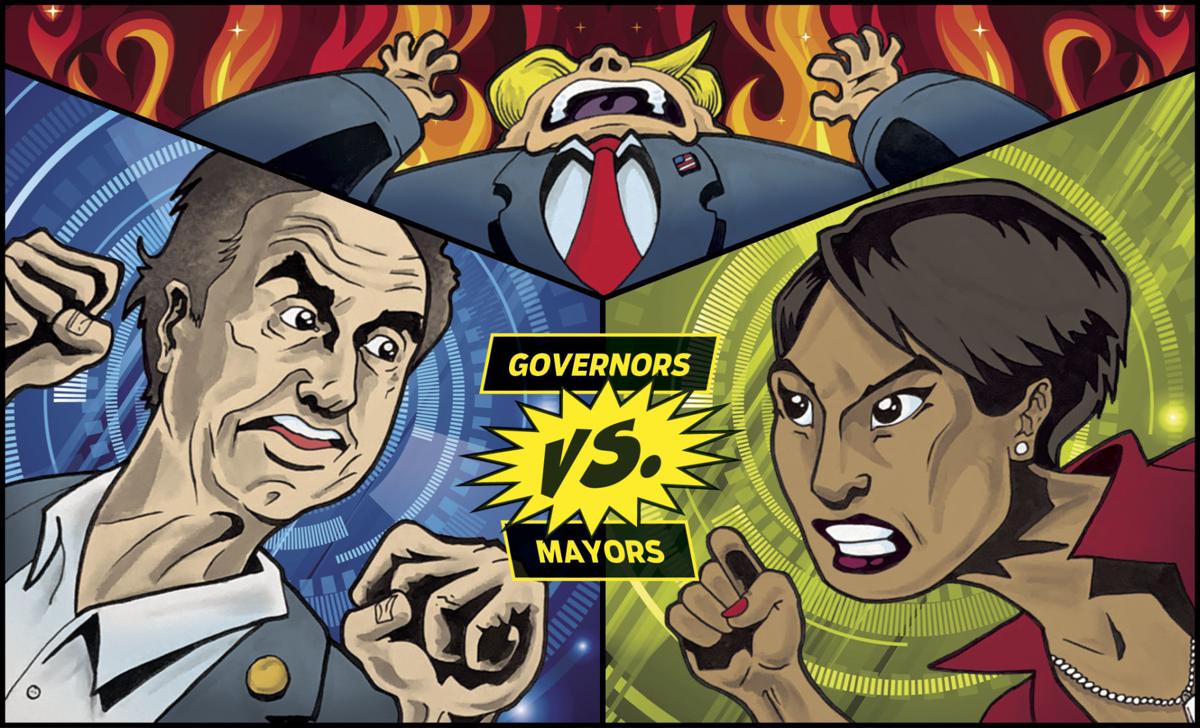 In Georgia, Gov. Brian Kemp has ordered a relaxing of essential business restrictions, overruling municipal stay-at-home orders. Atlanta Mayor Keisha Lance Bottoms is apoplectic. In New York, Gov. Andrew Cuomo and New York City Mayor Bill de Blasio are at loggerheads over who gets to decide whether schools remained closed or open.
Meanwhile, President Donald Trump claims that he has the authority to open states and cities and has basically encouraged rebellion by the citizens of those states that do not do as he wishes.
The U.S. response to the COVID-19 pandemic has been at best fragmented and incomplete. At worst, it is incompetent and disastrous. Critics say the fault lies largely in the lack of a unified competent national response to the crisis, though some are thankful that states and cities have some independent authority, for at least it means that governors and mayors can act when the federal government fails to do so.
The big picture, however, reveals a mostly dysfunctional federalism. The president has purposefully politicized the crisis, creating a situation in which national, state and local governments are at one another's throats, competing for resources while begging for national assistance. "Cut-throat" federalism is the rule when "cooperative" federalism is what is required.
The reasons for this dysfunction, however, are not attributable to Trump alone. Some enduring features of our state-based constitutional system are to blame. The U.S. Senate is badly malapportioned, which means that small, rural states like Kentucky and Iowa have the same voting strength as large urban states like California and New York.
A unified block of rural states effectively can hold up legislation that would be in the interest of a majority of the U.S. population. And because the Electoral College permits a president to be elected with less than the popular vote, the president can essentially ignore "blue" states when making policy.
Trump doesn't need New York or California to win re-election, so he can distribute monies and PPE to Florida instead while punishing the governors in those other states.
The rural — and thus Republican-leaning — bias of the Senate and the presidency has been exacerbated by the increasing geographical divide in the electorate. Even as urban constituencies can dominate statewide elections, cities and their metropolitan areas are underrepresented in state legislatures.
In "Why Cities Lose," Jonathan Rodden describes how the combination of political sorting by geography, polarization and gerrymandering has led to a political system that systematically disfavors cities and the people who live there.
Anti-urbanism is both an ideology and a political program. During the 2016 election, Trump made his disdain for the cities an abiding theme. His portrait of cities as centers of vice and immorality — crime-ridden and overrun by foreigners — trades in old-fashioned anti-immigrant and racial stereotypes.
The notion that city dwellers' "New York values" are antithetical to the values of "real Americans" reflects a long tradition of American anti-urbanism. Steven Conn's "Americans Against the City" describes how this anti-urbanism has been part of American politics and culture long before Trump.
Because the COVID-19 pandemic has been, at least at this stage, a predominantly urban phenomenon, it is tailored-made to the president's divisive political instincts. To be sure, rural areas and smaller towns are ill-prepared to handle the onslaught of COVID-19 cases when they come.
Local governments across the country have long been under-resourced and they currently are facing significant budget shortfalls. But the epidemic obviously is more difficult to control in more densely populated places, where social distancing is more challenging. The uneven effects of the pandemic only have exacerbated the rural-urban political split.
U.S. state-based federalism thus is badly broken — and was before COVID-19. Easily politicized, the system of states has become a tool to extract obedience and punish political enemies. Its one advantage is defensive: The independent authority of states and cities limits the damage when the center is corrupt and incompetent.
Indeed, in the current crisis the politicians who seem to be least prone to ideological decision-making (at least anecdotally) are the mayors. Conventional wisdom has it that there is no Republican or Democratic way to pick up the trash.
Mayors have to be pragmatists. They are the ones on the hook when the local emergency, public safety and medical services are overwhelmed. Mayors are our political first responders. They do not have the luxury of playing politics with a virus that kills their constituents, many of whom also happen to be their neighbors.
What would the COVID-19 response in the U.S. be like if, as the late Benjamin Barber wrote, "mayors ruled the world?" It would not be perfect, by any means. It might, however, be more responsive. Of course, no city (or state) can address the pandemic without significant federal support. Only the federal government can engage in the level of deficit spending needed to address an economic crisis as deep as the Great Depression.
Nevertheless, American-style federalism would be better if it was structured to provide greater authority to front-line political decision-makers. The answer to our failed state-based federalism is not to provide more power to the center; that would be a disaster. No, the answer is to give more power to those who are least likely to play politics with a pandemic. Give mayors what they need and then let them do the hard work of protecting their citizens.
Richard Schragger is the Perre Bowen Professor of Law at the University of Virginia School of Law and author of "City Power: Urban Governance in a Global Age." Contact him at: schragger@law.virginia.edu