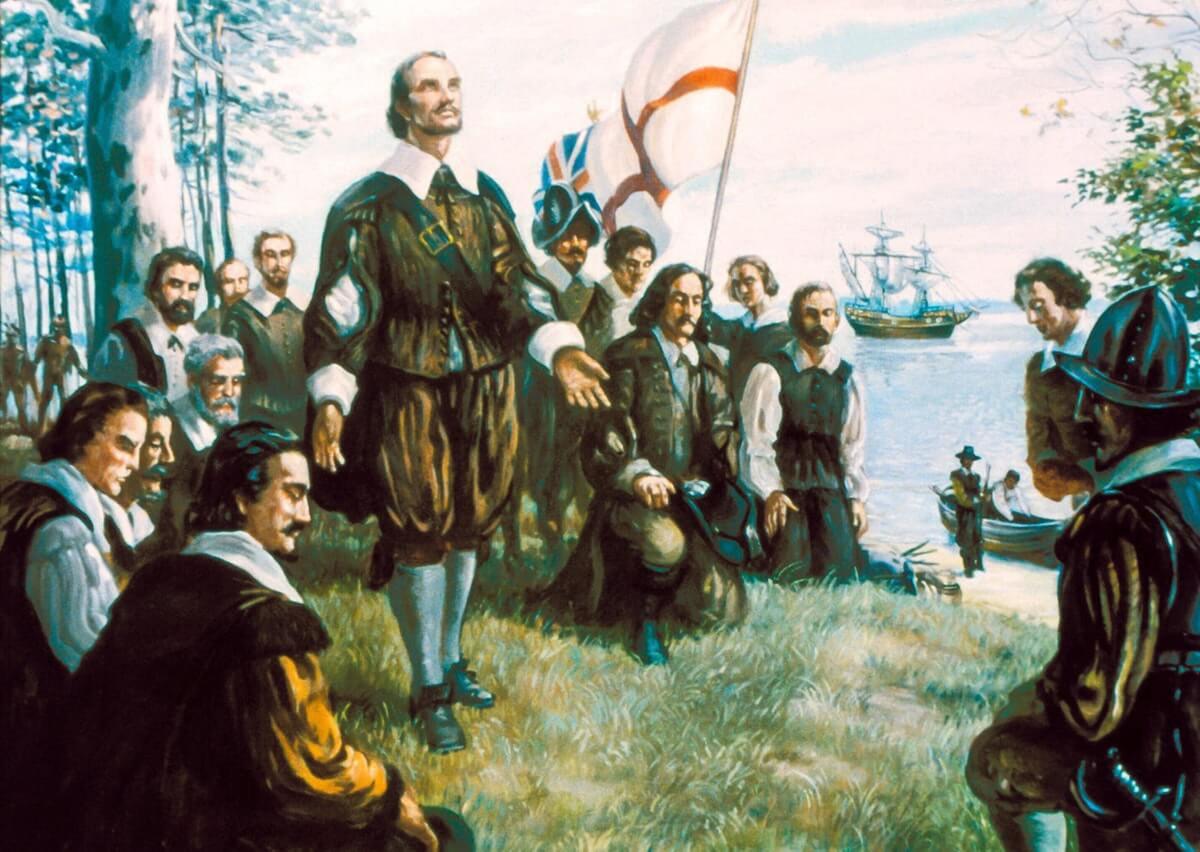 This is the image Americans are comfortable with on Thanksgiving: struggling Pilgrims saved by the generosity of kindly Native Americans, with food and goodwill shared among the Indigenous population and the newly arrived settlers.
We have re-created this scene year after year, decade after decade, century after century since the Civil War, when Abraham Lincoln proclaimed a national day of Thanksgiving to be celebrated on the last Thursday in November. Occasionally we might even think about those dour, God-obsessed Puritans wearing buckled black hats as we eagerly anticipate turkey and cranberry sauce, watch football and look forward to Black Friday.
Those living in Virginia know there was an earlier Thanksgiving here. In fact, that Virginia Thanksgiving of 1619 was much more consequential than the one rooted in 1621 in Massachusetts, where immigrant Pilgrims and their Wampanoag Native Americans together commemorated the colony's first successful harvest.
The Puritans reached Plymouth Rock aboard The Mayflower on Nov. 11, 1620, after a 66-day ocean voyage. But nearly a year earlier, on Dec. 4, 1619, three dozen English settlers who departed from Bristol, England, survived the dangerous and cold currents of the North Atlantic for 2½ months aboard the Margaret, their 35-foot ship that landed in Virginia.
Their goal, unlike the later Puritans, was driven not by religion but by money. They were financed by the Virginia Company, an English commercial trading and investment organization chartered by King James I in 1606. Its goal was not the Puritan one to create a New Jerusalem or build a city on a hill, but to make money for its shareholders from tobacco. What the English then claimed as Virginia stretched from the coast of what now is South Carolina up to Canada.
The landing site, now Berkeley Plantation in Charles City County, was given to the Virginia Company by King James. One of the company's instructions was to lead a prayer of Thanksgiving after arrival — not a feast, but a communal prayer thanking God for safe passage.
Virginia's first Thanksgiving of 1619 contributed far more to the future United States than the later 1621 celebration in New England, in terms of establishing American ideals, values and even weaknesses that reflect and trouble our entire history. The Virginia Thanksgiving, when viewed through this lens, becomes as important to American history and values as another celebration of national identity: the Fourth of July.
Of all 13 colonies that were to form the United States, Virginia by far was the most important. It was the oldest, wealthiest, largest and most populated. It was the colony in which English political ideas of justice, parliamentary procedure and due process were most deeply embedded — and were later to be embodied in the Constitution. The capital for the future country was in Virginia.
From Virginia came four of the nation's first five presidents: George Washington, Thomas Jefferson, James Madison and James Monroe. After them came others from Virginia: William Henry Harrison, John Tyler, Zachary Taylor and Woodrow Wilson — a geographical ancestral dynasty whose participants inherited a nation that led an upheaval that eventually transformed the world.
Origins matter. Every country, every civilization, has its myth of birth, a sometimes comforting tale of trials, tribulations and triumphs that forms the foundation of its community. In Virginia, these were English notions of liberty and parliamentary democracy. But if we become like curious hens scratching at the soil of the first Virginia Thanksgiving, we also see what is hidden below. Within that positive narrative is a darker side that also became America. The American experience reveals its porousness within the former colony of Virginia, giving to America an ambiguous legacy not found in the Massachusetts experience.
Virginians were the most eloquent spokespeople for freedom and equality — they drafted not only the Declaration of Independence but the Constitution and Bill of Rights. They were elected to the presidency. They also all were slaveholders. In many ways, these future slaveholders first brought capitalism to the new world by way of the Virginia Company, a joint stock venture.
The stock market and money are elemental to the American experience, which is why the United States has the largest gross domestic product on the Earth. Unlike the Puritans, the Virginia Company was initially about profit and corporate dividends. Unlike the Puritans, the endeavor was about private financial interest, not community or settlement. In that sense, Virginia's first Thanksgiving was the foundation of modern American economics.
The profit-seeking Founding Fathers in Virginia found their cash and a handsome profit in tobacco, known to the Native Americans but largely unknown in Europe. (In some ways, our beloved ancestors were the earliest runners of an international drug cartel.) American capitalism, through development of large tobacco plantations, came to the new world through corporate backing. These plantations were worked at first by indentured servants and lower-class English, and eventually (exclusively) by African slaves.
Tobacco required extensive land, and this land was to be found off the coast of Virginia to the west, with white settlers pushing against the native population: Enter America's original sins of racism and white supremacy. Americans became more reliant on African slaves for the labor force, and race became the defining relationship between land and labor.
Eventually this class-based system morphed into transforming America from a society with slaves into a slave society. From Virginia's first Thanksgiving, race became the prevalent issue both in the social life of the American colonies and in the future United States of America, and capitalism became its reigning economic ideology.
Is current America colonial Virginia writ large? More than four centuries later, the question remains. America was founded on paradox — freedom versus racism, capitalism versus social equality, private economics versus public welfare. The contradictions define our history. Should this country wish to move forward and fulfill the dream of its finest rhetoric, then Americans must dispense with myths that may be comforting and grapple with truths that may be disturbing.
What, then, does Jamestown in early Virginia have to tell us in the 21st century? Our society descends from an original sin: the development of a class-based caste system along the banks of the James River. Inequality and vast gaps in income are inextricably linked in our colonial Virginia past. Yet what also is contained in that Virginia past is our present and future. It is our ability to overcome and move forward.
It was Virginians in search of freedom who charted a course for the United States in a society based on slaves. And it was a Virginia slave-holding general who, in 1865 at Appomattox, gave up the fight for slavery's continuation, a key moment on the ongoing road toward equality and justice.
The paradox is uniquely American, and it behooves us to understand it so we might better understand ourselves and continue to be a work in progress — and for which we should give thanks to Virginia's first true Thanksgiving.
Robert Ellis taught writing and history at Rutgers, where he received a Ph.D., and Fairleigh Dickinson universities. He was the executive director of the Institute for Leadership Studies and History. He lives in Richmond and is the author of the book "Ernst Toller and German Society: Intellectuals as Leaders and Critics." Contact him at: ellsrbrt@earthlink.net