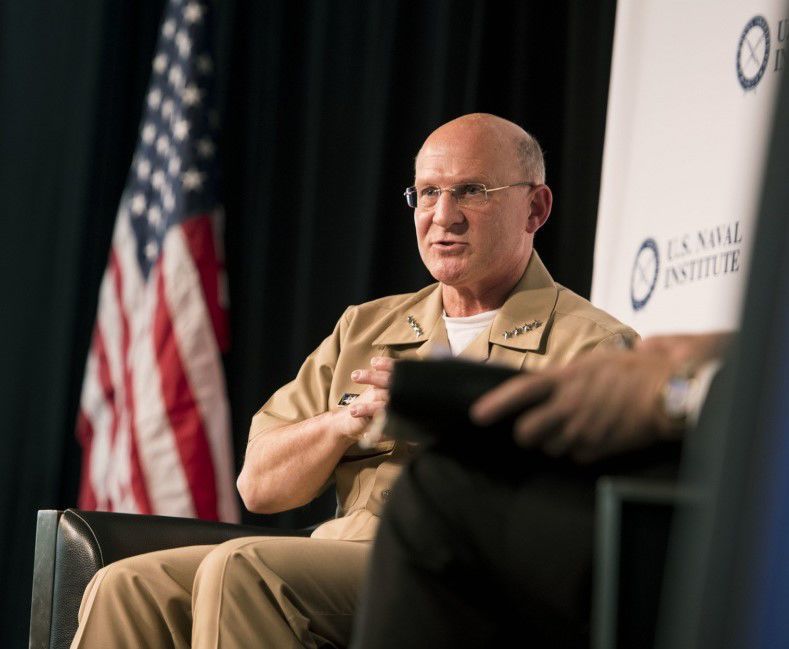 In December, the U.S. Navy's Chief of Naval Operations (CNO) Mike Gilday commanded every officer, sailor and civilian within the maritime service to hold themselves to "high ideals of integrity and service" and do so at "a flank bell" (a nautical term ordering a ship to maximum speed). The admiral told his troops to "think about who we are as a Navy and the constitutional oath we commit ourselves to. That oath is what binds us together. It is the foundation of our profession. It is our north star. It defines us."
It was a timely order from a CNO who had been selected for the position in July only after the admiral originally named to the job resigned when stories surfaced of his close ties to a naval officer involved in a sordid 2016 sexual harassment incident nicknamed the "Bad Santa" scandal.
And Gilday's boss, Navy Secretary Richard Spencer, had been ousted just days earlier for trying to sneak behind the back of Defense Secretary Mark T. Esper and work out a deal with the White House to let Navy SEAL Eddie Gallagher, who had been charged and then acquitted of murder, keep his Trident pin.
The latter half of the 2010s was not a good time for the United States Navy. The service has been beset with one scandal after another. But if the past five years were bad, 2019 was the worst. Not only did the Gallagher incident give leadership a black eye, it also uncovered systemic problems within the Navy's Judge Advocate General Corps and the SEAL community.
A review of the JAG corps was ordered last August after misconduct by Navy prosecutors came to light in the Gallagher trial. Prosecutors were accused of suppressing information and the lead prosecutor was fired for spying on defense teams. And in several other recent legal cases, convening authorities have been accused of using unlawful command influence to help senior leaders involved in court martial cases get the verdicts they wanted.
The grim results of that review panel were released this week. Although the investigation noted that the vast majority of JAG officers are above reproach, they identified numerous areas where "institutional and organizational corrective actions" are needed.
And then there are the SEALs. While Gallagher's case was the most public, he isn't the only member of the elite force to be charged with misconduct. In July, an entire SEAL team was sent home from Iraq after a scandal alleging sexual assault and drinking came to light. In another investigation, a team stationed in Virginia has been accused of abusing cocaine.
In late July, Rear Adm. Collin Green, the Navy's top SEAL, issued a letter bluntly informing his troops in boldface type that "we have a problem." He wrote: "I don't know yet if we have a culture problem, I do know that we have a good order and discipline problem that must be addressed immediately."
And other components of the Navy have seen plenty of scandals and unscrupulous behavior. In 2013, the gigantic bribery racket called Fat Leonard came to light. The ongoing investigation involved a ship support contractor who paid out more than a half-million dollars to multiple naval officers attached to Seventh Fleet in exchange for classified information. Naval personnel continue to be implicated.
While the majority of our Navy's sailors and officers are honorable and committed, the service is scandal-plagued and military cohesion is suffering. What's wrong? In the past decade, identity politics have become a part of the nation's landscape. Polarization has reached a point where many of us are unable or unwilling to interact with others of different identities. Those divisive politics have seeped into the military. In March, Lt. Gen. Sean MacFarland, a retired three-star Army general who commanded the coalition against ISIS in Syria and Iraq, was asked by a reporter if "polarization at the foot soldier level is something that the armed forces should be concerned about."
McFarland agreed, calling identity politics a cancer that was making it difficult to assimilate everyone and get them on the same team.
American political scientist and political economist Francis Fukuyama is no fan of identity politics. He warns: "Although the United States has benefited from diversity, it cannot build its national identity on diversity. A workable creedal national identity has to offer substantive ideas, such as constitutionalism, the rule of law, and human equality."
If identity politics are harmful to the national identity, they are far worse for the military. Promoting diversity does little to help a drill instructor training his troops to march, think and act as one. If troops are incapable of being part of something bigger than themselves, morale, good order and readiness decline. We've seen plenty of proof of that. Hopefully all of the services will address this issue immediately.
Robin Beres is deputy opinions editor. She is also a retired Navy chief petty officer. Contact her at:
or (804) 649-6305