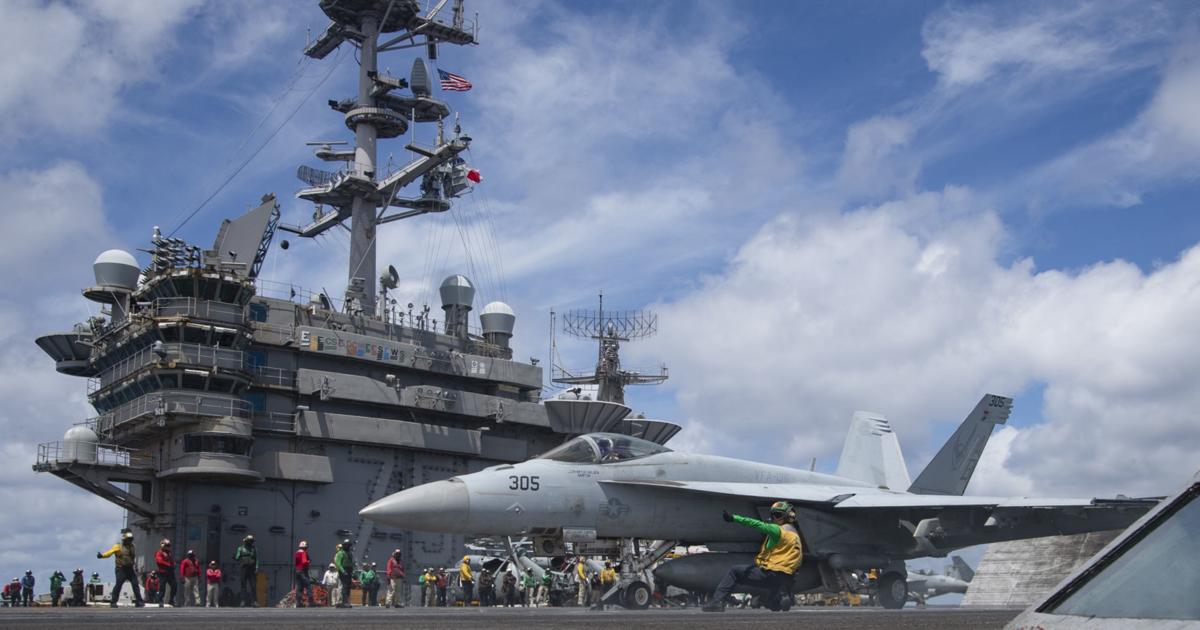 On June 16, the USS Harry S. Truman and its strike group of support ships finally arrived home after at least six months at sea. Some of the ships in the carrier group had been deployed since September. Because of COVID-19 concerns, the Navy kept the unexposed sailors at sea an extra two months.
But on Tuesday, the Truman finally pulled into its homeport in Norfolk. This time, things were different from a traditional ship's homecoming. Despite the extended deployment, no excited groups of family members crowded the pier. There were no homemade banners, no brightly colored balloons, no families and loved ones waiting at the landing.
Like so much else in the Navy, a ship's homecoming is steeped in tradition. In normal times, as a vessel nears its homeport, loved ones gathered on the quay search for their sailor among the crew members manning the rails. As the returning ship pulls pier side, deck hands heave over mooring lines to waiting sailors on the quay. Once the ship is securely moored, the ship's flags are changed from at-sea banners and pennants to in-port flags. Over the ship's intercom system comes the phrase, "Moored! Shift Colors!" letting the crew know that it is officially home.
Once the ship's brow is lowered, families and friends press closer, hoping to see their loved one emerge. On most ships, the first sailor to exit the vessel is the winner of a shipboard raffle for "first kiss." The next to debark are the new parents who have yet to meet their newborns. It is an old tradition, one loaded with teary-eyed emotion. Our oldest son, Joe, is one of those new dads. His daughter was born in April while the Truman was still at sea. He has seen pictures and spoken via Facetime with his family, but Tuesday was the first time he held his daughter.
Like almost everything else that has happened in 2020, there was nothing normal about the Truman's return. The pier was eerily empty as crewmembers debarked from the aircraft carrier. Sailors, hoisting seabags over their shoulders, were instructed to hoof it to a nearby parking lot to meet their loved ones waiting in vehicles. Many of us watched the ship's arrival livestreamed over Facebook and TV.
And now that they're home, what a strange new world awaits these crew members. At sea since the fall, all was normal when they left. When the ship departed in November, U.S. unemployment was at an all-time low and wages were increasing. The economy was booming, shops and malls were busy, and people were eating out in record numbers.
Of course, people were as divided as ever over politics but back in November, Americans hoping for a sea change in the White House had at least 10 options for their 2020 Democratic presidential candidate. Today the only one left is the nominee apparent, former Vice President Joe Biden.
When they departed, stories of the coronavirus were just a news item — a problem for faraway China. Who would have dreamed that within just a few months, COVID-19 would have spread through the states like a wildfire? Or that within five months, there would be more than 2 million cases of the virus and nearly 116,000 dead in America?
Could anyone have foreseen that the economy would come to a screeching halt? Or that Americans, millions now jobless, would be required to stay in their homes and avoid all but the most essential trips to grocery stores and the like? That welcome home parties and celebrations would be verboten?
It is difficult to imagine how the 7,500 men and women attached to the USS Truman and its support ships must be processing their homecoming — not only have they missed births and weddings and funerals, they are being met with skyrocketing unemployment, a recession and still mostly forbidden in-person church services.
One of the best parts of returning from a foreign deployment is being able to immerse oneself in Americana again. After the confines of shipboard life, the freedom of walking down a street, enjoying new sights and seeing new faces are welcome experiences. How strange it will be for these sailors to see American faces — known for our quick, toothy smiles — now hidden behind masks with only our eyes, lined with concern, peering over the tops.
And while they haven't been completely isolated from the news, processing the almost overnight eruption of protests, outcries and violence that erupted after the killing of George Floyd will be difficult.
They left during a time of normalcy. They are coming back to unprecedented events. The only thing that is certain is they were missed terribly and are loved dearly. Welcome home.