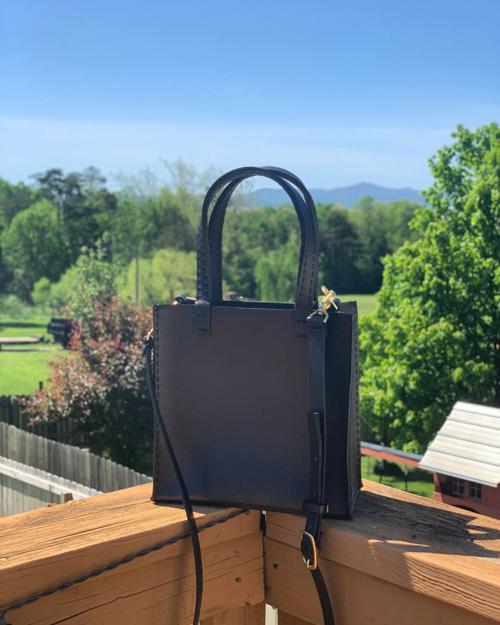 In a time of uncertainty, my life significantly has changed. Things have been rocky for nearly every business, especially small businesses owned by Black entrepreneurs.
COVID-19 has shut down more than 40% of us, compared to just 17% of our white peers, threatening to widen an already vast racial wealth gap. But businesses owned by Black women helped drive the economic recovery after the Great Recession, creating more jobs than any other group. We can do it again, as long as we have the tools we need to participate and succeed in an increasingly online economy.
Like so many entrepreneurs, my small business was born out of my side hustle. As a young mom of two kids in Roanoke, I constantly searched for ways to pinch a few pennies, so I started hand-sewing my own purses using old leather I'd find at Goodwill.
I prided myself on clean, simple, timeless bags. Soon I was selling them at work, then on Etsy and then at brick-and-mortar stores, until in 2018 — five years later — when I finally was able to quit my job and run my leather goods business, Tree Fairfax, full time. Today, the business completely is direct-to-consumer through my website, where I'm fully in control of my prices, my brand and my hours — a relief after years of selling wholesale.
As we've all witnessed, this has been a year of adjustment and this is true for my business. When my leather supplier closed due to the pandemic, I couldn't fulfill orders and intentionally had to slow sales. I found a new supplier online just in time.
In June, when our national reckoning on racial justice sparked widespread interest in supporting Black-owned businesses, my sales skyrocketed. The unwavering support from social media is what made 2020 my best year in business yet. It allowed me to upgrade my machinery, and get even closer to my goal of hiring workers and having my own studio.
While the online economy has helped me stay afloat during this difficult time, I know that isn't true for everyone. Black-owned businesses are highly concentrated in retail and restaurants — industries that are most affected by shutdowns and social distancing.
And though we've needed more help, we've been less likely to get it: Only 12% of Black-owned businesses received the federal COVID-19 assistance they requested, compared to half of small businesses overall.
That's sadly par for the course in a country where systemic racism is alive and well, and Black entrepreneurs have a much harder time getting access to capital and other supports they need to start and grow new businesses — or to survive downturns like we're in now.
The internet could change all of that. In my experience, the online economy is everything. Before 2013, I never had started a business, but Etsy was a quick and easy option for a newcomer like me who wanted to reach people outside my immediate circles.
I've never had an advertising budget, so becoming part of social media communities was crucial to my growth. A low-cost loan from an online payments company boosted my sales at a pivotal moment.
And the back-end payment processor Stripe helped power my brand, allowing me to accept credit card transactions from anywhere. This prepared me to take advantage when customers across the country started showing support for my business.
The truth is, the internet economy has been a lifeline for all small-business owners in places like Southwest Virginia, far away from any tech hub, even before the pandemic made it essential.
Helping more small businesses thrive in the internet economy — especially minority-owned businesses — should be a priority for lawmakers in Richmond and Washington, D.C. In recent years, just 10% of U.S. retail sales took place online.
If we can help more small businesses like mine master e-commerce, that number will be much higher and our economic recovery will be much stronger and more equitable for the long-term.