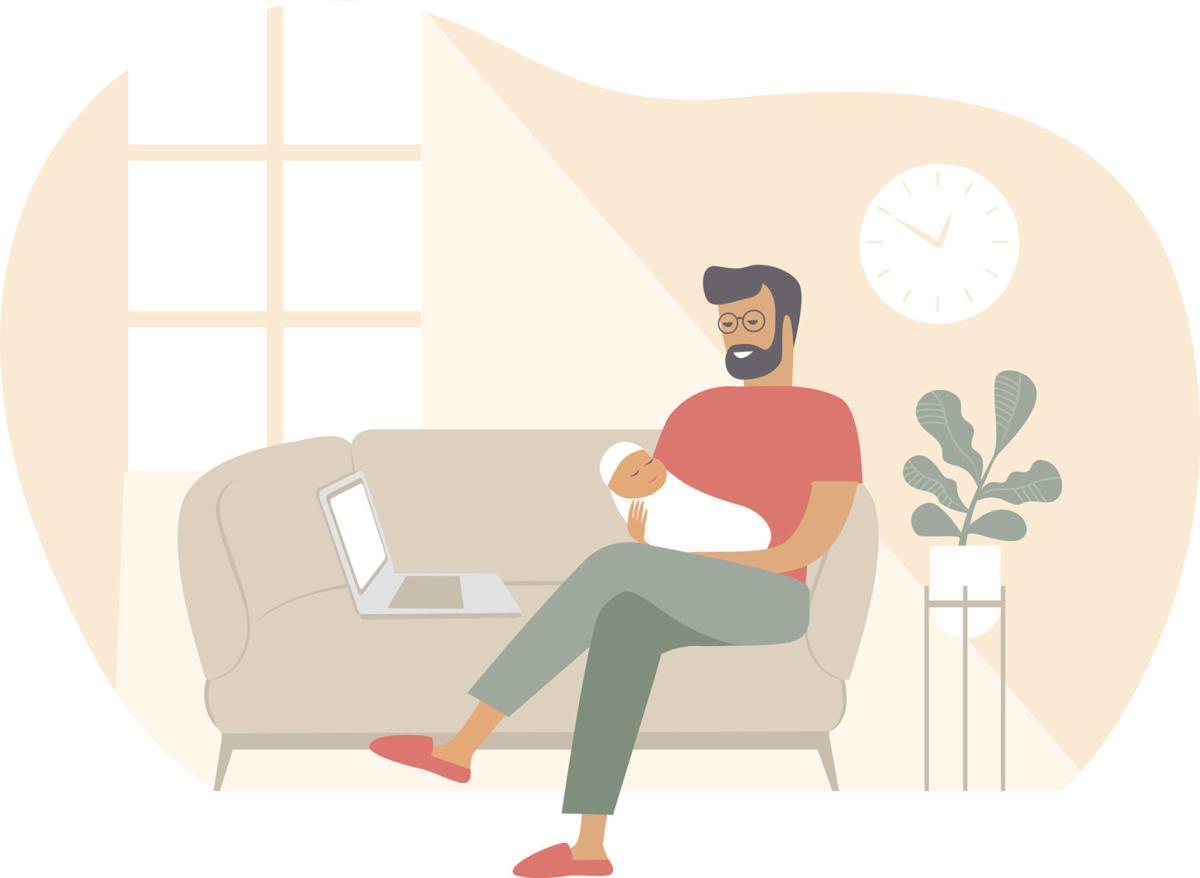 In the past month, paternity leave has received some unwarranted criticism. But instead of criticizing men who take paternity leave, we should be encouraging fathers to take it.
Full disclosure: I write to you from week two of my paternity leave, amid bottles, diapers and a couch that has recently logged a whole lot of hours. I am not "trying to figure out how to breastfeed." Nor am I exclusively caring for my wife (although she did just give birth, so that is part of how I spent paternity leave). Instead, I am taking the opportunity to be the first to tell my youngest daughter that she is lovely and kind and smart and safe.
Rose is my third daughter, so the arrival of a newborn and all of the strange rituals that go along with it are familiar now. I am used to telling neighbors that everything is going great, even when four of the five of us cried over breakfast. The months of interrupted sleep, basically torture, at least aren't a surprise this time. And I am an expert at the half-lit shuffle to the kitchen to prepare a bottle, avoiding the training potty in my living room, which, if kicked, will shout "hip hip hooray!" and wake up my other children.
First time or not, fathers should take time off for the arrival of their children. Paternity leave sets up fathers for later success: Fathers who take at least two weeks of paternity leave are more likely to be involved in their children's lives months later. And fathers who take longer paternity leave also report higher satisfaction in parenting.
That is not to say that men who cannot take time off for paternity leave are not involved enough with their children. As working parents know, the United States does not require employers to offer paid parental leave. Few people can afford to take weeks of unpaid leave. Nor do I mean to imply that single mothers are not excellent parents. They are.
What I mean to say is this: Taking paternity leave is a gift, and if you are able to, you should take it.
The truth is that paternity leave rocks. You get to spend time with your spouse and child(ren), unencumbered by the demands of work. You get to shut off the part of your brain that brings work home, or worries about how you are performing, or hopes for a better assignment, or stresses about how to deal with the manager who is making a hard job harder for no apparent reason.
Instead of working (or thinking about work), you get to play. You get to relax with your family. You find time, between the feedings and diapers, to read, listen to podcasts or catch up on episodes of "Only Murders in the Building." You get to cook and clean and prepare yourself for the coming months of exhaustion.
Paternity leave provides some psychic benefit, too. The posture of our external lives influences the posture of our internal lives. By wrenching my body away from work and placing it with my family — which is hard because I am conditioned to work a lot — I also pulled away my energy and attention from work and directed it toward my family.
Taking that posture at the beginning of my daughter's life sets me up to make the same decisions later in life. After all, hasn't every movie about fathers taught us that eventually you have to learn to leave your business meeting and attend your child's soccer game? Why not start now?
The recent spate of criticism of U.S. Transportation Secretary Pete Buttigieg's paternity leave is disappointing if unsurprising in our era of reactionary politics. To those critics, I can only say that you are missing out. My firm offered two weeks of paid paternity leave — which, admittedly, is not enough — and I took it all. I am happy to spend two weeks holding my daughter, helping my wife, playing with my older children, catching up on TV and preparing for the parenting road ahead.
William P. Sowers Jr. is an attorney in Richmond. Contact him via email at sowerswp@gmail.com or follow him on Twitter: @willsowers7