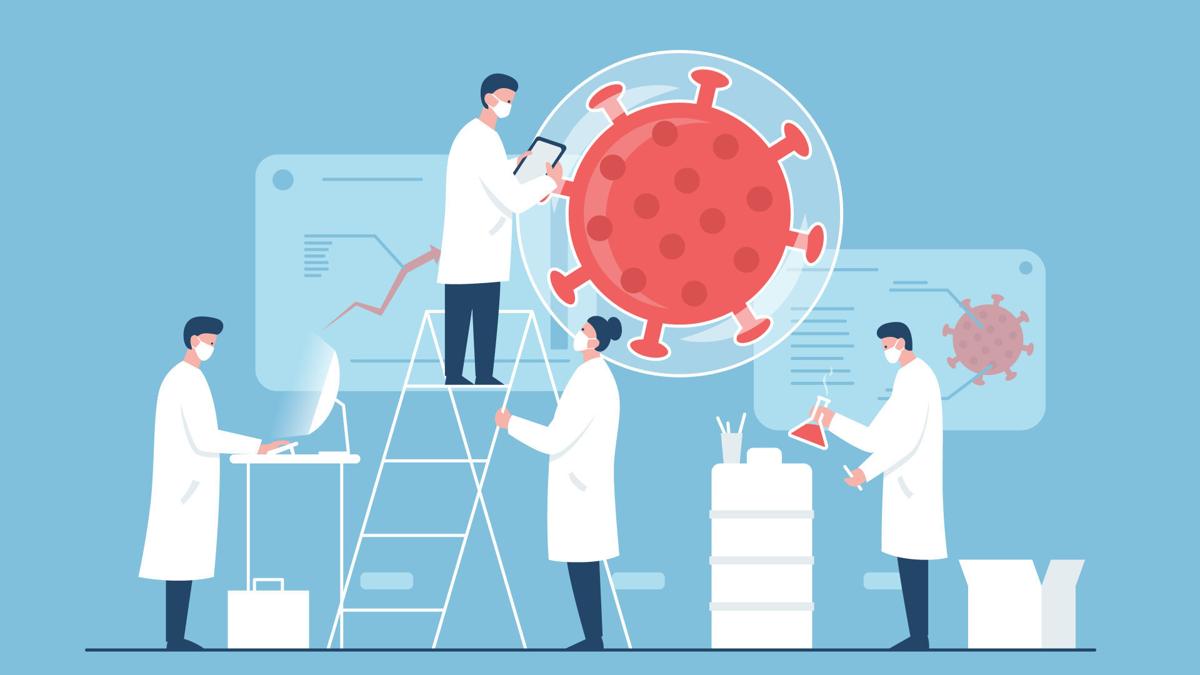 Much attention has been given to measures that quantify the spread of the coronavirus.
The Centers for Disease Control and Prevention provides daily updates on its COVID Data Tracker — a portal of maps and charts that itemizes cases, deaths and other trends across the U.S. There even is a "pandemic vulnerability index" that creates risk profiles for each county. Scores are based on a number of factors including population (density, traffic), intervention measures (social distancing, testing), and health and the environment (air pollution, co-morbidities and more).
The usefulness of this vulnerability index might be high for scientists or public health experts. But to the general public, the navigation experience appears to be clumsy at best — loaded with numbers and visuals that are far too complex for a public service announcement urging people to take the pandemic seriously.
We need to uplift the data that tells a story beyond the single virus on its own. Our response to COVID-19 really is about the overall stability of our health care system.
Regardless of your own vaccination status or COVID-19 case history, every Virginian should pay attention to three metrics that show the virus' toll in a broader sense.
First, let's start with hospital beds. Each morning, the Virginia Hospital & Healthcare Association updates its dashboard conveying the number of patients hospitalized with a confirmed case of COVID or a pending test result. As of Thursday afternoon, there were 2,144 Virginians in those circumstances. Roughly 1 in 4 people (544) were in an intensive care unit, and 1 in 6 (351) were on a ventilator.
To a vaccinated person who is confident to resume living their normal life, or to an unvaccinated person who has no fear of contracting a severe case of COVID whatsoever, those figures might not mean much.
But toward the bottom of the VHHA dashboard, there is a separate section on available inpatient beds. As of Wednesday, there were 414 ICU spots open across the state. And underneath that figure, there are other layers of complexity. Some regions of the commonwealth have fewer beds to begin with. Some health care emergencies require greater urgency.
Whether it's for COVID or another ailment, no Virginian should see their health compromised — or life lost — because a hospital bed was not available. How we respond to COVID determines how easy or difficult it is to call 911 for any reason.
Second, we can't take our medical supplies for granted. During the pandemic, the Food and Drug Administration has regularly updated a "Device Shortage List" with three categories: personal protective equipment, testing supplies and equipment, and ventilation-related products.
As of Sept. 10, there were issues with ventilators, gloves, gowns, surgical masks, laboratory reagents, collection tubes and more. Much of those disruptions were due to spikes in demand, but some products were in short supply due to manufacturing compliance issues or shortages/discontinuations of various parts and accessories.
No matter what caused these products to land on the FDA's list, every Virginian should recognize the fact that vaccines do more than protect us from COVID. They also are a safeguard for supply chains that deliver critical resources for any procedure in a doctor's office or a hospital operating room.
And finally, we should be wary of how COVID affects overall health care costs. This month, the American Academy of Actuaries released an issue brief discussing drivers of change for 2022 health insurance premiums.
The document explains that the uncertainty posed by the pandemic continues to affect how rates get calculated. As waves of COVID transmission fluctuate in different regions of the country, hospital utilization subsequently varies, too. The need for vaccine boosters, the increased use of telemedicine, and the difference between patients who chose to seek or delay care also can affect costs.
"There is evidence that some essential services were deferred during 2020," the brief said. "This deferral of services means that individuals with chronic conditions could see a degradation of their health status, resulting in higher future costs on a per-member basis. In addition, many preventive services such as vaccinations and cancer screenings were being avoided, which could lead to increased future illness or condition severity in future years."
Additionally, the academy cautions that the economic effects of the ongoing pandemic can heighten the need for different services. People who lose a job or can't find child care might need mental health supports. People who feel isolated might turn to alcohol or drugs, and need treatment for substance use disorders. The financial toll of COVID on the employment market and family life can affect the "risk pool composition" — the collective health statuses and health care costs of people who fill an insurance plan.
None of these health outcomes appear on a dashboard counting cases, hospitalizations or deaths. That's why our response to COVID — getting vaccinated, wearing a mask and other mitigation measures — should be viewed beyond stopping one virus. These decisions support the overall stability of our health care system.