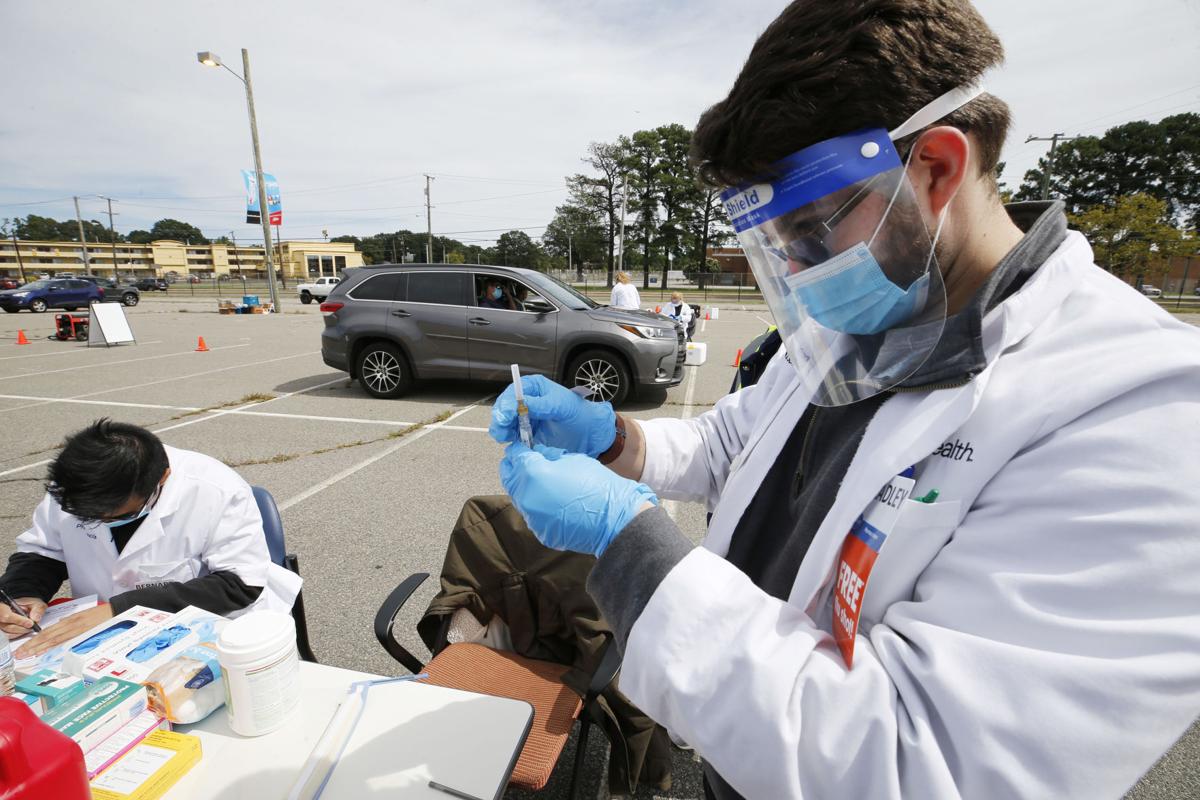 We wouldn't blame anyone reading this if the flu shot was the last thing on your mind.
Since the beginning of the COVID-19 pandemic, we've all had good reasons to feel unsafe, uncertain and disconnected. The threat of COVID-19 continues to shape how we live, work and travel. Most of us still are keeping our circles small, and avoiding big crowds and unnecessary exposure to strangers, postponing visits to the doctor (which might not be such a great idea) and foregoing weddings, funerals and other family events. Many of us are facing unemployment and deep economic hardships, and more people than ever are struggling to maintain stable housing, and keep their families healthy and whole. Let's be honest: Even exercising or taking a quiet moment for ourselves has not been easy.
All of the above has been truer and tougher in low-income Black and Latino communities, where many people were stretched and stressed to the max even before the pandemic began.
So why are we begging and pleading for everyone to get a flu shot?
There are a few things we know for sure in these uncertain times. First and foremost, masks, social distancing and frequent hand-washing are our first line of defense, but the second line is getting your flu vaccine. A flu shot this year could be more helpful than ever in preventing illness and flu-related deaths, and keeping flu-related doctor visits and hospitalizations down will also conserve our health care resources to fight the second wave of COVID-19.
Many people simply are not in the habit of getting the flu shot at all, often because they aren't connected to a primary care provider, or have a perception that the flu vaccine is unnecessary or unsafe. But skipping the flu vaccine hurts, and it hurts communities of color the most. In the 2018-19 season, the Centers for Disease Control and Prevention reported that the flu resulted in more than 18 million medical visits, 410,000 hospitalizations and 24,000 deaths. That year, just 45.3% of U.S. adults and 62.6% of children got the flu vaccine. The same data shows that Black, Latino and Asian adults had far lower vaccination rates than white adults. If people of color are receiving fewer vaccinations, the burden of illness is more likely to fall in their communities.
This year, flu season is arriving as we are focusing the majority of our efforts to battle the coronavirus. Since March, Virginia has had more than 142,000 COVID-19 cases and more than 3,000 COVID-19-related deaths. Black and Latino communities have had much higher infection and hospitalization rates from COVID-19 in Virginia than white communities. A spike in flu infections during the pandemic could overwhelm our local hospitals and make it harder for health care providers to give both flu patients and COVID-19 patients the resources they need. And if flu vaccination rates are lower in Black and Latino communities, and COVID-19 rates are higher in those same communities, this might mean even more severe illness and greater risk of death for Black and Latino residents. This is unjust and absolutely unacceptable.
If folks are uncertain or worried about where to get the flu shot, or how to pay for it, there are good options available for everyone. People with private insurance typically can get the shot at little or no cost from their primary care provider, or even at a pharmacy. All Virginia Medicaid members also have access to the shot at no cost this year. Local health departments and clinics are offering free flu shots at no cost and holding pop-up clinics and/or drive-through events across our region. Check with your local health department for more information. Flu shots are available for all people ages 6 months and older, including undocumented residents. Anyone without transportation to get the flu shot can use free ride credits from Lyft with the code VAFIGHTSFLU now through Dec. 31.
We all can do our part to reduce this threat and help keep each other safe. Getting the flu shot limits transmission of the flu, conserves health care resources for COVID-19 patients and offers greater protection for all of us when we really need it. This year, it will take all of us making choices to protect ourselves, our families and friends, and the human family that we all belong to. Please do your part and get the flu shot as soon as possible.