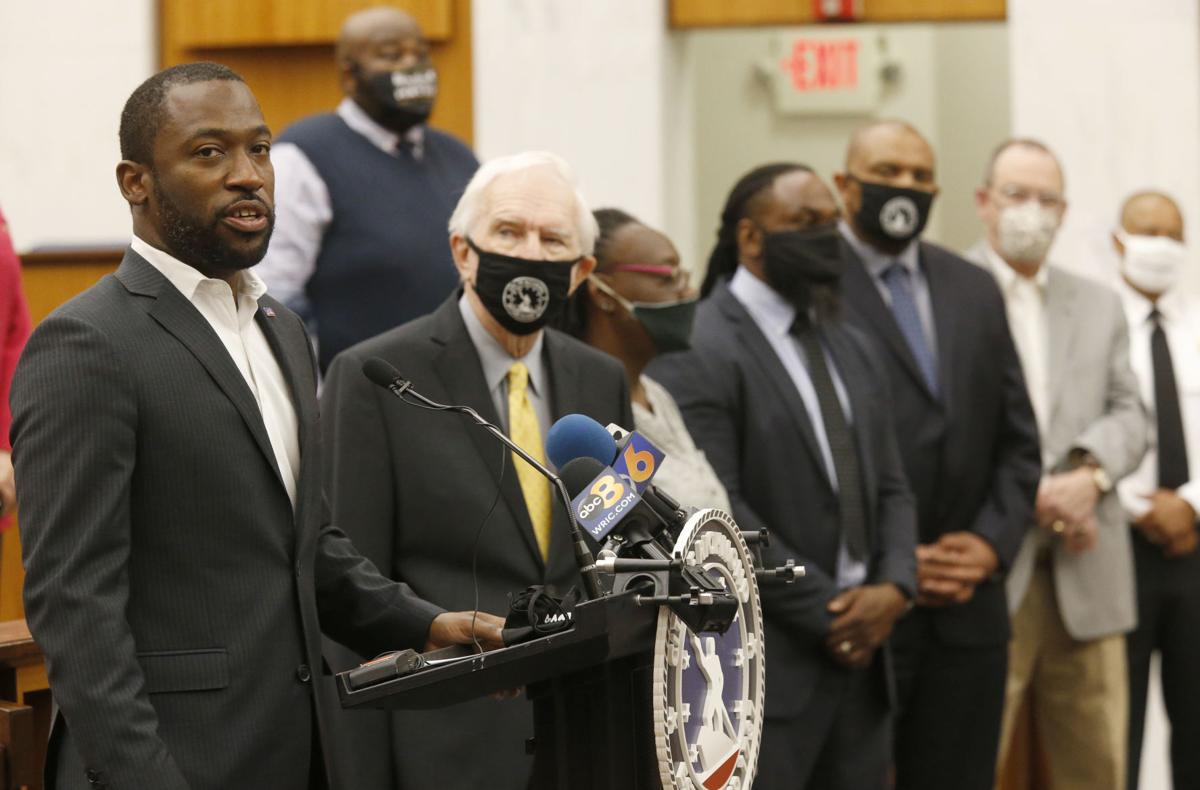 A swearing-in ceremony typically is a cause for celebration, marked by hugs, handshakes and applause.
When Richmond Mayor Levar Stoney was sworn in for his second term on Monday, he took his oath of office with a sense of seriousness. The presence of masks, social distancing and a livestream was a stark reminder that the pandemic gripping the city and the globe still is in full force.
After a turbulent year, Stoney's primary task is to turn protest into progress. The words were there on Monday, but actions are the ultimate sign of leadership.
"For individuals, for communities, for cities and for our entire nation, it's been a year of reckoning," Stoney said of 2020. "And that's a good thing, because now armed with lessons learned over the course of the last four years about injustice rooted in 400 years, we have the chance to turn this reckoning into reconciliation."
As a Black millennial who saw his father work two jobs to make ends meet, and his grandmother use her Social Security checks to support him and his brother, he acutely is aware of the "heavy burden" incurred by Richmonders who have faced systemic racism and generational poverty.
That reality has been reinforced over Stoney's past four years as mayor. He alluded to his conversations with "bone-tired" moms who are working two jobs and worried about their children's schooling, or returning citizens crippled by felony convictions who just are seeking a path to work again.
"While we can't guarantee success for all 230,000 Richmonders, we can work to break down the barriers that stand in the way of them fulfilling their God-given potential," Stoney said.
The mayor mentioned the progress in motion toward the goal of equity: building three new schools in communities of color; securing access to afterschool programs for elementary and middle school students; paving 500-plus lane miles and filling more than 84,000 potholes; and conceiving an eviction diversion program to help tenants stay in their homes and the city shed its high eviction rate.
But Stoney's final two mentions on Monday likely will be the issues that define his second term. "We removed monuments to white supremacy from our city landscape," he said. "And we fought every day over the last 10 months to sustain our city and keep residents safe during a global health pandemic that has devastated lives and livelihoods."
What now? How will the protests that shook Monument Avenue result in better days for Richmonders? How will the removal of Confederate statues — and the lingering fate of the largest of them all, Robert E. Lee — produce a more inclusive future?
How will the yearlong toll of COVID-19 complicate the path to upend pre-existing barriers? How will the loss of jobs, the closure of businesses, the struggle to achieve financial security, or the complications to get the public vaccinated add to the need for better equity of opportunity?
When a new school is built, you can hand over the keys to open it, as Stoney did to three principals this past September. But it takes years of work before it becomes a good school — and the desks at Cardinal Elementary, Henry Marsh Elementary and River City Middle remain empty due to virtual classes amid the coronavirus.
When a road is paved or a pothole is filled, you immediately feel the difference. But paving isn't a one-shot deal. Roads require daily attention and care, and a significant investment. As of August, Richmond's fiscal year 2021 paving plan covered roughly 300 lane miles at an estimated cost of more than $20 million.
To people outside of Richmond's borders, the city maintains its intrigue and luster. In 2020, The New York Times highlighted it as one of 52 places to go:
"Within easy driving distance from Washington, D.C., Charlottesville, Va., and Virginia Beach, the city is a magnet for Washington expats, millennials and college students. The entrance of the Virginia Museum of Fine Arts, on the newly christened Arthur Ashe Boulevard, features Kehinde Wiley's massive 'Rumors of War' statue, which was designed to challenge the narrative of heroism in a city where Civil War monuments still loom."
And even after a tumultuous year, the allure continues in Travel + Leisure Magazine's 2021 list of the 50 best places to travel. But the details look quite different:
"One of 2020's most indelible images, and the one that best captured the changing identity of Richmond, was that of Marcus-David Peters Circle on Monument Avenue: A statue of Confederate general Robert E. Lee astride a horse, its stone plinth a kaleidoscope of tags in support of Black Lives Matter. Now, with the statue's removal in the works, Richmond is looking toward a new, more inclusive future."
We know what the return of visitors can and will do for Richmond's livelihood. But what will the future hold for people who live here year-round? What will 2021 look like for the student who is lost without in-person schooling, or for the mom desperately seeking work and behind on rent, or for the 62% of voters who supported candidates other than Stoney?