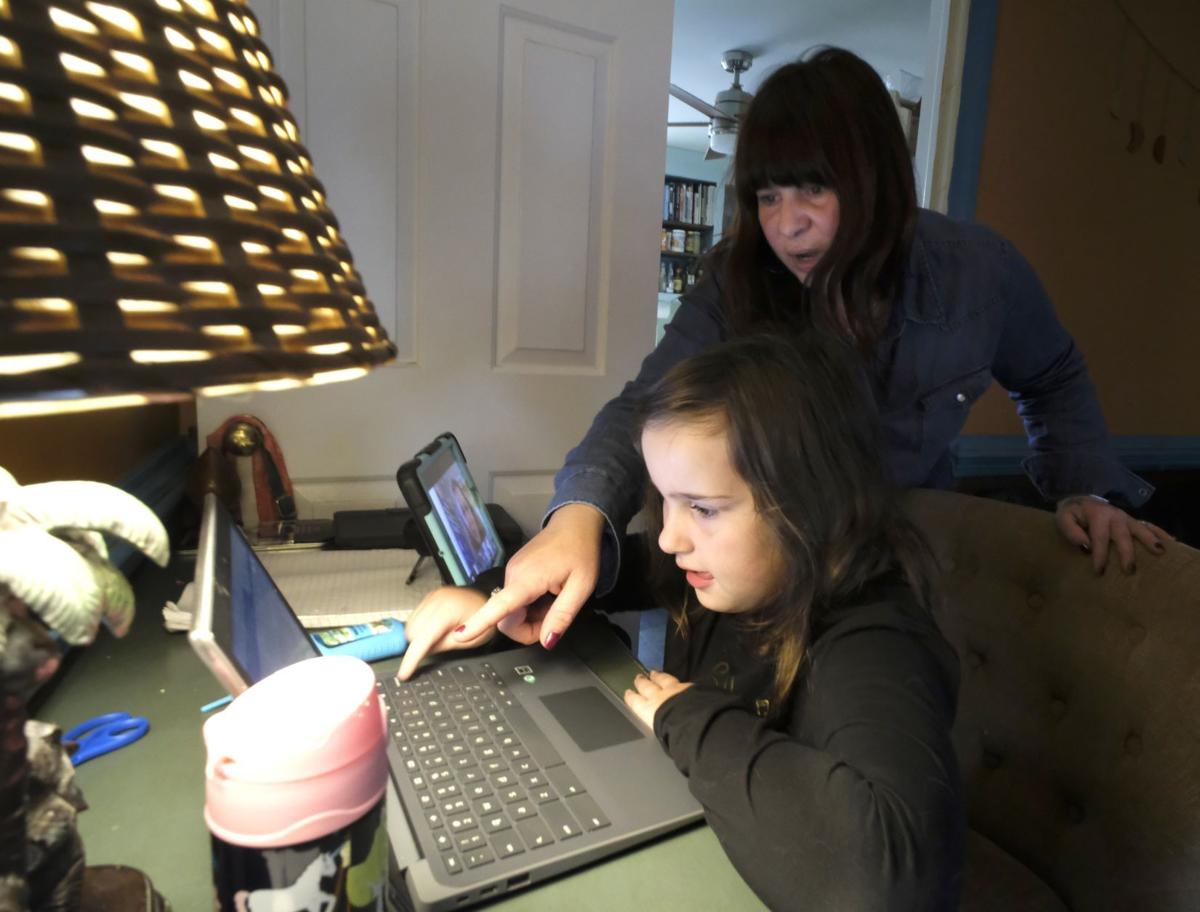 As we approach a new year, we asked leaders in housing, health, education and the economy about the ongoing challenges they're facing with COVID-19. Today marks the third of a four-part series of questions-and-answers with experts.
We asked Sandy Boyd, CEO of Seek Common Ground — an organization committed to engaging students, families and communities in their schools — and Kris Amundson, the former chair of the Fairfax County School Board and a former member of the Virginia General Assembly, about the global pandemic's impact on education. Amundson and Boyd met when they were moms of kids in Fairfax County Public Schools.
What have been the biggest challenges facing education during the pandemic, both in Virginia and across the U.S.?
From the beginning of the pandemic, it was clear that districts were unprepared to transition to virtual learning, a transition that took place almost overnight. (We remember the story of the family who took the class gerbil home for the weekend.) There was no playbook for teachers. Many students and educators did not have (and some still do not have) the devices and reliable internet access needed for remote learning. As hard as learning remotely is, learning on a phone in your local public library parking lot is even harder.
Relationships — so critical to students' well-being and learning — especially are challenging right now. Worries about social isolation and mental health are real. Some kids are thriving, but for others, especially those who need special services or who have experienced trauma during the pandemic (illness, loss, homelessness), this period especially has been tough.
Districts have been anxious — pretty much from the beginning — to figure out how to safely reopen in-person schooling, or at least make that an option. And that, perhaps, has been the biggest challenge of all. District officials did not have control over the myriad of other federal and state public health decisions that were made that impact schools (personally, we would have opened schools long before bars). So, many districts did not reopen as they hoped and others that did periodically have had to shut down. Frankly, given the number of reopening plans that have been shelved, we wish more time had been spent figuring out best practices for virtual learning and closing the digital divide.
This inability to plan, and consistently execute, has stressed educators and families.
In Virginia, localities have the choice to operate schools through in-person or virtual settings. In divisions with in-person options, parents also have the option to maintain virtual learning. How has that varied learning landscape helped or complicated the path to excellence and equity?
The pandemic has exposed, and exacerbated, already existing inequities in education. Kids who were behind in March are behind now.
Online learning is a challenge when everything works right — when kids have devices, high-speed internet, and a relatively quiet place to work. When any of those elements is missing — and for far too many children, they are — it can be virtually impossible.
As for the hybrid model, many educators say it is the worst of both worlds. Teaching online is very different from teaching in a classroom. Yet we now are asking some teachers to do both — often at the same time. It's unsustainable.
Back in March, we expected that most schools would be open by now. So did most school districts. (Today, only nine Virginia school divisions offer full "in-person" learning, and even they include a remote option.)
Clearly, not all parents feel comfortable sending their children back to school. Black and brown families, understandably, seem to be the most reluctant to expose their children to a virus that disproportionately has impacted their communities. So even in districts where schools officially are "open" for in-person or hybrid learning, some families are keeping their children at home, learning remotely, home schooling or, especially with younger children, delaying pre-K or kindergarten.
Entering 2021, students, parents, teachers, school support staff and administrators have learned their share of lessons from the loss of in-person engagement. What components of the prepandemic learning environment most need to be restored?
If 2020 taught us anything, it's that schools truly are the center of communities. Families rely on schools not just for education but for other services. So school shutdowns have had reverberating effects.
As we enter 2021, it's important that we not just return to business as usual. Not all schools worked for all kids before the pandemic. We have an opportunity postpandemic to hit the reset button to ensure that schools are meeting the needs of their communities. But that means including all the key stakeholders — students, families and educators — in conversations about what they need and expect from schools.
Alternatively, what experiences from schooling during the pandemic might be worth keeping and further implementing?
When online learning works, it gives parents and teachers a much clearer understanding of what's going on in the classroom. Moving forward, we should build on those relationships to strengthen partnerships between families and educators and students.
The pandemic also hastened the distribution of digital resources to students. Brookings Institution expert Nicol Turner Lee says that each student should receive a "digital backpack" — a computer and access to high-speed internet. Both are essential. We aren't there yet, but the pandemic has helped move us closer.
The pandemic has disrupted the administration of standardized tests, such as Virginia's Standards of Learning. How, and when, do you think states will return to standardized testing?
Now more than ever, it's critical that parents, educators and leaders have information about how students are doing. Whether that's through classroom or districtwide assessments, parents can and should be asking for information about their kids. We do not have to wait for statewide assessments to get that information.
What happens with spring standardized tests in Virginia, and elsewhere, largely depends on where things stand with the pandemic. Of course, policymakers want the data from these state tests (we do, too), but getting good data means states need to have high participation rates. It's too early to tell whether conditions will permit enough kids to be back in school buildings to take the tests. There are many issues with delivering these kinds of tests remotely, including test security as well as equity issues given the ongoing lack of devices and inconsistent internet access. Some states might be able to pull off standardized testing but whether they do or not, we also should be looking at other evidence to see whether schools, districts and states are serving kids.
What do you anticipate for the coming year?
As we enter what's predicted to be the worst phase of the pandemic yet, it's likely we'll see even more places revert to remote learning, at least until spring.
Assuming health conditions allow it, we hope districts will offer robust summer programs — academics, athletics, the arts and opportunities to socialize with other kids. All students would benefit.
Is there anything else that you would like to add?
We are in month nine of an unprecedented global pandemic that has wreaked havoc everywhere. The pandemic has exposed many systemic inequities. Let's learn from this tragedy — and recommit to ensuring kids thrive.