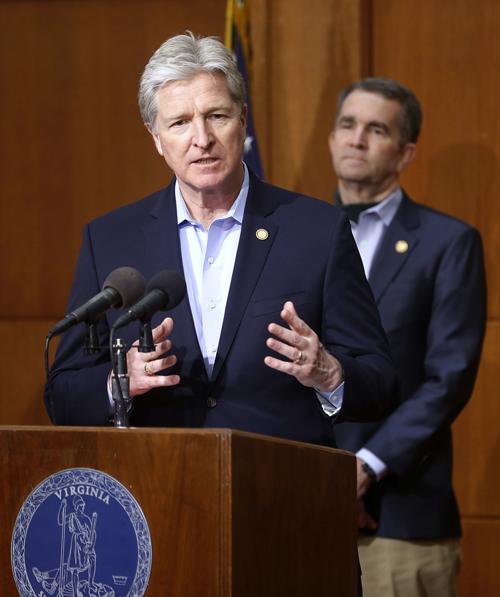 We asked Brian Moran, Virginia's secretary of public safety and homeland security, about the COVID-19 pandemic and the challenges facing the agencies he oversees. Moran has served in the position for six years; he was appointed by Gov. Terry McAuliffe in 2014 and reappointed by Gov. Ralph Northam in 2018.
Disasters and emergencies come in many forms, from active shooters and terrorist threats to floods and fires. When the pandemic arrived, how did your network of 10 agencies evolve to manage the added demand of a public health crisis?
My secretariat's public safety and homeland security agencies have responded to crises ranging from hurricanes to floods, civil unrest and public health emergencies. The foundation of our success is our comprehensive preparedness and ability to quickly respond to and recover from disasters regardless of their nature or complexity. This preparedness and experience allowed us to efficiently execute our existing plans and implement innovative solutions in our response to COVID-19. For example, the Virginia Department of Corrections (DOC) is manufacturing sanitation solutions and facial coverings for staff and offenders. The Virginia Alcoholic Beverage Control Authority issued new regulations regarding service of food and beverages in restaurants. The Virginia Department of Emergency Management's private sector team helped manufacturers transition their existing production to medical personal protective equipment (PPE). We are proud of how our teams have adapted to this monumental challenge.
Virginia's prison system has worked to address safety issues for inmates, including the release of some nonviolent offenders. Walk us through the stresses you're seeing inside our jails and the thought process you employed to institute reforms.
Having worked in the criminal justice system for more than 30 years, I am familiar with alternatives to incarceration and existing legal remedies, allowing us to take early and aggressive action to protect the health and safety of those incarcerated in our jails and prisons. Shortly after declaring an emergency, Gov. Northam issued guidance jointly with state and local public safety officials, encouraging the use of these alternatives, pretrial services and bail, and summonses in lieu of arrests. These efforts have been successful, resulting in a 67% decline in the number of new misdemeanor commitments.
This past Wednesday, the General Assembly approved the governor's proposed budget amendment authorizing the DOC to release individuals with less than one year left to serve — a historic action. Inmates with nonviolent convictions will be prioritized. Legislators further approved the governor's emergency clause on House Bill 33 and Senate Bill 793 allowing for parole consideration of offenders impacted by the Fishback ruling, which would give people sentenced by a jury between 1995 and 2000 a chance at parole. These measures — coupled with the Virginia Parole Board's expeditious review of parole-eligible individuals and the Department of Juvenile Justice's review and release of youths with safe home plans who are not a threat to public safety — represent our humane and responsible approach to the COVID-19 crisis. Public safety will continue to be the administration's top priority, even as we take these extraordinary measures.
What is the state's plan for testing all employees and inmates at Virginia's correctional facilities for the coronavirus?
While statewide limitations on testing remain, the DOC is collaborating with public health partners to complete point prevalence testing. Recently, 1,031 inmates and 446 staff at Deerfield Correctional Center, with a large geriatric population that has an assisted living unit and an infirmary, were tested for COVID-19. Additionally, targeted point prevalence testing was completed at Haynesville Correctional Center and Harrisonburg Community Corrections Alternative Program. These results will inform our data-driven approach and strategic response to keep staff and offenders safe and healthy.
Part of a successful reopening of Virginia's economy is a sense of public confidence that our streets are safe. What steps are you taking to prepare for a smooth transition?
Virginians should feel confident that our streets are, and will remain, safe. In 2019, the FBI reported Virginia as having the fourth lowest violent crime rate in the nation. We also have enjoyed the lowest recidivism rate in the nation for four years, at 23.1%. This means that individuals who are released are not returning to the DOC. Since the beginning of this pandemic, we have worked collaboratively with public safety agencies across all levels of government, hosting weekly calls and addressing issues with a data-driven approach. We remain committed to upholding the laws of the commonwealth, and are working tirelessly to respond to this biological war while protecting our front-line responders and communities.
As we begin to think about reopenings, these partnerships will be even more essential, and we will need the continued cooperation of all Virginians. The Virginia State Police recently reported a 58% decrease in arrests in March 2020 compared to March 2019. We also know that there have been few citations issued in relation to the governor's orders. That tells me that Virginians are complying with the stay-at-home order and we are grateful for that. It is this dedication from public safety officials and Virginia's citizens that will allow us to emerge stronger on the other side of COVID-19.
What steps are being taken to ensure the safety of public safety personnel who are on the front lines of the COVID-19 response?
In partnership with the state Department of General Services, we have evaluated more than 500 vendors offering COVID-19-related supplies since the crisis began. More than a dozen contracts have been awarded to PPE suppliers to support the needs of our localities and state agencies. These contracts include supplies such as millions of masks, gloves, gowns and face shields. During the week of April 20-26, 122 localities received significant deliveries of PPE materials from our state warehouse. We also have coordinated with more than 30 members of industry who are beginning to manufacture critical needs such as masks, hand sanitizer and gowns.
Hurricane season begins in six weeks. If we still are social distancing, how will that impact responses to a significant hurricane? In the event evacuations become mandatory, it would seem many temporary shelters such as school gymnasiums are no longer options.
Even as we respond to the COVID-19 threat, we are well prepared to manage a statewide hurricane response. As state officials, we are accustomed to managing numerous issues at once, including crises. Our public safety agencies are trained and have extensive experience in responding to hurricanes.
Virginians also should prepare for hurricane season by making an emergency kit, creating an evacuation plan and registering their phones to receive local emergency alerts. There is no question that a strong hurricane could require shelters to protect the public. Should shelters become necessary, we would help mitigate risk by using facial coverings or masks, and pursuing isolation techniques.
— Pamela Stallsmith, Robin Beres and Chris Gentilviso