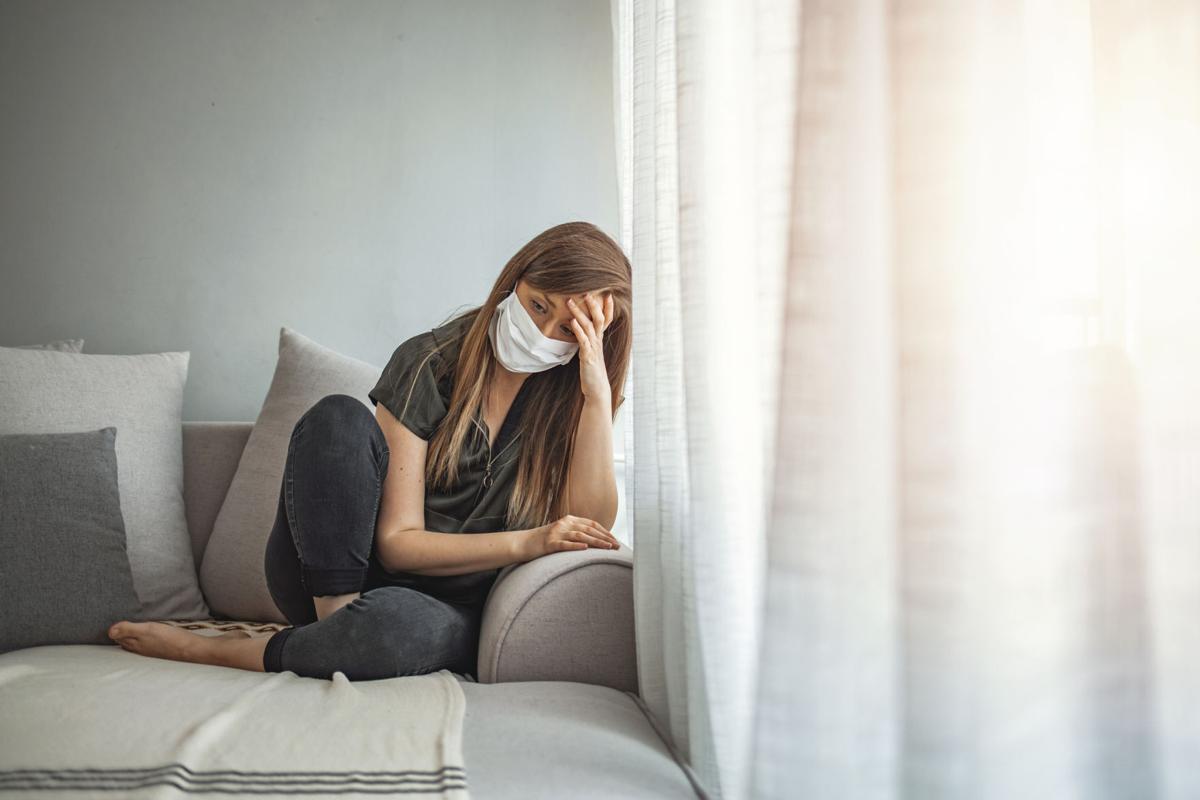 The global coronavirus pandemic has taken its toll on all aspects of our lives. It's upended our work routines, our children's education and our economic stability. And it's affected another arena that needs attention: mental health.
October is National Depression and Mental Health Screening Month, designed to raise awareness of a condition that's becoming more prevalent during the pandemic. In a time as fraught with angst as this public health crisis, mental wellness is as important as our physical well-being.
We've curtailed our way of life. We're more isolated, and we physically limit contact with loved ones, friends, family and colleagues to prevent the spread of contagion. We wear face masks. We're told to wash our hands frequently and keep sanitizer handy. We socially distance, standing at least 6 feet away from others. We've said goodbye to hugs and handshaking.
Large gatherings are largely are a memory. Untold special events — weddings, commencements, funerals — have been canceled, postponed or held virtually. The summer's protests and social unrest, along with the widening political polarity and vitriol, have helped fuel anxiety.
Life continues, but at a different pace.
Some Americans haven't set foot in their office since March. An estimated 34% of American employees are remotely working full-time — up from 2.5% before the pandemic hit, according to Nicholas Bloom, a Stanford University economist who studies remote work.
Others who go to work — whether in a grocery store, doctor's office or clothing shop — wear masks, and sometimes gloves and protective face shields, depending on the job.
COVID-19 seemingly has more than tripled the rate of depression in U.S. adults in all demographic groups, a recent study by the Boston University School of Public Health (BUSPH) found.
The study, published in JAMA Network Open in September, said those with financial worries — with less than $5,000 in savings — were more likely to have depression symptoms.
Nearly 28% of U.S. adults had depression symptoms as of mid-April, compared to 8.5% before the pandemic. The study was conducted March 31 to April 13, when researchers said 96% of the U.S. population was under stay-at-home advisories or shelter-in-place policies.
Studies after other "large-scale traumatic events" such as 9/11, the Ebola outbreak and civil unrest in Hong Kong show that depression rates across the general population tended to, at most, double, researchers said. But COVID-19 is posing new societal stressors, and causing rates of depression to spike.
"Persons who were already at risk before COVID-19, with fewer social and economic resources, were more likely to report probable depression, suggesting that inequity may increase during this time and that health gaps may widen," Catherine Ettman, the study's lead author, said in a statement.
Maintaining your mental health is as important as your physical health. Less than half — 43% — of U.S. adults with mental illness received treatment in a given year, according to the National Alliance on Mental Illness (NAMI). And they're tied together: People with depression have a 40% higher risk of developing cardiovascular and metabolic diseases than the general population.
Depression is a complex condition that can affect people regardless of age, gender, race or background.
On Sunday, RTD Sports contributor Wes McElroy spotlighted two well-known football coaches — Justin Fuente of Virginia Tech and Bronco Mendenhall of the University of Virginia — and their concerns for their players' mental health amid the tsunami of challenges facing young people in particular today.
"So much of the approach around the country or the world or families is just 'suck it up' or 'just get over it,'" Mendenhall said. "That makes zero sense, nor is it possible just to 'suck it up' and 'get over it.' It takes a lot of work, a lifetime of work, and focus and education, and diligence. So I'm glad to help any of my players that come to me or that I see signs of and I reach out to them."
Depression is real and can be debilitating. Turn to a trusted friend, like a coach, or a loved one for support. Contact your physician or a mental health professional for help. Agencies such as NAMI (www.nami.org), which has local chapters across the U.S. and Virginia, and the National Institute for Mental Health (www.nimh.nih.gov) offer a wealth of resources.
The pandemic won't last forever. This disruption will end. But tending to your mental well-being should be an ongoing priority. Get well, stay well.
Depression is a complex condition that can affect people regardless of age, gender, race or background.