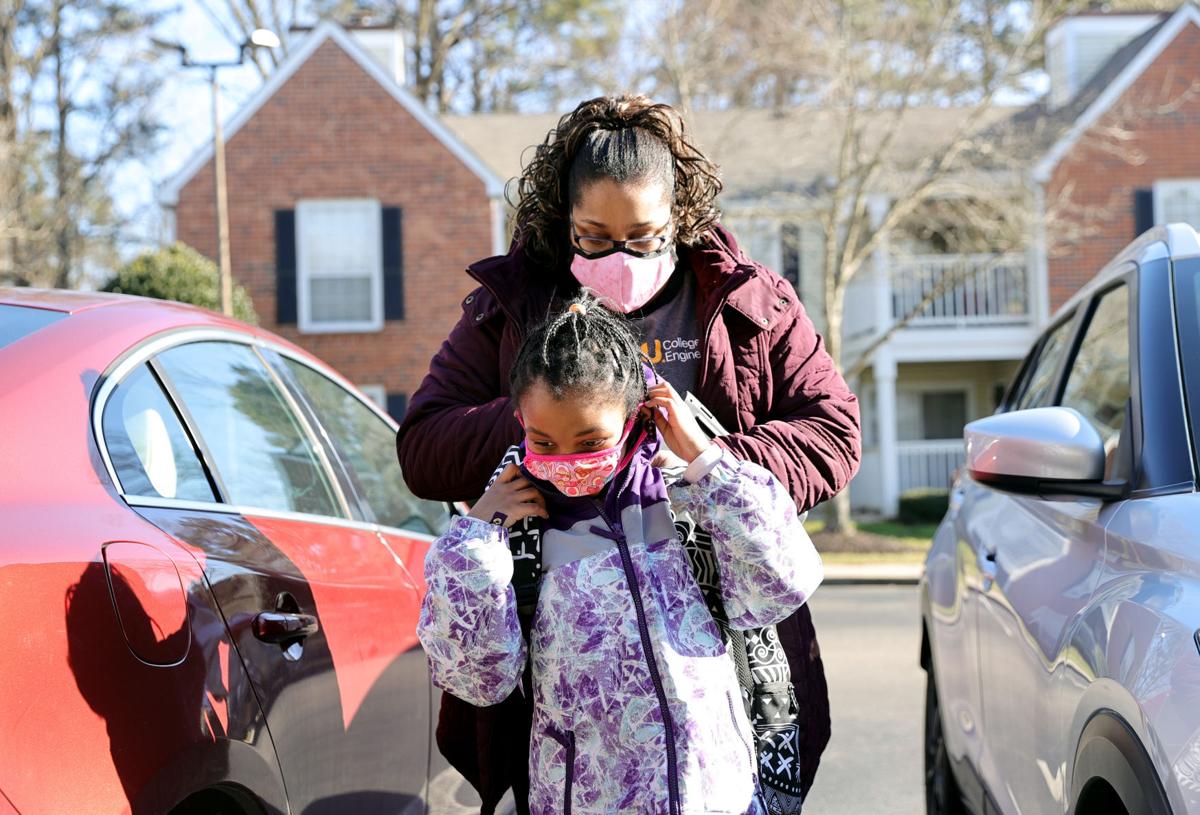 On Thursday morning just before 8 a.m., traffic rumbled down Broad Street in Richmond. Among the vehicles traversing the road was a school bus, a symbol of recent moves to return students to the classroom.
At the national level, the Centers for Disease Control and Prevention (CDC) unveiled guidelines in February for how to safely reopen schools, citing a "preponderance of available evidence" that it can be done. At the state level, Gov. Ralph Northam set a March 15 deadline for local school divisions to begin offering some form of in-person learning, citing the need to "prevent irreparable learning loss and psychological damage."
The Virginia General Assembly then passed legislation requiring in-person learning by July, with some limited exceptions. These included temporary virtual learning if COVID-19 cases rise, or virtual instruction for students in need, if the pandemic state of emergency still is in effect, The Virginian-Pilot reported.
But reopening school buildings will not revive the world we left behind in March 2020. COVID-19 still will be with us, and the full return of in-person instruction warrants greater supports.
We heard the loud cries from lawmakers who pushed for months to get to this moment. In a January Times-Dispatch op-ed, state Sens. Siobhan Dunnavant, R-Henrico, Joe Morrissey, D-Richmond, and Chap Petersen, D-Fairfax City, cited precipitous declines in grades as a lead impetus to propel students back into classrooms.
"Ongoing school closures across the state are having a dramatic impact on Virginia's students and families," the senators wrote. "Most directly, our students are falling behind in school. Indirectly, we are seeing mental health, social-emotional and abuse issues increase."
Now in March, we have some sort of defined reopening timeline. But tougher questions remain unanswered. How will current school buildings foster solutions? How do teachers, administrators and support staff welcome students back with open arms, while also keeping everyone an arm's length away? How do students academically and socially recover with this separation (and pandemic) still in play? How do schools not just restore where they were 12 months ago, but rise to meet this year's challenges?
School buildings can reopen, but the need for unprecedented COVID-19 mitigation strategies still persists. The CDC classroom framework hinges on five measures that some adults continue to squabble over: universal and correct use of masks, physical distancing, hand-washing and respiratory "etiquette," cleaning and maintaining healthy facilities, and contact tracing/isolation/quarantine, in collaboration with local health officials. These steps all "provide some level of protection, and layered strategies implemented concurrently provide the greatest level of protection," the CDC said.
These steps help stop COVID-19, but there are unaddressed challenges that preceded the virus. What protection will be provided for a student sitting in a classroom with a mental health issue, whether it is a personal crisis at home or a lack of belonging at school? Is the decaying infrastructure plaguing many of Virginia's public schools less serious than the well-documented paucity of internet access at home?
How will reopening school buildings reassure exasperated students, parents, teachers and staff who rode the seesaw of unpredictable remote and hybrid settings? And as The Daily Press recently noted, since nearly 45,000 fewer Virginia students currently are enrolled in public schools — with significant drops at pre-K and kindergarten entry points — how will funding formulas keep pace with any additional unpredictable disruptions?
At the local level, Richmond Public Schools (RPS) previously had opted to continue virtual learning in the spring semester. But to meet the March 15 state deadline, the school board voted to bring back 800 students (mostly in kindergarten or with special needs) after spring break.
"Right now, I just think we need to be careful," cautioned board member Stephanie Rizzi, per a report from NBC 12. "We need to carefully plan. I didn't hear a plan for transportation or safety protocols to how they can be rushed to accommodate this increased amount of people that you want to bring in."
We agree about the planning. Somehow, we found funding to deliver patchwork measures in a public health emergency (laptops, hot spots, cleaning supplies and more). But we lacked the might to address decades of challenging conditions in our school buildings. This is not a vision that will meet the demands of a postpandemic world.
RPS has its unique issues. But a recent New York Times analysis found that most of the country still has a lot of work to do just to beat COVID-19. As of late February, only 4% of U.S. students lived in counties where transmission levels met the CDC threshold for a full return of in-person instruction without restrictions. That's fewer than 50 new cases per 100,000 people in a week or a seven-day positivity rate under 8%.
Only a handful of Virginia localities met that mark. And it's essential to note: That 4% figure was before, as President Joe Biden put it, the "Neanderthal thinking" that led some governors to lift their states' mask mandates.
We more than accept the data to date showing COVID-19's marginal health impacts on children. And vaccinations are speeding ahead. But shots in arms to prevent one disease are separate from the social and psychological toll experienced by any child whose life dramatically has shifted — or keeps shifting — during this pandemic.
Reopening existing school buildings is no long-term achievement. Establishing a path for public education in Virginia — with greater supports that promote stability and prepare our next generation for a complex future — is what needs to get done.