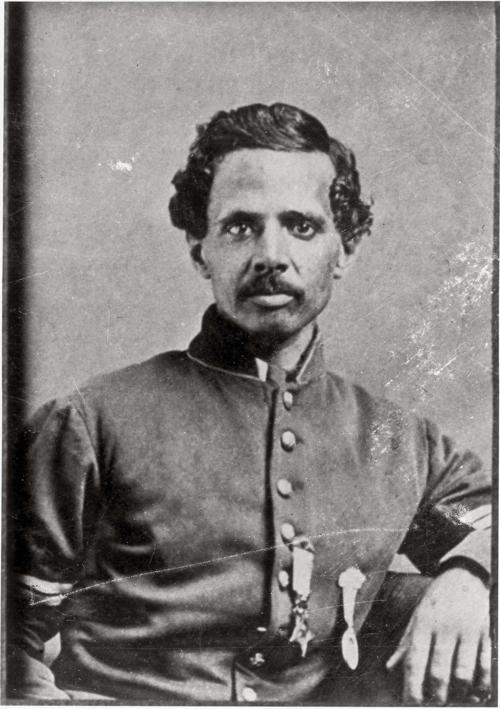 Powhatan Beaty was born into slavery in Richmond on Oct. 8, 1837. He moved to Cincinnati, Ohio sometime around 1849 where he gained his freedom. After enlisting in the Union Army on June 7, 1863, he returned to Richmond with the 5th United States Colored Infantry Regiment to participate in the Richmond-Petersburg Campaign.
First Sgt. Beaty's regiment suffered incredible casualties during the battle of New Market that began on Sept. 29, 1864. During the two-day fight, 1,302 of the 3,000 black troops in the battle had been killed or wounded, or were missing. At one point during the carnage, all the officers in Beaty's company were killed or injured. He took command of the unit, and was able to rally the troops and lead themen on a second charge. That attack was successful in forcing the Confederates from their fortified positions. Beaty was awarded the Medal of Honor on April 6, 1865 for his actions on the battlefield.
His courage during that fight was repeated many times over by other brave members of his regiment during the battle. In all, 14 members of the U.S. Colored Infantry Regiment were awarded the nation's highest military decoration for their part in the fierce battle at New Market Heights — one of the bloodiest battles in the great fight to make all men free. Of those 14 Medal of Honor recipients, seven were Virginians.
There is now a movement underway to honor the 14 heroes with a statue on Monument Avenue. Mark Robinson's front page RTD story Wednesday described the efforts by a group called Honor the 14 Foundation that is seeking to privately raise millions to pay for a memorial and erect it along the tree-lined avenue. The endeavor was initiated by Donald E. King, a senior partner at the McGuireWoods law firm and a board member of the American Civil War Museum.
The planned tribute has been backed by Richmond City Councilwoman Kimberly Gray, who, citing the recent installation of the "Rumors of War" statue on the grounds of the Virginia Museum of Fine Arts, told the RTD: "We've witnessed what it means to unify our city and how meaningful these things can be. It's never too soon for us to start uniting around a common good, and it's also really important to start telling these largely untold stories around African American history and the Civil War."
We believe a statue in tribute to these 14 men who took up arms to help win the freedoms of others would be a fitting balance to the monuments to Confederate generals and admirals. We have long advocated for adding context to the existing statues. There are few memorials to the men of the North, many of whom lost their lives on Southern soil in the fight to preserve the union. There were brave men on both sides of the struggle. That should be recognized.