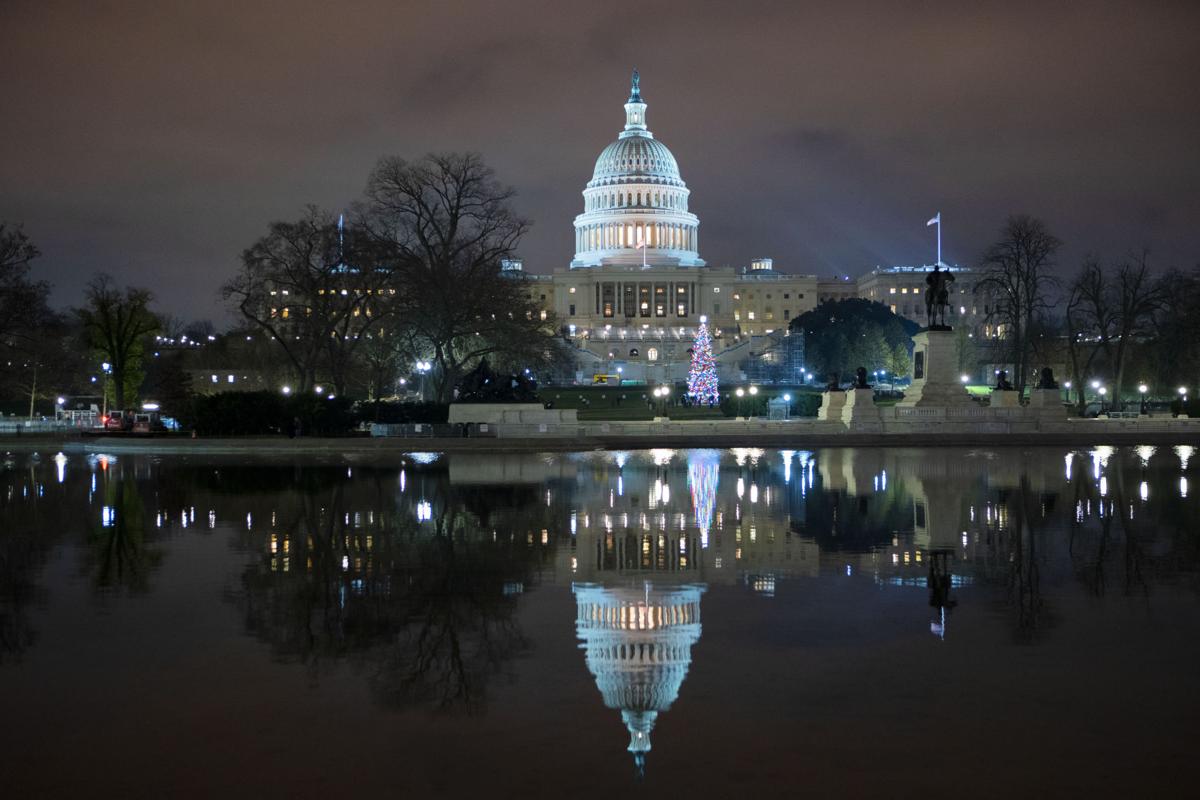 For months, we wondered: What would it take for Congress to move on COVID-19 relief? What would be the moment that finally tipped the balance?
On Monday, The Associated Press reported the awful details: 2020 was on pace to be the U.S.' deadliest year, with fatalities topping 3 million. While deaths typically rise each year, an expected 15% jump from 2019 would be the largest single-year increase since the 1918 combination of World War I and the Spanish flu pandemic.
The Centers for Disease Control and Prevention also said life expectancy for 2020 could fall by three years. So while we welcome Monday's long-awaited passage of a $900 billion federal COVID-19 relief package, we see little cause for celebration. Why wasn't a deal reached before the election?
"It's a very fair critique," U.S. Sen. Mark Warner, D-Va., said in a Friday interview with RTD Opinions. "Why did we have to wait this long?"
It's time for elected leaders to really look in the mirror. Imagine if Congress adopted a front-line mindset to handle the pandemic.
Warner and U.S. Rep. Abigail Spanberger, D-7th, were part of a bipartisan, bicameral group that helped shape and spearhead the legislation. Americans can look forward to $600 stimulus checks, extended federal unemployment boosts of $300 for another 11 weeks, rental assistance ($25 billion), forgivable business loans ($284 billion), small business grants ($20 billion) and food security aid ($13 billion), among other items.
In Friday's interview, Warner added that federal leaders were conscious of "one, the enormous amount of hurt that was going to take place if we didn't act"; and two, the need for good news where "…hopefully, a group of elected officials actually doing their job and not being partisan would be a bit of a tonic to the national angst that's out there."
Locally, is the relief deal any sort of tonic? Will $600 make any dent in the debt hitting families' bank accounts? Will loans or grants be enough to help businesses weather harsh winter months? Will $25 billion be enough to help millions of people facing thousands of dollars in back rent?
Making matters worse, Congress' year-end achievement was tucked into a record-long, 5,593-page piece of legislation, with only a few hours for members to review.
If only local governments had such luxuries. For months, we have seen city and county leaders across Virginia adapt on the fly, with little to no guidance on how to handle unplanned circumstances and swings in local revenues.
"With the CARES Act coming in all of its various forms — mortgage rent relief, schools, county utilities, business grants — it has been a hodgepodge of so many different ways in which the revenues have come to us and been allotted to us at different times," Chesterfield County Administrator Joseph P. Casey said in a December RTD Opinions call with regional leaders.
With an initial Dec. 31 deadline to use the money, that "hodgepodge" not only made it difficult to apply aid to relevant expenses — from salaries for public safety employees to computers for public school students. It also created a messy auditing process.
On the same regional leader call, Henrico County Manager John Vithoulkas told RTD Opinions that when the county closed out its fiscal year on June 30 and turned to a third party to complete its audit, federal guidance on what really needed to be reported regarding CARES Act spending was lacking. He urged better coordination on these critical resources.
"We knew what we generally had to do and we knew what the rules were," Vithoulkas said. "But there still was no guidance for the auditors."
Per a Tuesday morning release from the Economic Policy Institute, local and state aid, plus corporate immunity provisions, were big sticking points that delayed a second round of relief. Neither piece was included in Monday's deal.
Heading into 2021, these issues will not go away. The intense need to recruit and retain front-line workers — from police, to teachers, to 9-1-1 dispatchers, will be just as high. The struggle for businesses to implement safe settings amid a highly contagious virus will persist. Large swaths of the public will patiently wait for a vaccine and keep following emergency precautions.
"I'd love to just get back to that day where we know the state, local and fed sources all going into and through a budget process," Casey said. "So we're budgeting once and budgeting hard, and making all of those decisions ones to live by."
That's the responsible approach. We're confident the CARES Act and the latest $900 billion deal will be remembered as essential lifelines. But state and local governments already are looking to fiscal year 2022. As they follow balanced budget requirements, Congress' freedom to spend without restraint on money — or time — continues.
And imagine if doctors, nurses, teachers or postal workers took this long to address a crisis. No one would celebrate a nine-month wait for school materials, groceries, prescription drug deliveries or urgent medical care.
These Americans have done their jobs without delay. In a world where members of Congress adopted a front-line mindset to handle the COVID-19 pandemic, they would, too.