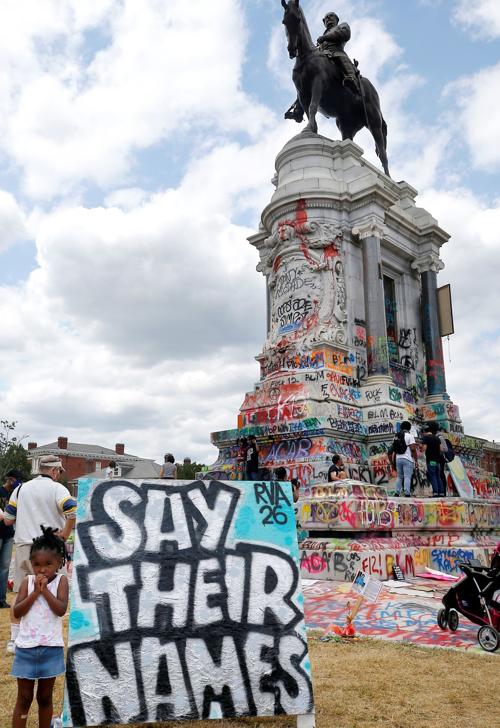 In the days following the initial agitated protests and riots in Richmond, signs that the demonstrations had evolved into peaceful protests were heartening. Marches and bicycle rides replaced looting and vandalism. Wednesday night saw what has become a rarity in RVA — a quiet night without the sounds of helicopters or sirens outside bedroom windows. The circle surrounding the Robert E. Lee monument had become a place where people were peacefully sharing stories, photos and comments.
But the relative calm ended Saturday night following the arrest earlier that day of airport police officer Reilly O'Shaughnessy after he was found carrying a handgun in an abandoned building overlooking Lee Circle. Since then armed protesters, some carrying multiple weapons including handguns, AR-15s and a variety of other firearms, have begun to assemble around the circle. Carrying walkie-talkies, these armed watchers have become a loosely organized group of men and women. Many of them have told the RTD they are there solely to protect the protesters.
We support the Second Amendment rights of all qualified and licensed Americans. But we worry about the direction this trend will go. We also worry about the numbers of children, families and peaceful visitors at the Lee Circle. While the atmosphere has been termed "campground-like," it has become a very well-armed camp indeed. The presence of heavily armed men and women has added a discernible tension to the atmosphere.
We have read too many news stories and seen too many videos in the past several weeks of demonstrations in other cities turning violent. The presence of armed vigilantes — on either side — concerns us deeply. Violence begets violence. We urge caution to all who visit the monuments. The last thing Richmond needs is a shootout at Lee Circle.
The sight of children playing and of families and visitors snapping photographs and placing mementos at the site is uplifting and speaks to peaceful but powerful change. We urge city leaders to step forward and add their voices to the call for calm. They have been quiet far too long.