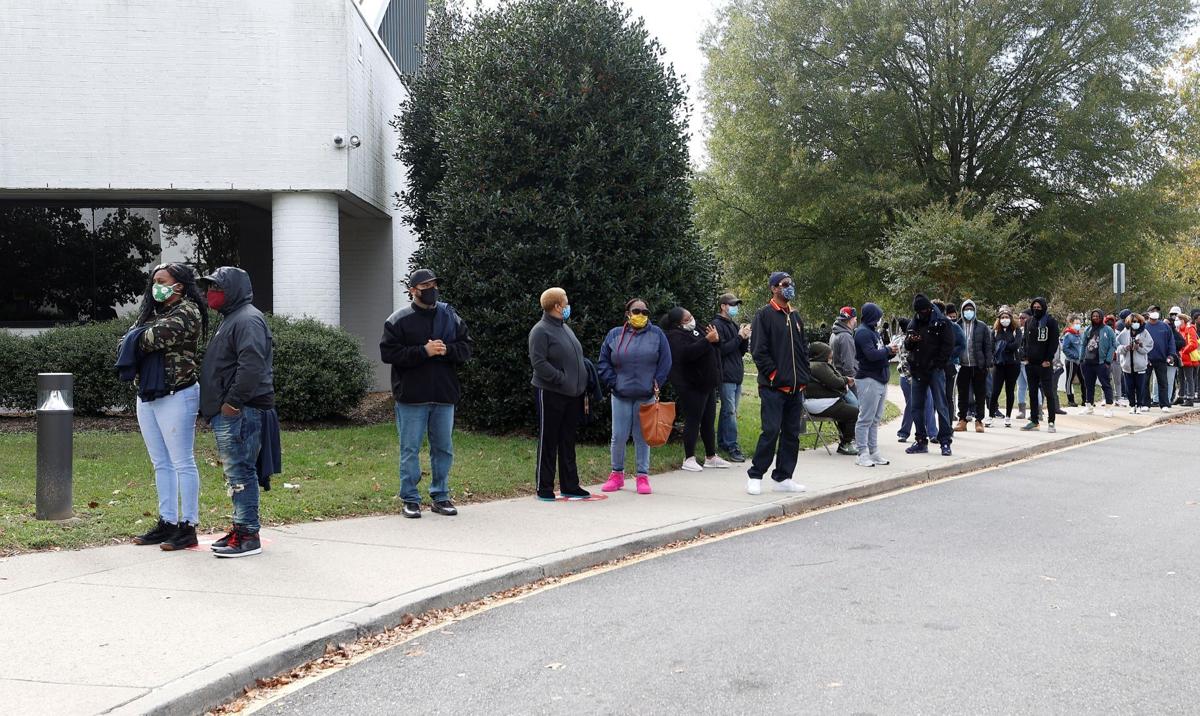 The data is a defining moment for democracy. Despite the COVID-19 pandemic, turnout soared in the 2020 elections.
Virginia is among the states with the most robust turnout, approaching 72% as of this writing. The Post projected a final turnout of 74.1% in the commonwealth, eclipsing the record of 67% set in 2008.
What separates Virginia from the rest of the map? There is little respite in our electoral calendar. The commonwealth is among the handful of states holding key elections in 2021. With the coronavirus pandemic potentially still upon us, now is the time to assess lessons learned during this historic year of voting.
More options breed higher turnout. Voting should be as easy and accessible as possible, and the commonwealth's front-end investments seem to have paid off.
Prior to the pandemic, a set of General Assembly bills during the regular January session laid the foundation for an improved landscape to participate. In April, Gov. Ralph Northam signed laws that approved no-excuse absentee voting beginning 45 days prior to an election, and made Election Day a state holiday. No one could have predicted the COVID-19 wrinkle, and more feedback still needs to be ascertained. But it appears lawmakers' proactive approach produced benefits for this challenging cycle.
The 45-day absentee voting period also paved the way for another round of voter protections during the August special session. Party or candidate preferences aside, COVID-19 shattered Election Day limitations and opened doors to new choices. In August, Northam introduced three proposals to promote voting access: a $2 million investment in prepaid postage for mail-in ballots; clearance for localities to institute safe and secure drop boxes and satellite locations for absentee voting; and a new curing process to allow voters to address errors on their absentee ballots.
By Sept. 18 — the first day of absentee and early voting — those key advances were realized, along with a few others: safer mail ballots with tracking barcodes and lookup tools; expanded early in-person voting at local registrar's offices and satellite locations; and a safer Election Day experience, with federal CARES Act dollars allocated toward personal protective equipment.
More options also require greater clarity and consistency. In trying circumstances, lawmakers and election officials made great strides to boost voting in Virginia. But the process was not without its share of hitches and glitches.
For example, some voters who chose to participate by mail received instructions mandating the presence of a witness as they signed their ballots. But the state had waived that requirement, and according to a September Post report, the instructions' language varied by locality "because some local registrars edited the commonwealth's wording, while others did not."
Additionally, new terms and changes require continued messaging so voters easily understand them. For example, curing historically has been far from a universal voter protection. As explained by an October blog post from the League of Women Voters (LWV), in 2016 — an election characterized by healthier times at the polls and more limited absentee activity across the country — approximately 1% of 33.4 million mail-in ballots were thrown out. And according to the LWV, 18 states had laws requiring voters be notified and given a chance to fix errors. In response to the pandemic, Virginia was among 18 states that added curing rights.
If 2021 requires similar public health precautions, the commonwealth should better centralize its information around new protections and processes to meet a variety of voter interests and knowledge bases.
More solutions can and should materialize. The work of lawmakers, the state Department of Elections, local electoral boards, registrars and officers of election never stops. Potential primaries for state executive offices — governor, lieutenant governor and attorney general — are right around the corner. With more options in 2020, there is more to consider entering 2021.
What expectations were met? How did voters use the new absentee/early voting choices? Which investments were most cost effective? Which questions were most common from voters? How did observations vary by locality? Were there outliers? Could a post-election survey to mail-in voters help? What about a series of public hearings through a body such as the House Privileges and Elections Committee?
Individual experiences and voter preferences aside, Virginians collectively should celebrate. The commonwealth has entered a new era of voting, with greater access and higher participation. That's good for democracy, and there should be no turning back.