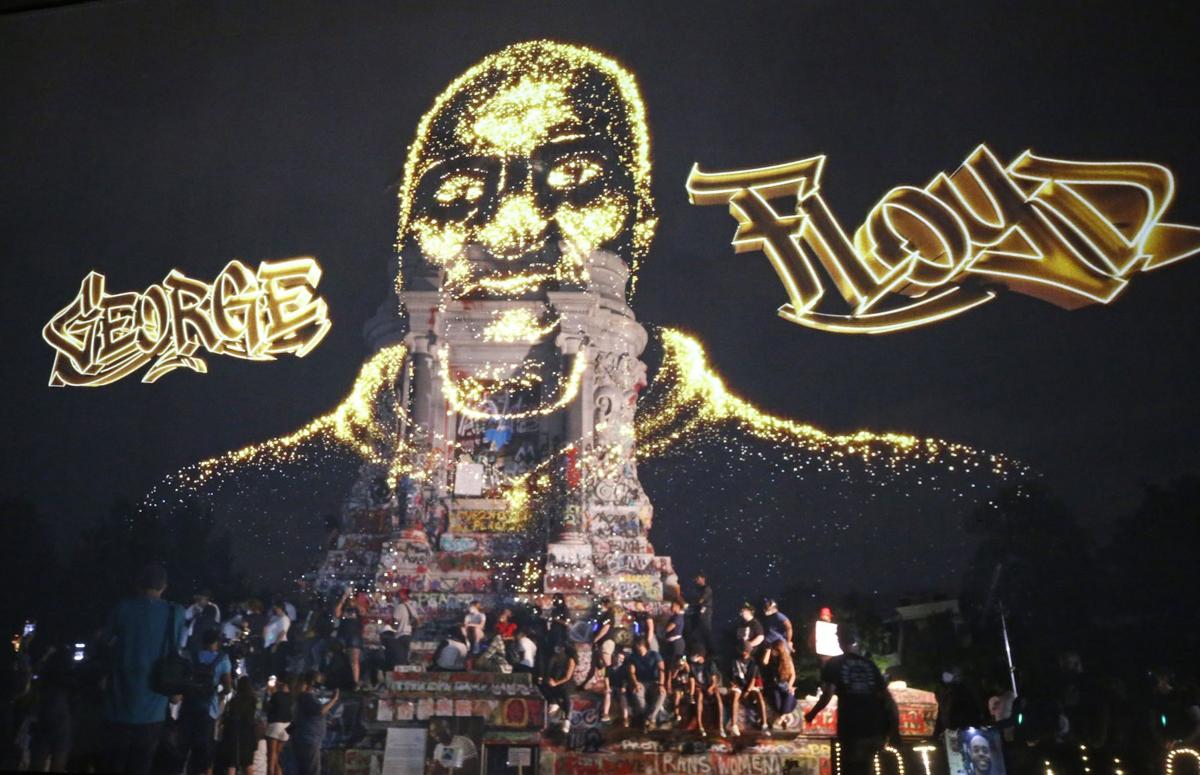 At the start of 2020, The New York Times selected 52 places to go in the world that would serve as sources of inspiration.
Richmond was one of them: "[L]ong known as a sleepy capital steeped in Confederate history, [it] has morphed into a dynamic cultural center on the cutting edge of the arts, food and recreation … The entrance of the Virginia Museum of Fine Arts, on newly christened Arthur Ashe Boulevard, features Kehinde Wiley's 'Rumors of War' statue, which was designed to challenge the narrative of heroism in a city where Civil War monuments still loom."
By May 25, that false narrative was toppled in roughly nine minutes time. It was easy to look at statues along Monument Avenue and tune out their role in relegating Black communities to second-class status. But it was impossible to ignore the cries from George Floyd that he could not breathe, or the pressure of former Minneapolis Police Officer Derek Chauvin's knee on Floyd's neck, and not realize that the Lost Cause still had air.
One year later, we honor the life of Floyd by renewing our calls for civil closure and change in Richmond. Our city started 2020 as that "sleepy capital" and ended it on the cover of National Geographic's "The Year in Pictures." Floyd's face was projected onto the graffiti-laced Robert E. Lee statue, with Black Lives Matter letters projected along Lee's horse.
To a national audience, the picture spoke volumes. But some outside accounts of our city's perceived transformation tend to fall short of capturing the long road ahead to deliver change locally.
Other Confederate statues that once lined Monument Avenue now sit covered in tarps at a wastewater treatment plant. No story can be told from under such coverings. And no new chapter can be born with the largest symbol staying put.
"Appropriate" and "encourage" are words that only tell one component of the story. Historian Kevin Levin's June 2020 essay in The Atlantic adds another important layer: "While most monuments were added to public spaces such as courthouse squares, parks and intersections, Monument Avenue was conceived as part of the initial plans for the development of the city's West End neighborhood — a neighborhood that explicitly barred black Richmonders."
To deny the oppression perpetuated by that vision is to deny the experience of Robert Leon Bacon and others. In a Dec. 2, 1955, letter to Gov. Thomas Stanley posted by the Library of Virginia and referenced by Levin, Bacon spoke of the treachery that came with being Black and walking along Monument Avenue:
"Virginia is no place for a colored citizen like me to live in. I am denied many rights and privileges by law that I should have. Virginia is the home of presidents but it is not the home of democracy. It is the home of white supremacy. The colored people (most of them) can hardly live decently in the South.
"I cannot go on Monument Ave. and visit a white girl from fear of being 'lynched' or beaten up or arrested or electrocuted. But let some white guy come around on Second Street and nothing is done about it."
A copy of the 1969 nomination form to add the Monument Avenue Historic District to the National Register of Historic Places exposes further rhetoric that has to be re-examined in the context of today's Richmond:
"Monument Avenue is unified by the unusually high quality of design, workmanship and materials of all its parts — from the houses, churches and monuments to the curbs and street furniture. The street is unusual, too, for being one of the few grand residential boulevards in America to survive virtually unaltered, having almost no architecturally or scenically discordant intrusions."
What about the discordance over such Confederate symbols being revered in the first place? The protests of 2020 rightfully shattered that statement.
"As one of the most splendid residential boulevards in America, Monument Avenue is considered to be a nationally significant example of city planning," the document added. "According to the noted architectural historian, William B. O'Neal, Monument Avenue is 'a supreme example of the unifying power of space, scale and trees on the urban scene.' But more important than its aesthetic qualities, Monument Avenue, as a unique memorial to the heroes of the Confederacy in its capital, serves a symbolic function for Richmond and the South."
Has Monument Avenue lost its splendor? Or is the removal of Confederate statues just a real indicator that the boulevard's "symbolic function" for the city and the entire South has to change?
On June 8, the state Supreme Court is scheduled to hear two arguments challenging Virginia's right to move the Lee statue from Monument Avenue. We support Attorney General Mark Herring's legal brief, which he summed up in an April statement: The statue has been "sending a message of white supremacy and division, for far too long and it is time for it to come down."
And we challenge Mayor Levar Stoney to live up to the promise of his recent guest essay in The Times' series on Floyd's death: "…recovery also means looking at all the systems that have historically worked against, rather than for, people of color, be it housing or education. Over the next four years, I recognize that we must empower communities experiencing injustice by removing barriers to success and opportunity."
When these two developments happen, we'll know that closure and change truly have been realized in Richmond. That will be a fresh source of inspiration.