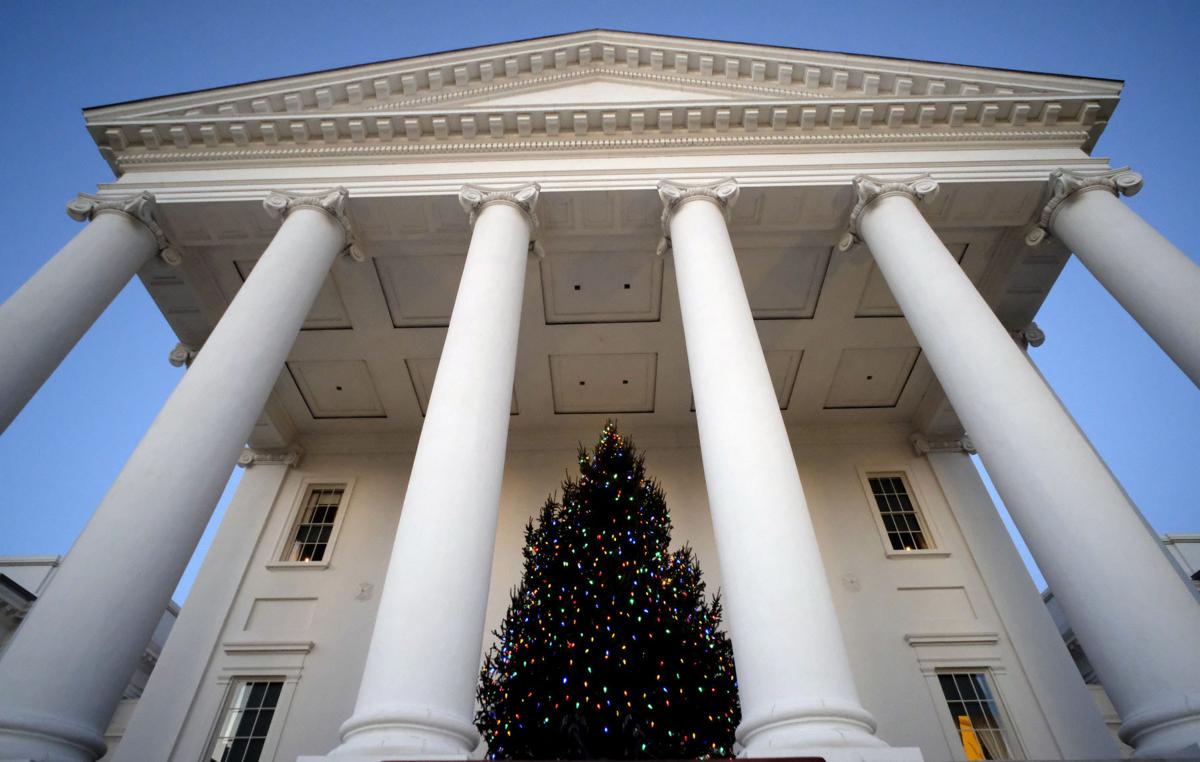 'Good Tidings of Great Joy'
And there were in the same country shepherds abiding in the field, keeping watch over their flock by night. And, lo, the angel of the Lord came upon them, and the glory of the Lord shone round about them: and they were sore afraid.
And the angel said unto them, "Fear not: for, behold, I bring you good tidings of great joy, which shall be to all people. For unto you is born this day in the city of David a Savior, which is Christ the Lord. And this shall be a sign unto you; ye shall find the Babe wrapped in swaddling clothes, lying in a manger."
And suddenly there was with the angel a multitude of the heavenly host praising God, and saying, "Glory to God in the highest, and on Earth peace, goodwill toward men."
It is Christmas and I wish you happiness. And tomorrow, because it will be the day after Christmas, I shall still wish you happiness, and so on through the year. Whatever joy or success comes to you will make me glad. Goodwill to you is what I mean, in the spirit of Christmas.
'Yes, Virginia, There is a Santa Claus'
DEAR EDITOR: I am 8 years old.
Some of my little friends say there is no Santa Claus.
Papa says, 'If you see it in THE SUN it's so.'
Please tell me the truth; is there a Santa Claus?
115 WEST NINETY-FIFTH STREET.
VIRGINIA, your little friends are wrong. They have been affected by the skepticism of a skeptical age. They do not believe except they see. They think that nothing can be which is not comprehensible by their little minds. All minds, Virginia, whether they be men's or children's, are little. In this great universe of ours man is a mere insect, an ant, in his intellect, as compared with the boundless world about him, as measured by the intelligence capable of grasping the whole of truth and knowledge.
Yes, VIRGINIA, there is a Santa Claus. He exists as certainly as love and generosity and devotion exist, and you know that they abound and give to your life its highest beauty and joy. Alas! how dreary would be the world if there were no Santa Claus. It would be as dreary as if there were no VIRGINIAS. There would be no childlike faith then, no poetry, no romance to make tolerable this existence. We should have no enjoyment, except in sense and sight. The eternal light with which childhood fills the world would be extinguished.
Not believe in Santa Claus! You might as well not believe in fairies! You might get your papa to hire men to watch in all the chimneys on Christmas Eve to catch Santa Claus, but even if they did not see Santa Claus coming down, what would that prove? Nobody sees Santa Claus, but that is no sign that there is no Santa Claus. The most real things in the world are those that neither children nor men can see. Did you ever see fairies dancing on the lawn? Of course not, but that's no proof that they are not there. Nobody can conceive or imagine all the wonders there are unseen and unseeable in the world.
You may tear apart the baby's rattle and see what makes the noise inside, but there is a veil covering the unseen world which not the strongest man, nor even the united strength of all the strongest men that ever lived, could tear apart. Only faith, fancy, poetry, love, romance, can push aside that curtain and view and picture the supernal beauty and glory beyond. Is it all real? Ah, VIRGINIA, in all this world there is nothing else real and abiding.
No Santa Claus! Thank God! he lives, and he lives forever. A thousand years from now, Virginia, nay, ten times ten thousand years from now, he will continue to make glad the heart of childhood.
— Francis Pharcellus Church, New York Sun.
'Amazing Peace: A Christmas Poem'
... It is Christmas time, a halting of hate time.
On this platform of peace, we can create a language
To translate ourselves to ourselves and to each other.
At this Holy Instant, we celebrate the Birth of Jesus Christ
Into the great religions of the world.
We jubilate the precious advent of trust.
We shout with glorious tongues at the coming of hope.
All the earth's tribes loosen their voices
To celebrate the promise of Peace.
We, Angels and Mortals, Believers and Non-Believers,
Look heavenward and speak the word aloud.
Peace. We look at our world and speak the word aloud.
Peace. We look at each other, then into ourselves
And we say without shyness or apology or hesitation.
'A Child's Christmas in Wales'
Always on Christmas there was music. An uncle played the fiddle, a cousin sang "Cherry Ripe" and another uncle sang "Drake's Drum." It was very warm in the little house. Auntie Hannah, who had got on to the parsnip wine, sang a song about Bleeding Hearts and Death, and then another in which she said her heart was like a Bird's Nest; and then everybody laughed again; and then I went to bed. Looking through my bedroom window, out onto the moonlight and the unending smoke colored snow, I could see the lights in the windows of all the other houses on our hill and hear the music rising from them up the long, steadily falling night. I turned the gas down, I got into bed. I said some words to the close and holy darkness, and then I slept.
'O Little Town of Bethlehem'
O little town of Bethlehem
How still we see thee lie!
Above thy deep and dreamless sleep
Yet in thy dark streets shineth
The hopes and fears of all the years
Are met in thee tonight...
For Christ is born of Mary,
While mortals sleep, the angels keep
Their watch of wondering love.
O morning stars, together
And praises sing to God the King,
And peace to men on earth.
How silently, how silently,
The wondrous gift is given!
So God imparts to human hearts
The blessings of His Heaven.
No ear may hear His coming,
But in this world of sin,
Where meek souls will receive Him still
The dear Christ enters in.
O holy Child of Bethlehem,
Cast out our sin, and enter in,
We hear the Christmas angels
The great glad tidings tell;
O come to us, abide with us
And I do come home at Christmas. We all do, or we all should. We all come home, or ought to come home, for a short holiday — the longer, the better — from the great boarding-school, where we are forever working at our arithmetical slates, to take, and give, a rest.
I heard the bells on Christmas Day
Their old, familiar carols play,
And wild and sweet The words repeat
Of peace on Earth, goodwill to men.
And thought how, as the day had come,
The belfries of all Christendom
Had rolled along The unbroken song
Of peace on Earth, goodwill to men. ...
And in despair I bowed my head;
"There is no peace on Earth," I said,
"For hate is strong, And mocks the song
Of peace on Earth, goodwill to men."
Then pealed the bells more loud and deep:
"God is not dead, nor doth He sleep;
The wrong shall fail, The right prevail,
With peace on Earth, goodwill to men."
At last the dinner was all done, the cloth was cleared, the hearth swept, and the fire made up. The compound in the jug being tasted, and considered perfect, apples and oranges were put upon the table, and a shovelful of chestnuts on the fire.
Then all the Cratchit family drew round the hearth, in what Bob Cratchit called a circle, and at Bob Cratchit's elbow stood the family display of glass — two tumblers and a custard cup without a handle. These held the hot stuff from the jug, however, as well as golden goblets would have done: and Bob served it out with beaming looks, while the chestnuts on the fire sputtered and crackled noisily. Then Bob proposed:
"A merry Christmas to us all, my dears. God bless us!"
Which all the family re-echoed. "God bless us every one!" said Tiny Tim, the last of all.
And the Grinch, with his Grinch-feet ice cold in the snow, stood puzzling and puzzling how could it be so? It came without ribbons. It came without tags. It came without packages, boxes or bags. And he puzzled and puzzled till his puzzler was sore. Then Grinch thought of something he hadn't before. Maybe Christmas, he thought, doesn't come from a store. Maybe Christmas, perhaps, means a little bit more!
Of all the old festivals, however, that of Christmas awakens the strongest and most heartfelt associations. There is a tone of solemn and sacred feeling that blends with our conviviality, and lifts the spirit to a state of hallowed and elevated enjoyment. The services of the church about this season are extremely tender and inspiring. They dwell on the beautiful story of the origin of our faith, and the pastoral scenes that accompanied its announcement. They gradually increase in fervour and pathos during the season of Advent, until they break forth in full jubilee on the morning that brought peace and good-will to men. I do not know a grander effect of music on the moral feelings than to hear the full choir and the pealing organ performing a Christmas anthem in a cathedral, and filling every part of the vast pile with triumphant harmony.
'Hark! The Herald Angels Sing'
Hark! The herald angels sing,
Glory to the newborn King!
Peace on earth and mercy mild,
God and sinners reconciled.
Joyful, all ye nations rise,
Join the triumph of the skies,
With th'angelic host proclaim:
Christ is born in Bethlehem.
Hark! The herald angels sing,
Glory to the newborn King!...