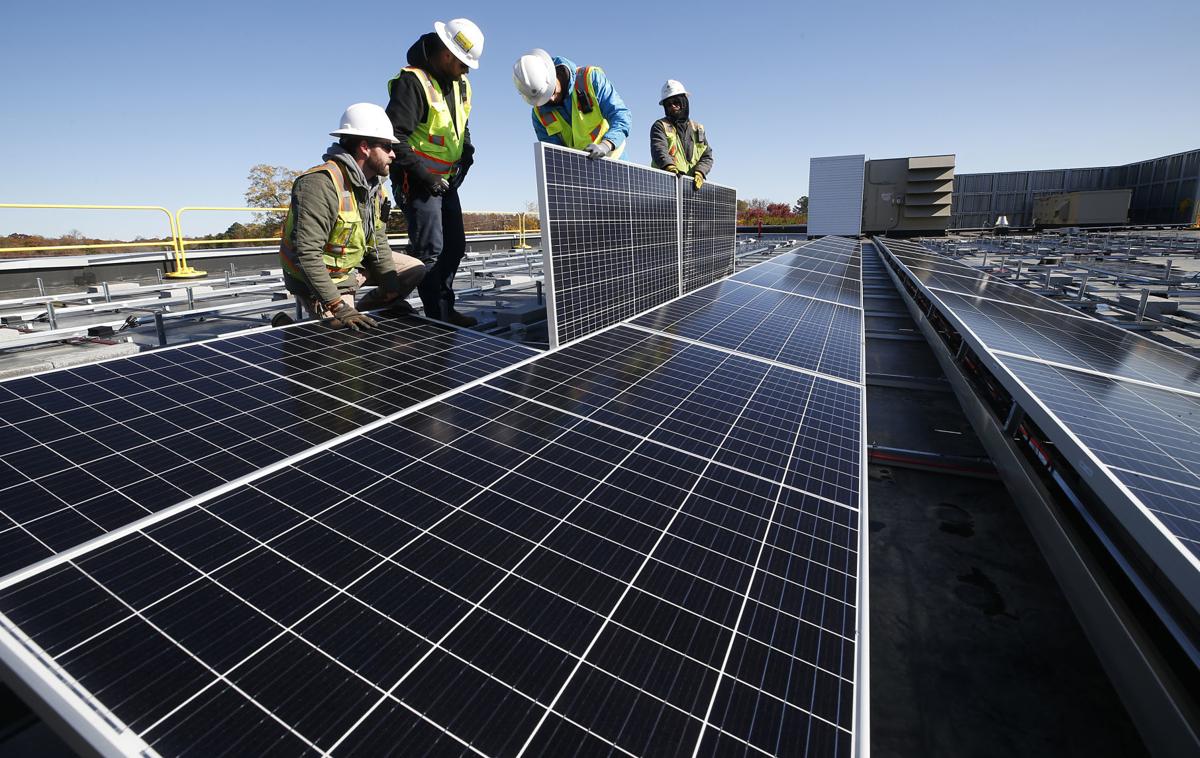 For cash-strapped schools across the commonwealth, every dollar counts. More educational institutions across Virginia are embracing clean energy as a tool for environmental — and financial — sustainability.
A report released last month from Generation180, a Charlottesville clean energy nonprofit, documents the scope of Virginia schools going solar. Since 2017, the number of K-12 schools using solar energy tripled from 29 to 86 locations. Richmond is first with 13, followed by Albemarle County (9), Augusta County (8), Arlington County (6), Charlottesville (5) and Hanover (4). The count includes public and private schools.
In terms of cities and counties with the largest solar capacity installed in their school districts, Richmond also ranks first at 3,340 kilowatts (kW). Hanover is third at 2,006 kW and Powhatan is sixth at 1,611 kW. At the school level, some of the largest local installations are Huguenot High School (665 kW), Hanover High School (600 kW), Martin Luther King Jr. Middle School (585 kW) and Powhatan Middle School (488 kW).
As the RTD's Justin Mattingly reported in a Wednesday story on the Generation180 report, power purchase agreements (PPAs) are the main policy helping schools connect with solar opportunities. Third parties separate from a utility company buy and manage the equipment (i.e. panels), while schools cover the electricity costs. The deals are long-term, often 25 or more years.
"PPAs are popular with schools because they make it possible to install solar with little-to-no upfront investment or ongoing maintenance costs," the Generation180 report notes. "In addition, the school or district typically pays a lower electricity rate than it previously paid the utility, resulting in immediate energy cost savings."
The benefits extend to urban and rural regions of the commonwealth. Richmond Public Schools (RPS) has a PPA with Staunton-based Secure Futures Solar to place almost 3 megawatts (MW) of power on 10 buildings. The financial savings are scheduled to exceed $2 million over the next two decades. Meanwhile, earlier this year, Middlesex County Public Schools became the first 100% solar district in the state. The move is projected to save $4.74 million over the next quarter century.
But solar projects are in need of a fresh look from the General Assembly. In 2013, Gov. Bob McDonnell and the legislature enacted a pilot program for third-party PPAs in Dominion Energy's service area. The State Corporation Commission (SCC) was directed to set program limits of 50 MW. In 2017, another bill brought a PPA pilot program to Appalachian Power's region with a 7 MW limit and a wrinkle — public schools could not participate.
Capacity management summaries maintained by the SCC reveal issues with both of those figures. Dominion's service area has reached 80% of its program cap. Districts like RPS fall within Dominion's purview and, if the cap is reached, projects could be put on hold. Meanwhile, the Appalachian Power agreement has zero participants to date.
Last month, Robert W. Lazaro Jr., executive director of the Northern Virginia Regional Commission (NVRC), wrote an op-ed for RTD Opinions, which provided another data point. The current caps of 50 MW and 7 MW are "only enough solar power for fewer than 6,500 homes." In September, NVRC adopted a resolution supporting an increase to a program cap of 500 MW and an individual project limit of 3 MW.
As more entities, especially schools, experience the environmental and financial deliverables from PPAs, we support a robust discussion in the 2020 General Assembly session, exploring revised caps that keep up with demand.
The 86 schools currently involved account for just 3% of the state's supply. They're early innovators and we hope the case studies provided in the Generation180 report — urban and rural, public and private — serve as examples for how to chart solar school futures across the state.
There might not be a catch-all policy. But with an environmental and a financial bright side, PPAs should no longer be treated as pilot programs. Any district willing to invest should have the latitude to join the conversation.