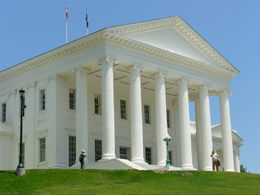 The 140 members of the Virginia General Assembly pride themselves on being citizen-legislators. The assembly, the oldest continuous lawmaking body in the Western Hemisphere, is a bedrock of American representational government. The citizen component of that expression is equally important.
A 2018 study by the Pew Research Center showed that two-thirds of Americans said they participated in politics in the past five years either by volunteering for or donating to campaigns, attending protests or meetings, contacting officials or expressing their views on social media. Nearly half said they had engaged in at least one of those activities in the previous year.
In Virginia, one novel approach to ensuring citizen participation is Del. Sam Rasoul's "You Write the Bill" program. In its second year, the program offers constituents a hands-on short course in the legislative process, learning how to draft their ideas into bills and develop their lobbying strategy.
Rasoul, a Roanoke Democrat and a lawmaker since 2014, told us the "You Write the Bill" program is about transparency and empowerment, helping citizens understand how the system works. "As much as we can, in our own tiny way, we're showing that this is how the process works and hopefully that helps them feel better about the process and being engaged," he said.
Last year, the program generated 11 bill ideas for the 2019 session that were submitted to the Department of Legislative Services for drafting. Seven of those made it to the House of Delegates. Ultimately, two were voted into law as budget amendments, which concerned community schools and lowering the school counselor ratio.
This year's program began Monday, and will meet twice more by November. More than 60 people showed up at the Melrose library branch in Roanoke, an increase from last year's cohort of about 40. We're glad to see the increased numbers. A healthy democracy depends on an engaged citizenry.