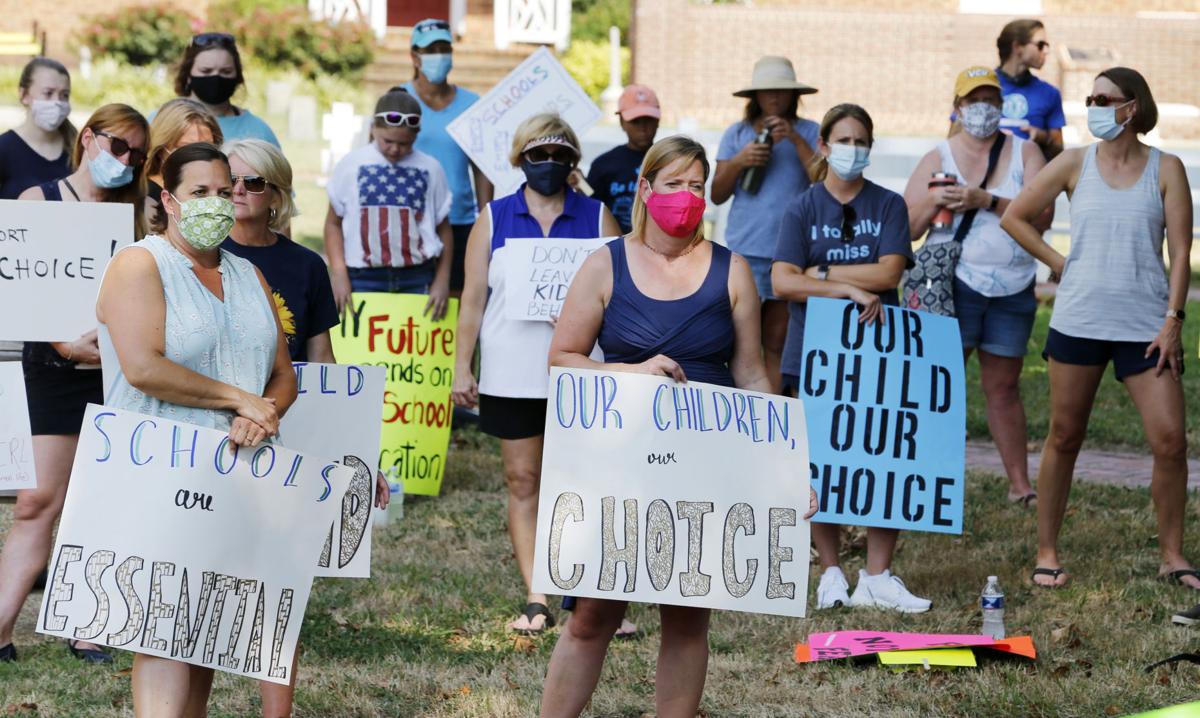 A Hanover County first-grader exited the school bus and ran to his mother after the first day of school in September. A handful of localities across the state added in-person learning options this week.
This week marked eight months since COVID-19 was declared a pandemic. Since the initial closure of Virginia's public schools in late March for a stay-at-home order, we have gleaned some key information about how to support a safe, in-person reopening.
Masks, hand hygiene and social distancing are uniform tools to minimize the spread of COVID-19, regardless of location. Whether learning in Chesterfield County or in Craig County, science and safety are promoted through those behaviors. Whether the school division has 60,000 or 600 students, nothing is normal right now. Water fountains are closed. Lockers are off-limits. Whether in a mask in person or online at home, some element of the prepandemic school experience is missing.
With winter about a month away, and community spread of the virus ongoing, is now the right time for children and teachers to be back in classrooms? It might be a panacea for the exhaustion of online schooling, but it won't be a cure for the pandemic we have in front of us. The return of in-person learning should be based on science and safety, not fatigue.
Some of Virginia's largest localities are taking steps to return students to school. On Monday, Chesterfield gave kids in grades 6-12 a hybrid, in-person learning option, the RTD reported. On Tuesday, Prince William County welcomed back roughly 3,400 kids in pre-K and kindergarten, with most beginning two days a week at school, WUSA added.
In Loudoun County, the school board unanimously voted, 9-0, on Tuesday to introduce grades 3-5 back to some in-person learning on Dec. 1, WUSA also reported. The students would join grades K-2, which had that option starting Oct. 27. And, in Virginia Beach, 15,000 students in grades 7, 8, and 10-12 were slated to return to school for a hybrid plan on Thursday, per WVEC.
We've seen the statements assuring students, families, teachers and support staff that schools are not drivers of the virus. We've also seen the statistics regarding recovery versus death rates.
But we have not seen the volume of a full school building in attendance. We have not seen classes of 30-plus students. We have not seen upgrades that refurbish old, decaying school buildings into modern facilities capable of handling a public health crisis. And while we actively are not seeking to cause alarm when a handful of cases emerge, there are costs to such statistics.
There are financial costs. At Dublin Elementary School in Pulaski County, just one positive test for COVID-19 forced the school to thoroughly clean the building, WFXR reported. And across the state, personal protective equipment is a new in-person expense. How do smaller divisions budget for another year of such precautions?
There are educational costs. At Floyd County High School, another recent positive COVID-19 test moved learning to virtual settings for a week, WFXR also reported. Is there reliable internet available to make up for that lost instructional time?
And there are human costs. While one person might recover, others have long-term complications and, yes, 242,000 people have died across the United States as of this writing.
Wanting the virus to go away is not the same as learning to live with it. And we repeat — the return of in-person learning might be a panacea for some stresses, but it is not a cure. While the medical community is closer to a vaccine, it's "not going to be a fairytale ending to the pandemic," said Tom Frieden, former director of the Centers for Disease Control and Prevention in a Wednesday interview with CNN.
"I think it would be a misguided approach to think 'Well, if we just vaccinate those folks, we'll be OK' because roughly 40[%] to 50% of all adults in the United States have some underlying condition that puts them at an increased risk and it's somewhat unpredictable who is going to get particularly ill," Frieden added.
How does Frieden's comment apply locally? Can we expect a promising summer in 2021 with a vaccine in place? Or will we see more masked and socially distanced reopening debates breaking out in school parking lots?
We hold no cards on that timeline. And for the time being, school is an indoor gathering. Continuing to toss students and educators back and forth between in-person and virtual environments over every COVID-19 case is not the solution. We either need to invest in improvements to our current in-person infrastructure, or we need to commit to an online experience that doesn't leave educators and families exhausted — and our kids behind.