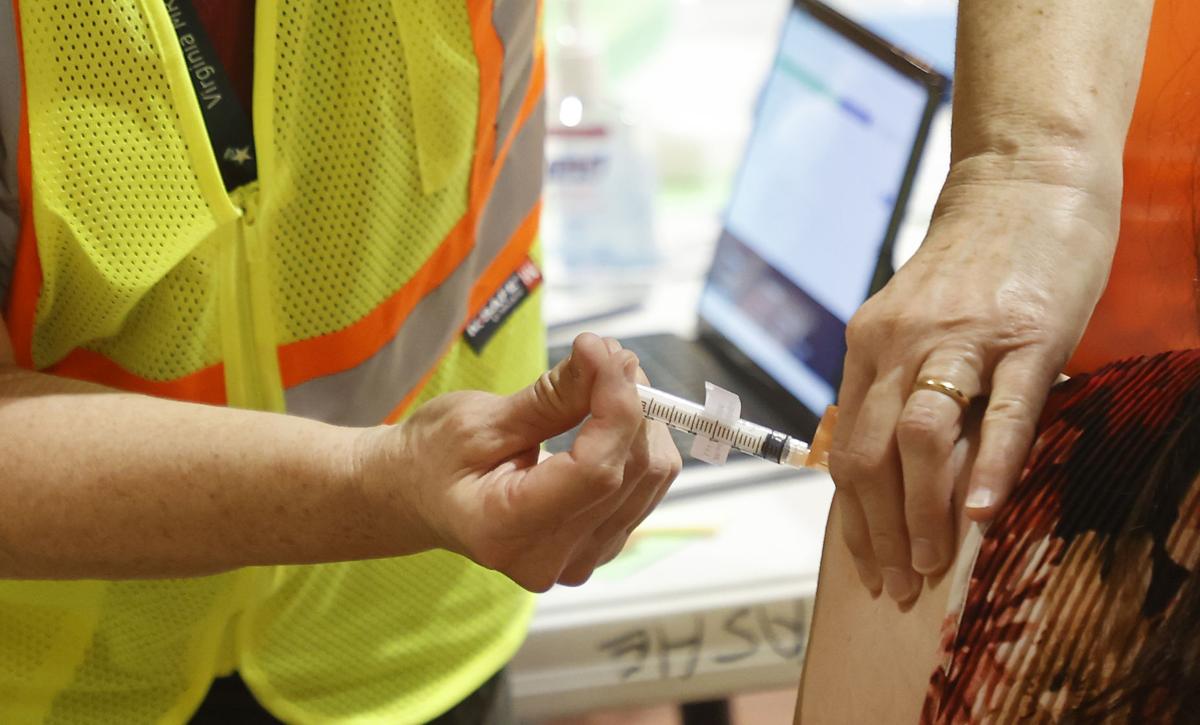 Two weeks into February, Virginia's COVID-19 vaccination process has been nothing short of remarkable.
On the bright side, it's remarkable to see more than 1.2 million doses administered in less than two months. It's a testament to the extraordinary work of the medical community: the researchers and scientists who paved the way for a solution, and the health care providers who are working to deliver it.
Yet, criticism is everywhere. For too many Virginians, it's remarkable that getting a lifesaving shot feels more like a lottery ticket than a doctor's appointment.
State leaders know this is a high-stakes affair. But the problem has not been the science. The issue is the erratic, unreliable messaging that raises hope beyond the realm of current possibilities. To set better vaccine expectations going forward, the commonwealth needs to be fully transparent.
On Jan. 6, Gov. Ralph Northam announced several steps to "accelerate COVID-19 vaccination efforts" amid a slow rollout. He walked through the pyramid of priority groups 1a, 1b and 1c, and the math was challenging from the start: 17 million shots, two doses for all 8.5 million Virginians.
Nonetheless, "Virginia's vaccine delivery plan is transparent," said a corresponding release posted on the Prince William Health District webpage. "The public will know details about the commonwealth's vaccine supply and dosage delivery. There is a clear prioritization for the vaccine schedule, with those most at risk receiving the vaccine first."
The trouble, at times, was that commonwealth leaders didn't even know the details themselves. At that point, implement rule No. 1 of good service: If you don't know the answer, don't guess and don't lie. Admit you don't know, and commit to improve the situation within the realm of what is possible.
In the urgency of this pandemic, state leaders had to forge ahead with vaccinations, and we supported Northam's push to use every step necessary to get shots in arms. That's why Virginia ended Friday ranked No. 9 in state vaccination rates, not No. 50.
What we don't support is the fraying of the prioritization schedule and the lack of responsibility for setting expectations that have not been met. It's unfair to criticize state leaders for the speed of the vaccination process when the number of doses fell short of their expectations. But it's perfectly fair to single out communication issues that put vulnerable communities through anxiety for weeks on end.
As dozens of CVS pharmacies across Virginia began administering thousands of doses this past Friday, it was another week of jubilation (or frustration) depending on your luck. If you got your shot, you were thrilled and, in many cases, you had a seamless experience.
But if you're on a local health district waitlist, or unable to confirm if you're on one, all while spending hours in a CVS virtual waiting room (only to find no appointment is available), you're struggling to see a transparent delivery plan. You're seeing a prioritization pyramid that is haywire, not clear.
On Thursday, an email sent by a local health district to one RTD reader only compounded that cluttered, helpless feeling. The message thanked the person for preregistering and for being patient. But after weeks on the waitlist, there were two important admissions by the health district, highlighted below in italics.
"Since your information has been successfully collected, you may have already received a call from VDH to schedule your COVID-19 vaccination appointment(s). If not, do not be alarmed — it may still take weeks or even months for VDH to be in contact about scheduling your appointment(s), depending on both the availability of the vaccine and your phase eligibility (which is based on your submitted information)."
Is that messaging indicative of speed and/or efficiency? Further down in the email, the news was more distressing. As CVS and Walgreens prepared to deliver shots this past week, Virginians on local health district waitlists wondered how they could (or better yet, should) receive priority over new patients seeking a shot.
This exactly is what we feared when local health districts set up stacks of interest forms. At the bottom of the email, Virginians also were urged to avoid vaccination scams. Warning signs include being asked to "pay out of pocket to get the vaccine" or "to put your name on a vaccine waiting list or receive early access."
If officials took one step back, they would realize that asking people to put their name on a local health district waiting list, only to see others grab appointments at a nearby pharmacy, also feels like a scam. It's now or never to clean up these miscues, practice transparent communication, establish capable infrastructure and get shots in arms without the lotterylike anxiety.
Solutions are in motion. We're thankful that the General Assembly recently stepped up in nearly unanimous bipartisan fashion to pass House Bill 2333 and Senate Bill 1445. This legislation expands who can administer the COVID-19 vaccine and where shots can be given. A larger pool of people and facilities makes it more likely that Virginians can get this shot close to home, without such headaches.
And the Biden administration recently purchased 200 million additional doses, giving hope that the supply will not fall short of the capacity to vaccinate and, most importantly, the interest in the community.